click to enlarge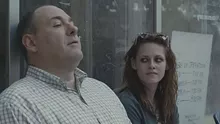 Welcome to the RIleys

3 Stars

(R)

He may not have hit a homerun on his first Sundance at-bat, but debut feature director Jake Scott is savvy enough to get on base. In Welcome to the Rileys, the former music video helmer (Radiohead's "Fake Plastic Trees" among them) takes on a knowing, by-the-numbers script by writer Ken Hixon (Inventing the Abbotts) – who could write a book on how to do this kind of middle-ground festival indie – in which a well-to-do, close-to-retirement couple is several years removed from the tragic death of their daughter and have failed to cope. Doug Riley (James Gandolfini), the husband, has thrown himself into his work and smokes cigarettes in his garage in the dark. His wife, Lois (Melissa Leo), has become agoraphobic.

One day at a business conference in New Orleans, Doug meets a stripper, Mallory (Kristen Stewart), who bears an eerie resemblance to his daughter. Mallory is a teen runaway, something of a squatter and turns tricks for cash. After a night of uncomfortable bonding, Doug offers Mallory $100 a night to stay at her place and fix it (and her) up properly, like the nice, suburban girl he never got to raise. She sees it as no different from a sugar-daddy arrangement and accepts. He calls home and says he won't be back for a while.

By casting Gandolfini, who has made everyone from a petty thug (Get Shorty) to a mob boss lovable, and Stewart, whose non-Twilight resume continually affirms her next-Jodie-Foster thesp status, Scott proves he's as shrewd as he is talented. Stewart's twitchy, unfiltered turn is ferocious in its simplicity; her refusal to apologize or explain why her character behaves the way she does shows Stewart to be an intuitive actress capable of holding the screen in a way no other young starlet has quite learned how. Gandolfini, despite an occasional, ill-conceived Midwestern drawl, reminds the audience once again why he's Papa Bear of the screen.

Unfortunately, these two constitute only half of the film's nearly two-hour running time; the other half belongs solely to Lois, played by Leo (Stewart's Cake Eaters co-star) blankly and without an ounce of verisimilitude. In one of the year's biggest disappointments, Leo's stagey, self-aware performance belongs in a different, lesser movie altogether. As her character pulls herself together in an effort to travel to New Orleans and win her estranged husband back, Lois spends vast amounts of screen time looking mildly taken aback by the outside world, going down mindless comic-relief detours (She forgot how to drive! She drives slowly!) to end up in the exact same role-playing scenario as her husband later, only without the interesting character development that Gandolfini's Doug goes through. It's a weakness not just of Leo's but of everyone involved. They let Lois down.

Still, the sexless father-daughter relationship between Doug and Mallory is captivating whenever we go back to it, so raw is Kristen Stewart and so capable of absorbing abuse is Gandolfini. These two really deserve their own movie. Too bad this only gave us half of one.