click to enlarge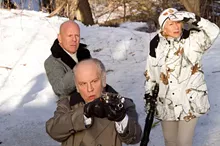 Not to be confused with the recent Tony-winning play about Mark Rothko, this Red is of a considerably lower brow. Two months after The Expendables proved a box-office boon, Red is the latest in the apparently profitable fogey adventure film genre, in which Social Security-collecting actors band together to kick ass way better than their younger, 
cockier adversaries.

Unlike its graphic-novel origins, this is a movie made for audiences of a certain age, a decidedly AARP actioner complete with all the ageist zingers this side of Harry Brown. "Old man, my ass!" bellows nutty former spy John Malkovich as he decimates an arrogant rival in a trailer-ready explosion; "Bad move, grandpa!" threatens Karl Urban's 30-
something government hotshot in a quip he'll soon regret. (One plus: We're spared that old chestnut, "I'm getting too old for this.") But the problem with Red isn't that it's chockablock with geriatric pandering, it's that the film is just as inexhaustibly stupid and utterly routine as any number of John Cena, Paul Walker or Vin Diesel vehicles those young whipper-snappers eat up.

In this case, even the source 
material, by comic-book cult icon Warren Ellis, isn't considered one of the writer's finest products, so we shouldn't be surprised that its film version sucks. There are some surface charms to be had in the opening moments, in which retired CIA operative Frank Moses (Bruce Willis) develops a telephone relationship with Sarah Ross, Mary-Louise Parker's government cubicle drone. Pretending he never receives his pension checks so as to provide a reason to call her, Moses' flirting with Sarah about traveling and mystery fiction is like a meet-cute without the meet. That comes a few scenes later when Frank, suddenly the target of a CIA assassination, appears unannounced in her Kansas home. He's just effortlessly slaughtered a dozen nameless spooks out to kill him, and he politely informs her that by communicating with him, her life is threatened and can only be saved if she sticks with him (shades of the Tom Cruise-Cameron Diaz dynamic in James Mangold's considerably more engaging Knight 
and Day).

The reason for the hit on Frank dates back to
some nasty business involving the film's fictional vice pres-ident and a cover-up of war crimes the now-presidential candidate committed 30 years earlier in Guatemala. But Red isn't at all concerned with political relevance a la The Ghost Writer; the more it progresses, the more it becomes a thoughtless bullets-and-wisecracks affair whose appealing preamble crumbles under the debilitating mechanics of its formula, which borrows liberally from better movies. Flightplan director Robert Schwentke eschews the coldness and brutality of Ellis' text in favor of a zippy, hackneyed lightness that includes a tired reappropriation of the Sergio Leone-Ennio Morricone climax of The Good, the Bad and the Ugly, delivered as if he's the first 
director to parody it.

As for the supporting cast of Hollywood ancients, only Dame Helen Mirren is magnetic enough to make her inane dialogue believable. At the other end of the spectrum, in his small role as an arch-villain, Richard Dreyfuss comes off so embarrassing you'll wish the filmmakers were as merciless to his character as they were to his boozy fisherman in Piranha 3D.