click to enlarge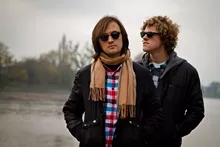 Seriously, Magic. WTF?
The beat
So, there's a buzz behind Brooklyn lo-fi post-punk act Blank Dogs (April 18, Will's Pub). Why? Well, I didn't get that memo. All their live show confirmed was that the only thing behind their mystique and hype is a dinky skeleton. I'm cool with revivalism, but if you're gonna be this derivative, at least do it with verve. Unfortunately, their conceptually flat blend of new wave, synth-pop and old Cure riffs is simplistic, with little (or perhaps too literal) inspiration or craft. Just another hipster myth.
Bringing the heat, however, was Lake Worth's the Jameses. Their garage-scuffed psych-pop is also gaining steam, only they actually deserve it. Featuring dreamily fuzzy washes but crystalline songwriting, this is a band that makes liberal use of textured layers without hiding behind them. Between their wild whimsy and sharp songs, they have that certain spark that makes them shine above the blur. They're on their way up and for good reason. As always, go see for yourself when they return to support the excellently quirky French garage-punk band Cheveu (May 6, Stardust Video & Coffee).
More South Florida sun came via Miami synth-pop band ANR, formerly known as Awesome New Republic (April 21, Back Booth). As their new album, Stay Kids, suggests, they're growing as a band and sprouting some refinement. Although the new record shows some restraint, these two guys pump real conviction into their live show, kicking out dazzling dance jams with the power of a big rock drummer. Some of the early buzz on them has ebbed a bit but they're definitely worth reexamination.
Watching local twang-rockers Lonesome City Travelers at their CD release party (April 19, Back Booth) illuminated how far these guys have come. Nothing makes me happier than seeing a local band blossom like this. With all their progress as both a unit and as individual musicians, they deserve every bit of their stout following.
I only managed to catch the final song by lush DeLand country-rock openers Andrew Shepard & the Roadkill Choir (see above: playoffs), but wow: That one song was stroked so magnificently that it left a deep, deep mark. They're brand new as an ensemble (four months old!), which only makes them that much more awe-inspiring. Where they go from here should be interesting to watch. I know I will. Again, see 'em for your own bad self when they open for the Whigs and the outstanding Ponderosa (May 10, Back Booth).
Could the local alt-country scene be on the cusp of a small rebound? Perhaps, if the rise of bands like these is any indication. Let's see it.
With all the realignment needed after the serious headbanging at Orlandooom Productions' You Are Doomed Fest (April 23, Will's Pub), area chiropractors are gettin' fat this week. First off, walking in while local sludge Thors Six Dead Horses were playing felt more like entering an active volcano than the usual music room at Will's Pub. But then, the metallic noise-rock of Atlanta's Whores slashed me gloriously to ribbons. Theirs is a sound that's massive as a barge but furiously athletic. Why they're not mentioned as often or as widely as their heavy Georgian brethren is a mystery. And overall, any metal fest with talent of this caliber needs to occur regularly.
Dave Hause of the Loved Ones was decently soulful while Jersey's Mikey Erg was adequate (April 20, Will's Pub), though his kind of freeze-dried adolescence is hard to maintain straight-faced allegiance to past your early 20s. But among a bill centered on stripped-down, pop-punk soloists, Michigan's Ian Graham, the one non-punk on the tour, upstaged them all. If you weren't lucky/smart enough to catch his band Cheap Girls at Uncle Lou's back in January, then you missed out. Graham's open-hearted style is the uniquely chest-filling kind that doesn't feel like a thin concession when performed solo. Melodies this fundamentally sound stand on their own. This is just great American rock & roll. No flash, no bullshit pose, just honest and classic.
Every so often, you gotta remember to appreciate your context, right? That's exactly what I was thinking while in mid-piss in the institutionally unlockable front men's room at Will's Pub and staring at a used pregnancy stick on the back of the toilet. Yup, that's how we do.