click to enlarge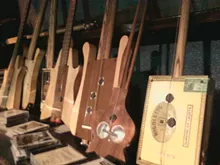 St. Patrick's Day is a joke. The last time it had any meaning for me was in grade school, and that's only because I could get girls to pinch me just by not wearing green. However, OW contributor and Orlando Music News founder Jason Ferguson delivered an uncommon yet legitimately Irish reason to celebrate. His St. Patty's Thin Lizzy tribute (March 17, Will's Pub) featured a capacity crowd and tons of local musicians who really did their homework.
Of the acts I caught, standouts included the Actomatics, whose amazingly confident set officially gave the party liftoff. They took the task seriously and played some of those songs even better than their own material. Outstanding newcomer Lone Hymnal, while not flashy, delivered a dialed-in, atmosphere-thick set. And between Hot Mouth's excellent new lineup and the Ludes, it was all high-octane rock testosterone.
Even better, the event raised more than $1,000 for Red Cross Japan relief. So get outta here with that green beer.
The beat
In other, less shamrock-tied haps, Khann (March 15, Will's Pub), one of Orlando's most accomplished heavy bands, reemerged after a period of local absence. They've undergone some changes, but it looks like they're re-booted and reignited. Increased sonic clarity is framing their songcraft better; there's less scrambling, animalistic fury, and the power is more channeled. Besides rendering their progressive tendencies with richer atmosphere and depth, the approach makes their eruptions that much more earth-quaking. Based on the advance recordings I've heard, that's the direction their upcoming album is headed. And this performance was a mighty return, one that shows that they've been hard at work.
The string of "intimate" shows by Lauryn Hill - pardon, Ms. Lauryn Hill - stopped here (March 16, House of Blues). Flexing either her hip-hop cred or her superstar eccentricity, she took her sweet-ass time to get started. The venue, which normally operates like a Swiss timepiece, didn't even know when she was going on. Requiring sets by opener Hot 8 Brass Band, her DJ and even her own backing band to get the stage up to proper temperature, she finally emerged just before midnight (i.e., 3 a.m. in corporate venue time, or 
simply rap o'clock). But if Ms. Hill shows up at all, you're already in the 
plus column.
The performance had a free-form band vibe, but it wasn't nearly as distilled a set as, say, one by Erykah Badu. When the band broke it down, you could hear the O.G. pedigree in her voice. But that wasn't often enough. Figure in the distraction of her fussy quarterbacking and what you've got is a glorified band practice. A passable one, but not equal to all 
the buildup.
Stealing the twang-punk bill headlined by Chris Wollard & the Ship Thieves (March 18, Will's Pub) was the full-monty, eight-member performance by Gainesville's Whiskey & Co. Ragged, ready and rambunctious, they're truly one of most spirited country outfits around. Besides, anyone who drops a cover of John Prine and Iris Dement's awesomely screwball duet, "In Spite of Ourselves," is golden in my book.
Also playing was Orlando's Bartender Brian, who deals in the rugged kind of country and folk that comes from punk grownups. His songwriting needs more seasoning, but there's promise. With a gruff voice in the Ben Nichols (Lucero) mold, he belts out songs with grit, soul and heartbreak. Dude's got corazón, that's for sure.
The cigar box guitar exhibition, Lowebow Fest (March 19, Will's Pub), featuring Ben Prestage, Purgatory Hill, Hymn for Her and Johnny Lowebow, was a win. I'm no Timbuk3 fan, but Purgatory Hill - a duo centered around T3's Pat MacDonald - is a band I can get down with. With high-efficiency 
cigar-box playing encompassing both bass and guitar parts, MacDonald stroked a swampy blues style that's haunting and fluid. Most importantly, their blues has the devil in it, something you have to look hard to find nowadays. And reliable headliner Ben Prestage again proved that he's a certified party-starter and possibly one of the most variably coordinated men alive.
The mini-fest was a well-orchestrated 
show by first-time organizer Cigar Box 
Radio (cigarboxradio.com). More than a 
gathering of good artists, it was a show-case for a great instrument that's resourceful, amazingly artistic and astoundingly versatile in expression. It's an event good enough in idea, quality and attendance to warrant recurrence.