click to enlarge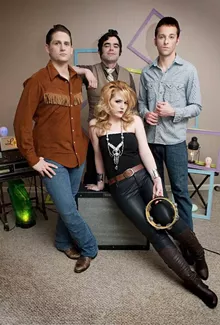 After months of off-the-record talk, it's finally been announced: The historic Beacham Theater will be back in business as a live music venue early next year. It'll be connected to the Social, officially (under the Social's considerable booking influence) and physically (through a common doorway). The full picture has yet to emerge, but this move could have seismic impact on the complexion of downtown and even the region's concert scene. Beacham dates are already being announced on the Social's website 
(thesocial.org).
The beat
The Orange You Glad Sleigh Ride (Dec. 19) was devised as a civic-minded holiday event to tide us over until the sophomore edition of the indie-centric Orange You Glad Fest. But spanning six venues and more than 30 performances in one whirlwind night, it was anything but a concession. More than simply calling Orlando's hippest neighborhood home base, this edition commendably gave back to Audubon Park (through Garden District Medians and Toys for Tots). Also worth praising is OYG's continued and improved commitment to bridge the lack of walkable urban density between the venues with transportation, this time via the Shipyard Bus. With good logistics and a fine lineup, the Sleigh Ride went a long way toward further establishing OYG's organizers as one of the city's top indie event-makers.
Also not half-stepping was Michael Parallax, the solo project of Oh Fortuna's Michael Bringardner, who shined in a predominantly Gainesville showcase (Dec. 14, Back Booth). His voluminous electronic sound has cresting dynamics, dramatic tectonics, plush textures and celestial melodies. Even better, you can download what seems like his entire catalog for free (michael-parallax.bandcamp.com).
Taking smart DIY showcraft ­– and more than a few pages from the crowd-getting book of Wham City ambassador Dan Deacon – Parallax's performance occurred on the floor, at eye level with the crowd surrounding him. The house lights were off and only his lit-up altar boy gown and basic hand-waved lights, all of which effectively turned the show into a party, cut the darkness. And it was enough to get what could've been an apathetic crowd involved and moving. Shooting for the sweet spot between Dan Deacon and Fuck Buttons, Michael Parallax achieves the unlikely by making a one-man electronic performance a complete experience.
His brother J.T. (of Rabbit Punch and Oh Fortuna), however, could learn a lot from him; he needs to do something more to validate his own goofy electro-pop project, Spirit Tramp. Although he did many of his loops and beats live, the performance began as a button-mashing solo electronic set that had all the live sizzle of a bedroom recording session. Not bad sounds but not a particularly immersive experience either. When he finally picked up the mic and started 
dancing, that's when things got far less serious, and the show really began. What ensued was essentially shirtless Napoleon Dynamite dance moves and live karaoke to his own backing tunes. Funny, but not exactly good.
DC Wilson (aka Conrad Wilson, frontman of Cape Canaveral band the Nine Volts) performed at a recent edition of Hillbilly Humpday (Dec. 15), a sorta new Will's Pub Wednesday tradition. Solo, the stylistic heritage he draws from is more directly evident, and it's country music that typically comes from regions much hillier than here. Stripped of the rock guitars that typically frame it, the honey-lacquered twang of Wilson's soothing voice actually shines with greater dimension. It's a nice yin to the muscular country-rock yang of the Nine Volts.
Also playing were the Flyin' Violets, a revamped reboot of spirited local act Vanda. Although their trademark enthusiasm is still intact, a name change makes sense because they're a very different band now. Most notably, they traded in their twang for lots of '60s rock swagger, especially evident in Ryland Bojack's flashier guitar stylings. But like in Vanda, the vocal integration of Bojack's sister, Jamie Claire, still hasn't been comfortably finessed into the band equation. Her voice is an almost operatic powerhouse, and that opens her to two potential problems: tyranny or self-parody. When singing with her brother, she sometimes steals the spotlight, and not always for the better. Although better singing alone, she tends toward outsized camp that, depending on your sensibilities, can either be fun or distracting. It's not a deal-breaker, but it could use a bit more thought.
And happy holidays, my babies. Be generous with each other.