click to enlarge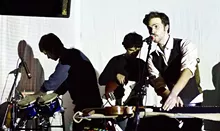 In response to the bit of
 furor over my recent Kow review, let me simply say that the day you close yourself off from honest third-party critique is the day you stop evolving. In art, as in life, that's tantamount to death. No one's asking you to agree, just think about it. So lighten the fuck up.
The beat
I took last week off, so I know this is ancient history but I got to see Loretta Lynn (Nov. 21, King Center) right before my break and, wow, that's a real big deal there. Her voice may only be at about 80 percent now but her legendary spunk is still 200 proof.
The 7-inch release party for local noise masons Attachedhands (Dec. 2, Will's Pub) was a notable audio-visual showcase, with each act bringing (purportedly 3-D) visuals distinctly suitable to their respective sounds. Besides good casting and execution, it was a bill that embraced a sense of modernity, so major credit to Attachedhands for being one of the city's leading conduits for forward-thinking music. Their advocacy, possibly more than their own music, is a big reason why the experimental scene is currently one of Orlando's most fertile sectors. And in a performance history in which their set changes a little each time, this was one of Attachedhands' more clarified sets.
Although graceful, the sound of indigenous ambient act Discovery of Magnetic North can be downright glacial, particularly on record. But making them more than just a sonic sleeping pill, which they could easily be, are their mounting tectonics and beat science. And at live volume, their scale comes alive.
But easily one of the night's capstones was the performance of West Palm Beach multimedia outfit Hear Hums. They have an expressly visual dimension that manifests live in vivid imagery equal to their music, which paints in bright, evocative color. What distinguishes this project is that it's not content to simply float semi-passively like so many other atmospheric acts. Instead, their sound vibrates with constant kinesis and dynamism. Despite liberal washes of swirls and echoes, their salient melodies and charged rhythms provide compelling punctuation. For such a thickly layered sound (one that you can virtually swim through), they manage remarkable form and clarity. It's simultaneously plush and pointed, in all the right places. Their music may deal in florid electro-psychedelic experimentalism but it throbs with a forceful tribal heart. And this defining quality is why Hear Hums stand on a rarefied plane in their class and are a real star in Florida's experimental scene.
Also celebrating a new release was Levek (Dec. 4, Back Booth), the vehicle of Orlando musician David Levesque. At the party, the band unveiled a considerably renovated sound since I last saw them. The first part of their set revealed a newfound darkness and focus in their trippy tendencies. There are still lots of indie-folk threads and even a lovely Hawaiian-style song in their equation. But this strange side is a flattering, accomplished one for Levek. Sadly, they haven't jettisoned that Paul Simon strand, but that's just a personal bias. Still, it was a much improved set and sound, which is always great to see. They're now harder to categorize but easier to identify ­– and that's just about the best improvement a band can make.
You just know something's right when you walk up to Will's Pub and see an old black Cadillac limo mounted with steer horns parked right in front. Well, that sweet thing belongs to Nashville-Seattle country-punker Bob Wayne (Nov. 29). And though his band's outlaw schtick is more cartoonish than threatening, it makes for a foot-stomping, shit-kicking live event. Wayne's Charlie Daniels storytelling style is propelled by a crackerjack band and amplified by a fiery and purposefully theatrical fiddle. The car's still cooler, but not a bad set at all.
Much more demure was local opener Matthew Mendel, who's done time in quality acts like Matt Butcher's former band, the Revolvers, and Andy Matchett & the Minks. On his own, his alt-country's nothing flashy or fancy. Although the Ryan Adams influence is heavy, Mendel seems to have channeled Adams' soulfulness without his bombast. The result is a pleasing thing of modest simplicity. Put a decent band around this guy and he could be a promising new voice that would help fill the area's currently lean twang-based ranks.