It's one of the last places you would ever want to find yourself in Central Florida. Entering the five-story building adjacent to the Orange County Courthouse, you're patted and poked as you make your way through the metal detector. The message, "Courage is not the absence of fear, it is the conquest of it," scrolls by in red on the digital elevator ticker, and then you're in a fourth-floor waiting room full of people with downcast gazes and shuffling feet as Court TV beams from the television sets. Welcome to the public defender's office of the Ninth Judicial Circuit, serving Orange and Osceola County. Please sign in and be seated.
Upstairs, in the offices on the fifth floor, there is no L.A. Law breeziness, no cocktail lunches. One hallway is stacked with old monitors and printers, another is lined with paintings from elementary-school children. The main area is cluttered with administrative cubicles and bordered with small offices where the attorneys work. Over in one corner, a public defender leans uncomfortably over a dusty brown box of paper files, settling into her work day in a common area outside her office. It's quiet – most of the attorneys are in court – and there are no frills.
But it isn't dreary. The boss, Bob Wesley, helps see to that. Enter into evidence the fact that he keeps notes in a Hannah Montana spiral notebook.
"Do you think it's creepy enough?" he asks.
At an imposing 6 feet, 6 inches tall, Wesley, 54, the elected public defender for the Ninth Circuit, cuts through the manila and staples like a quirky bull in a china shop. As he walks through the office, inquiring about each attorney's level of sobriety, his smile widens at the thought of using his office as fodder for a sitcom. He already has a title picked out: This Is Not the Macy's Thanksgiving Day Parade, a reference to a bit of sage advice one of his attorneys gave a client.
Last month Wesley's professional adversary, State Attorney Lawson Lamar, made headlines for requesting an additional $5.4 million from the revenue-strapped state legislature, citing the area's escalating crime rates and prosecutors "drowning" in case files. Wesley – who ends up defending the majority of criminal cases in Orange and Osceola counties for the simple fact that most of those arrested for crimes don't have money to pay for a lawyer themselves -– made no such plea, even though resources are tight on his side of the courthouse.
"We don't have a lot of fluff in our administration," he says.
How does he manage – each case costs the state an average of only $196 to defend, he notes -– while the state prosecutor says he's drowning?
"I can't speak about anybody's house but my own, but we have put our resources into having manageable caseloads," says Wesley. "I don't have my own secretary; I don't have a dedicated secretary specifically for me. If you look at other PD offices, some offices our size would have 25 administrative people or more. We put lawyers in the courtroom."
"Manageable" is, apparently, a relative term. Some of Wesley's lawyers have 100 or more open cases on their desks. And if attorneys aren't here because the workload is light, they also aren't here for the money. His attorneys typically start at $42,000 a year, barely enough to cover school loans, and they aren't offered much in the way of yearly raises.
"The legislature's been kind of shitty about that," Wesley says. "They gave a $1,000 one-time payment rather than a cost-of-living increase this year. That doesn't keep up with inflation or even gas costs or anything else."
What the job does offer is the chance to test your mettle as a lawyer.
"This practice of law is a lot like making cheese: It takes time," says Wesley. "And sometimes people go, 'Why is there such a long delay?' But, you know to defend somebody you really have to put in some intellectual time and some creativity, and you need to try and think things through. Sometimes a lawyer who's in their office with the door closed just staring at the ceiling is just thinking things through. You have to respect that intellectual component of our work."
click to enlarge
"I just love my world," he adds. "We don't worry a lot about pretension. We laugh a lot. We have a good time. So you're not worried about making sure people fill out forms; everything is about trying to do the client's work. I think a lot of organizations, public and private, spend too much energy trying to make sure the protocol is fulfilled rather than make sure the job is done."
In 1963, the United States Supreme Court ruled in Gideon v. Wainwright – a case involving a Florida man who was refused representation after being accused of breaking into a pool hall in Panama City Beach – that all states were required to provide counsel for all defendants unable to secure their own private attorneys. Prior to Gideon, representation was only mandated in capital cases.
Today, Florida spends more than $200 million annually to fund its 20 public defender circuit offices. The Ninth Circuit, which covers Orange and Osceola counties, got $15.5 million of that last year. It is the third-largest in the state behind Dade and Broward Counties, yet it is sixth in appropriations; it experiences the highest attorney turnover rate (55 percent in 2007) and pays the lowest average yearly salary ($49,361). Over the past eight years, the Ninth Circuit has seen the highest increase in circuit filings (5,903 more cases than in 1998) but was third in state funding increases ($4.5 million more than 1998).
Approximately 120 defense attorneys are assigned to 11 division judges, rotating between trial periods and open periods (arraignments, hearings, pretrials, motions). Felony attorneys are separated into A, B and C skill-level groups, with group A assigned to the more serious first-degree felonies. The higher the skill-level assignment of the attorney, the more work required and the lower the number of cases assigned.
On a Tuesday morning in courtroom 12D, on the 12th floor of the Orange County Courthouse, Joseph Garcia, 46, is just beginning the process. Garcia is charged with aggravated assault with a deadly weapon, a crime he allegedly committed with a pair of pliers and dressed in a ninja suit, and is in court for a preliminary hearing to determine his bond. He is represented by Christine Warren of the public defender's office.
Circuit court judge Bob Wattles hears testimony from an Orange County sheriff's deputy regarding the incident. Warren grills the deputy about his report, pointing to a paucity of evidence beyond a photo from the scene, and tries to paint the situation as retaliation by Garcia against somebody who had crossed him in the past. The state attorney points out that Garcia's already been bonded out of jail on domestic battery charges in an unrelated incident. If convicted of burglary and battery in the current case, he could be looking at a life sentence. Garcia is asking for bond only on the burglary, which the judge agrees to.
click to enlarge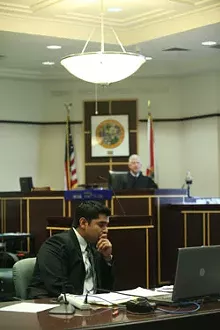 The following morning in the same courtroom, it's time for arraignments. A crowd has assembled to plead to minor charges of bad checks, drug possession and possession of firearms by convicted felons.
"They never catch me," a girl charged with stealing a computer gaming system and a laptop from ColorTyme whispers to a small group in the second row. "I always turn myself in."
"They catch you, they get a bonus," a girl with a cocaine charge chimes in.
"I go to jail when I want to go to jail," the first girl adds.
In the aisle in front of them an older man with a cane is wearing dark sunglasses, accompanied by a younger woman with a gold tooth.
"He's not blind," one of the girls laughs.
"In one eye," smiles the girl with one gold tooth, before sharing with the group that she had a friend who got five years in prison for stealing a TV.
As the judge calls the court to order, the defendants come up to the front in groups of about 10. They're sworn in, then a public defender stands in front of the group as each of their names are called. They're asked to plead guilty or not guilty. A pretrial date is assigned for those who choose to fight.
If they decide to accept the state attorney's prepared plea as adjudicated by the judge – typically a reduced sentence or probation for lesser offenses – they're fingerprinted and assigned a public defender. Most – the counterfeit automotive registration, the petty theft from Belz, the attempted girlfriend strangulation – opt for "not guilty" pleas.
A scene erupts momentarily when a homeless man charged with attacking a woman for $5 petitions for bond.
"I'm totally terrified for my life," says the victim, who came to speak at the bond hearing against the advisement of the state attorney.
"All I can do is tell you to be extremely careful," says the judge. "He is entitled to bond
by law."
One of the four public defenders in the courtroom is B-level attorney Luis Calderon. Calderon graduated from Georgetown University in 2004 and took an administrative job out of college investigating white-collar crimes at a law firm in Washington, D.C. He came here two years ago for courtroom experience, but insists that "if you do it for just the courtroom experience, you're not going to last. You've got to really believe in what you're doing."
What he's doing is representing clients with second-degree felony cases, of which he currently has more than 100 open. "Run-of-the-mill felonies," he calls them, like fraud cases with forged checks, burglaries, sales and deliveries of cocaine, aggravated batteries, aggravated assaults with deadly weapons, possession of firearms by convicted felons. The small stuff. But a lot of it.
"This is what this job teaches you to do: It's to multitask, to get on top of 10 things at once, and to be good at getting the facts quickly," he says. "Getting to the heart of an argument, getting to the heart of what the issue at stake here is. So if you're going to do a deposition, you walk in there knowing exactly where you're going to take something."
A big part of his job is establishing that the state attorney's charges are right based on the evidence reported, and making sure that they've got the right guy. But he has a personal goal, too: "To be able to overcome that perception that we're all disheveled, with a hundred pieces of paper coming out of everywhere, wearing wrinkled suits," Calderon says. "That to me is probably is goal one, to dissolve that perception of ineptitude, of incompetence."
"When I go talk to my clients [in jail], I've read their file, I know what's going on," he says. "And I'm going there to talk to them about specifics of what I'm already planning to do on their case. I don't go out there saying, 'Oh, what's your name?' I look up their photos. When I go see them, I recognize them coming into the room. Or when they come here, I go and get them."
In a blue Ford Taurus provided by the state, Calderon makes his Wednesday-morning trek out to Orange County Jail to update clients on the status of their cases. He says it's one of the nicer jails because it's run by the county and not a private contractor.
"This is the part that people either hate or are really comfortable with," he says. He's fine with it. His parents were both doctors for incarcerated people when he was growing up.
Once inside the jail, a long white corridor with blue trim opens up. It's relatively clean, save for some leaking ceiling panels being directed into garbage cans by white tarp. It doesn't smell very nice, though. The sickly-sweet odor of cheap deodorant wafts through, as do whiffs of grease, urine, vomit and bleach.
"I always think it smells like a cross between a locker room, a school cafeteria and a hospital," he says.
The staff is cordial, something Calderon suggests is a matter of give and take; if you come off as aloof with them, they're likely to make you wait a little longer. On a couple of occasions on this visit there are logjams – jail staffers sometimes seem too busy with their own boisterous conversations to notice people waiting at the large sliding doors – but in general, everything goes smoothly.
Calderon meets one of his clients, Christian Diaz, 25, in a conference room. Diaz is charged with aggravated battery for allegedly stabbing someone in the head with a box cutter. A 10-minute conference follows, completely in Spanish. Diaz speaks no English; Calderon speaks fluent Spanish and is frequently assigned to clients in need of interpreters. Calderon delivers an update on the case; Diaz nods and leaves the room.
On the way to a second conference, Calderon warns that the men in the last dorm on the right are known to bang on the walls when people walk by. "I don't know what they feed them," he says.
Along the way, he bumps into one of his clients he was not planning to see, a man who allegedly slammed his car door on a cop's hand while he was backing into a nightclub parking spot with his girlfriend in the car. Other officers at the scene thought he was fleeing and opened fire on the car, wounding him and his girlfriend. The FDLE is investigating the shooting, and the girlfriend is suing.
"I haven't seen the report," says Calderon. "But that's what my client tells me."
At another holding area, Calderon goes into a private conference area to meet Dewann Brown, 29, who is accused of burglary. The only evidence against Brown was a drop of blood at the scene. A judge ordered a DNA swab be taken from his mouth, which was done, but somehow it was mishandled on its way to the state crime lab. Calderon tells his client it was lost in the mail. Brown is suspicious of the fact that they want a second one, so Calderon's job is to convince his client that if he doesn't submit to the swab, he will be physically restrained and it will be taken anyway. Brown complies.
"If I don't tell them what's going on," says Calderon, "they have no idea."
Shana Manuel spent three years as a state attorney in Miami, followed by a stint in Broward doing insurance law, before she came here three years ago to work as a public defender.
"I think being a public defender is more exciting, just because you get to talk to your clients and have some pretty unique defenses and ways of looking at evidence," she says. "As a prosecutor, you're just given the evidence. You don't get to do any real arguments or anything."
Manuel is an A-level defender, meaning she handles the most serious crimes. She has about 50 open cases and doesn't feel overburdened.
"I can't say I feel it personally, but I definitely can sympathize with those who do," she says.
Plea deals are less frequent for people charged with serious crimes. Many of Manuel's clients are facing life sentences, meaning the best plea deal offered will be in the neighborhood of 15-20 years. People aren't typically willing to give up that much of their lives for a crime they say they did not commit.
Her job tends to involve a lot of legwork. Manuel often researches the background of cops and victims and looks for inconsistencies in the state's cases, which she finds more often than you might expect.
"In general, they find a suspect and then they close a case, and they don't really do an investigation like they do on TV," she says. "Which sometimes, you should investigate further to make sure that that is the person that did it. They don't do that. They get a suspect, they get someone to identify them, and then that case is closed for them. And that shouldn't be good enough for this community, but it's good enough for some of the agencies here, sadly."
A lot of the job is about being crafty. Wesley, Manuel's boss, tells the story of a case in which, when called on by the judge, she shuffled through her papers, looking under books, under the desk and under the lectern, before declaring, "Your honor, I can't find the state's case!" The client was found not guilty.
But often it's down to the jury. In one case, a potential juror decided that because her client didn't speak English he must be guilty. (He didn't make the jury.) More recently, a client, Victor Melendez-Morales, 32, was charged with robbing a Cumberland Farms with a firearm. He was allegedly caught on tape and picked out of a lineup, she says. Three witnesses were present at the trial.
"Basically all of the state's witnesses were Caucasian men who weren't very culturally exposed," she says. "And it just kind of came out in testimony that [one of the witnesses] really didn't have a lot of contact with Hispanic people and he really couldn't tell one from the other. He only picked my guy out of the lineup because he was darker and had a goatee. And that's what he remembered. I got a not guilty on that, gladly. But there were some uncomfortable issues that I had to raise in front of this white jury, that, you know, sometimes you can't tell or distinguish between members of another minority group."
"Per: Judge Alicia Latimore, No Chewing Gum in the Courtroom," reads a laminated poster taped up in courtroom 10A, on the 10th floor of the Orange County Courthouse. It's a trial day for Manuel, and this Wednesday afternoon's docket is heavy with sexual battery. There is no one chewing gum.
There are men in handcuffs, though. The first is Mark Swanson, 46, charged with one count of sexual battery and two counts of lewd and lascivious molestation. He's accused of forcing a young girl to rub his penis after he rubbed her chest on multiple occasions. Latimore asks him if he's ever been diagnosed with a mental illness.
"One of the doctors diagnosed me and then you said I was," he responds.
There's confusion over Swanson's comprehension of the charges against him.
"For the record," Manuel addresses Judge Latimore, "Mr. Swanson does not read and write, so I had to read it to him."
Swanson pleads no contest to two counts of lewd and lascivious battery, which the judge decides will earn him 15 years with the Department of Corrections plus five years of supervised sex-offender probation. These cases, Calderon later says, are the kind the court makes a statement with.
Next up is Kenneth Hargrove, 43. Hargrove is charged with one count of sexual battery and two counts of lewd and lascivious molestation. He and his wife allowed another family they knew through their church to move into their Orange County home. The idea was that the Hargroves would move out, eventually renting the property to the family of five. That never happened.
Hargrove allegedly asked each of the family's three young girls to sit on his lap and touched them inappropriately, penetrating one. The girls told their mother the story two years later, after their family had moved into their own residence.
Hargrove says he's innocent.
"You are not going to be presented with scientific evidence," the state attorney opens her argument. "This is a judgment on the credibility of the three girls."
It's Manuel's job to argue that the girls' stories don't hold up; the two-year delay, something jarring the memory, a denial by one of the girls later that it ever happened. "I am confident that the only fair verdict is not guilty," she says to the jury.
Then the girls are led into the courtroom to give their testimony. The courtroom is emptied in deference to the minors' privacy. Manuel later says that there was really no defense; the girls were good witnesses. Hargrove is found guilty and sentenced to a mandatory life sentence, with two additional 30-year sentences. Because it was a capital sexual battery – the victim is under 12 and the defendant is over 18 – a life sentence was the only option.
"There was nothing I could work with,"
she says.
Back upstairs in courtroom 12B, Calderon is arguing the case of Peter McNeil, a 29-year-old charged with grand theft and criminal mischief who also happens to be the son of Ocoee deputy fire chief Pete McNeil. Members of the McNeil family are in attendance, many in uniform. Calderon wants to enter a no-contest plea for McNeil, and is asking the judge to allow the family to speak on his behalf. McNeil has a criminal record, but according to Calderon, is trying to set himself right.
But the judge won't let the family members speak, and sets a sentencing date for March 19. McNeil is escorted back out of the court through the side door, momentarily looking up at his family and giving a humble thumbs-up from his bound wrists. His father nods.
It's one of the last cases Calderon will work. Like 55 percent of the public defender's staff last year, he's leaving for greener pastures.
bmanes@orlandoweekly.com