Here are 10 shows I'm looking forward to at the 2015 Fringe, based on previews, press releases and past productions. Fair warning: If my previous years' picks are any indication, at least one of these shows will wind up being godawful.
Local Artists
Clink: Circus Arts and PB&J Theatre Factory join forces for a prison farce blending high-flying stunts with silent slapstick featuring the ever-entertaining Brandon Roberts.
The Lion Queen: The 2006 staging of Michael Wanzie's Stonewall-set Disney satire is still the best-selling show in Fringe history. Now it's being revived under original director Kenny Howard with a new score.
Hoodies: In the wake of Ferguson and Baltimore, this in-your-face exploration of race and politics from producers Beth Marshall and Penguin Point may be the most meaningful show at the festival.
Field Guide to the Gays 2: Logan Donahoo returns with a second installment of his "one-man multimedia safari into the gay community," which is equally funny whether you're LGBTQ or cis-hetero.
Bubble Gum Party: Like the Partridge Family meets The Aristocrats, Summer Aiello, Sarah French and Kevin Kriegel play Ned Wilkinson's tunes as an all-American family band that's definitely not suitable for the family.
National & International Artists
click to enlarge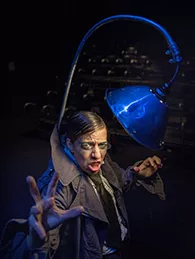 TJ's Kitchen: Fringe circuit superstar TJ Dawe returns with a different script at every performance, including his biggest hit, The Slipknot, and Toothpaste and Cigars, which was turned into the Daniel Radcliffe film What If.
6 Guitars: Chase Padgett revised his Nashville Hurricane last year with great results; now he's back with a revamp of his first hit, 6 Guitars. And don't miss his Joyride to Eternity sketch show with Stacey Hallal.
Tales Too Tall for Trailers: Storyteller Paul Strickland concludes his Lake Wobegon-esque trilogy about the Big Fib trailer park with the participation of Erika Kate MacDonald, whose rap show was one of 2014's highlights.
Butt Kapinski: Los Angeles comic Deanna Fleysher comes to town with a "filthy, fully interactive ride" through an improvised film-noir nightmare. This sort of surreal solo act is why Fringe exists.
Grim and Fischer: The wonderful Wonderheads, who swept Orlando's Fringe awards in 2013 with their lovely Loon, are back to perform their signature show, which pits a stubborn grandma against the Grim Reaper.