click to enlarge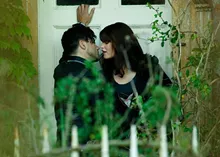 Tamara Drewe

4 Stars

(R)

Have you heard? Tamara Drewe got a nose job. That's right, the girl once best known as "Beaky" has returned to sell off her inherited estate, and newly armed with success as a columnist, a smaller schnozz and one remarkable pair of jean shorts, she's turning all sorts of heads at the writers' retreat next door.

Nicholas and Beth (Roger Allam and Tamsin Greig) own and run the retreat; he cranks out crime novels with ease and can't keep his hands off of other, younger women. There's Glen (Bill Camp), an American author searching for his muse, and handyman Andy (Luke Evans), with whom Tamara (Gemma Arterton) had an earlier fling. She's currently carrying on with scowling drummer Ben (Dominic Cooper), whose arrival in a town where nothing ever happens very much draws the attention of gossip-craving schoolgirls Jody and Casey (Jessica Barden and Charlotte Christie).

And from there, things get wonderfully messy. A better Woody Allen movie than Allen's most recent one, Tamara Drewe is a farce in line (if not on par) with Shakespeare's own, as daffy adults fall in and out of love and lust in a bucolic English hamlet. Director Stephen Frears (The Queen) maintains an appropriately light touch throughout, although a few more of his occasional surreal asides – a worried wife addressing the camera; meddling girls dreaming up hypothetical suicide or sweeping romantic gestures – would have been welcome.

While Tamara is a sex object to many of the men, she's not just a sex object to the audience, thanks to a lead turn from an actress seemingly tired of playing just another pretty face. After wooden roles in 
Clash of the Titans and Prince of Persia, Arterton delivers her second of two surprisingly vulnerable performances this year (the other was in the crackerjack kidnapping thriller, The Disappearance of Alice Creed). That isn't to say that she doesn't vamp it up a bit during her reluctant homecoming – she cares more about those leering looks than she'd care to admit.

Everyone else falls in place from there: Allam is perfectly skeevy as a hack author and hack husband. Andy doesn't know if he still loves a girl who now loves a revolving door of suitors, and as Ben, Cooper nails a blend of guyliner and apathy. His dog stirs up as much trouble as those two schoolgirls, and Barden and Christie are appropriately blinded by celebrity worship at the expense of understanding the consequences their stealthy intrusions have on this romantically confused lot.

At 110 minutes, the whole affair could stand to be tighter. In adapting Posy Simmonds' comic strip, Frears could have taken sharper jabs at the self-important manner with which authors conduct themselves. But Tamara Drewe is a welcome trifle and a fitting showcase for an actress who is now able to break hearts as easily as she turns heads.