Some artists bring you into their world with their performance; in the case of soul singer Sharon Jones, it's quite literal. She climbs up on the lip of the stage and sings right into the audience, exploding the perceived distance off the stage. It's like she's the hostess of a party, and she insists on greeting everyone personally and ensuring that they're enjoying themselves.
"I react a lot to the audience. Whether I'm talking to the guy in the front or I'm singing, running around the stage or someone's dancing with me on that song," Jones says, "every night it's going to be a little different." Jones was born in James Brown's hometown of Augusta, Ga., and was fascinated early on by the King of Soul. "When I was a kid I used to be in the yard with my brother, imitating James Brown, doing splits," Jones says with a laugh, speaking from a rehearsal studio in New York.
Though she hasn't realized her lifelong desire to meet J.B., Jones has done justice to his legacy with her funky backing band the Dap-Kings. Resurrecting that classic '70s deep-funk sound, Jones' raw, smoky vocals recall Brown protegée Marva Whitney. Originally brought in to provide some backing vocals on a Lee Fields track, Jones and the Dap-Kings eyed each other warily at first. "When I first met them I was like, 'What do these young white boys know about funk?'" Jones recalls.
But any doubts soon evaporated. Five years later, they're a growing phenomenon, fresh off a performance at the Monterey Jazz Festival in September, where Jones met legendary gospel singer Mavis Staples.
click to enlarge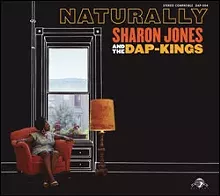 "She was like, 'Gal, that was you making all that noise up there on stage? And look at you, a little itty thing too,'" says Jones. "I'm trying to tell her my age `she turns 50 in May`, like I'm old, and she's like, 'Ah, you're just a baby, child.'" Jones always felt she had a gift for music – she's completely untaught – but she grew discouraged and it took time to discover a home.
"I was brought up at a time where it was hard. I'm a dark-skinned young woman. And in the late '60s, the '70s and '80s, MTV wasn't looking for no dark-skinned woman," says Jones. "So I was shunned and I was really hurt. I got into it in church and stayed there playing organ and singing, but you can't hold something like that back. I started singing with the wedding band, and from there it went on."
Jones' dream, like her stage persona, is irrepressible: She's gotta let it out, and it's contagious.
Sharon Jones & the Dap Kings
9 pm Tuesday, Feb. 7
The Social
music@orlandoweekly.com