click to enlarge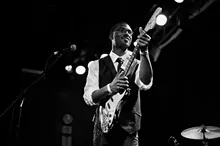 Peter Baldwin
Peter Baldwin in Vodville
(Rock Ya Girl Records)
Science tells us that everything new comes from mutation, that everything around us is there because something, at some point, went awry. That can be a very good thing – adaptability – or a bad thing that spells out a greater challenge for survival. It's all part of the evolutionary crapshoot.
Something has indeed gone awry in the evolution of Peter Baldwin, a former local (he moved to New York City this month) who captivated Orlando crowds with a smooth blend of soul, funk and likability. Whether playing to a handful of people in an art gallery or opening for Joss Stone at Hard Rock Live, there was a sparkle in his eyes and a grace in his movement that suggested calmness, like an exotic tour guide in the R&B wilderness.
On his debut EP, Peter Baldwin in Vodville, what emerges from the thicket isn't a new look at an old world, but an overrun Sandals resort. The disco-era instrumentation, safe, slick production and reassuring backup coos support a finger-snapping, falsetto-straining Baldwin on opener "Heartbreaker," leading into the self-pitying vanilla-soaked "Hurricane," then on to the EP's worst offender, "Suicide Girl," a condescending tale of a man with a savior complex wishing he could help his ex with their break-up. That's not a bad place to start, but the atmosphere is all pretense, calling to mind wet streets, a lone streetlamp and blue-tinted lighting as easy-listening keyboards emote in the background.
The second half balances out slightly more than the first, with the Caribbean hotel-lobby-worthy "Pink Plastic Gladiators," oddball rocker "Rob the Bank" (a highlight) and the lounge-lizarding "Money." It isn't until the closer, "Claustrophobic," that the spark we came to know so well returns. A well-structured, tonally dead-on melancholic track, Baldwin tosses out another elemental love letter – the singer's lyrics are a consistent detriment – with confidence, passion and charisma. There are nooks and crannies built into the wah-wah-drenched backing track for Baldwin to find his way around, and that's where he's at his best – bobbing and weaving like an R&B welterweight.
The good news is that's what debuts are for – finding the right voice – and that usually does come with a mania born out of years of consideration. The key for Baldwin's future success will be his adaptability. Can he look objectively at what he's produced here and find the most useful tools? I suspect he'll survive.