click to enlarge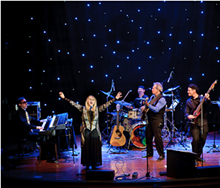 RENAISSANCE | 8 p.m. Friday, April 26 | Plaza Live, 425 N. Bumby Ave. | 407-228-1220 | plazaliveorlando.com | $29.50-$125
Renaissance has experienced its own unexpected rebirth. During their mid-seventies heyday the English sextet's swelling orchestral-folk carved out a space between the Moody Blues and Pentangle, sounding sweet, elegant and dramatic. Now they're about to release only their second album in the last 30 years, Grandine il Vento, and first since 2009's 40th anniversary reunion.
It's an accomplishment tinged with sadness. The album is the last recorded work of principal songwriter and guitarist Michael Dunford, who died of a stroke in November, three months after they finished. Opera-trained five-octave singer Annie Haslam remains the sole link to their beginnings in the early '70s, influencing modern day acts like Midlake.
Haslam cites the music's difficulty and intricacy in explaining the numerous lineup changes over the years. Given the expense of touring a six-piece band, it was even surprising that they continued to tour intermittently beyond 2009's 40th anniversary tour. (They'd returned in 2001 with their first album in nearly 20 years and a tour before going back on hiatus.) But the fans kept asking for more – to the point where they literally paid for it.
"It all happened because of Kickstarter," says Haslam, a breast cancer survivor who lives in upstate New York. The campaign paid for the new album and its forthcoming marketing campaign. "Nowadays the record companies are just not interested. They're interested in our old royalties, but not letting us record."
Haslam collaborated with Dunford for the first time. Betty Thatcher had handled all the bands lyrics since the band's '71 reboot when legendary label exec Miles Copeland started managing them. Thatcher even wrote lyrics for one of Haslam's eight studio solo albums. However Thatcher died two years ago.
The lyrical baton passed to Haslam, who despite her ample solo experience felt anxious to work with Dunford. Nonetheless she's pleased with the results. Like many of Renaissance's albums, the longer set pieces are set off by shorter numbers. Grandine il Vento features two longer tracks, including the 12-minute album-opener "Symphony of Light."
"It's one of my favorites. It's about Leonardo DaVinci. He was called the Renaissance man and was a vegetarian, a singer, an inventor as well as a painter," says Haslam. She can definitely identify because she's a painter herself, creating not only the new album's art but also a dozen of Mark Wood's famous electric violins, among other projects.
The album features appearances by John Wetton (Asia, Roxy Music), dueting with Haslam on the baroque Blood Silver Like Moonlight, and flautist Ian Anderson (Jethro Tull) on "Cry to the World." Overall, it's a rich, full-bodied album.
The originally planned show in October was to feature a back-to-back reprisal of their two biggest albums 1974's Turn of the Cards and 1975's Scheherazade and Other Stories. However with the new album's recent release, one expects several new tracks to find their way into the set.
"It really evolved into this unique sound and became completely different from how it started off and it's sort of timeless because of all the classical elements and how we progressed with it," she says. "Nowadays there are a lot more, younger people coming to the shows and it's definitely spreading."