click to enlarge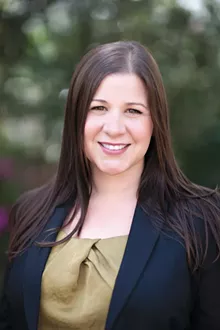 Jenna Tosh has already begun the transition into her new role as Planned Parenthood of Greater Orlando's new president and CEO. She's been waiting in the wings for years as the organization's director of education and advocacy and served as the vice chair of PPGO's board of directors until last month. We caught up with her on her second day to find out what her plans for PPGO – and, more candidly, her own safety – are.
OW : There has been a lot of talk about this becoming a battle for the younger generation. You're 28 years old, you have a new child, you understand these things viscerally. A lot of the old guard that fought for the pill and for Roe are menopausal at this point. It's not as directly their battle. Is this a sea change?
Jenna Tosh: I think that there's definitely something to be said for that. I was just having a conversation with someone this morning about how we always talk about the problem with political representation, that there aren't enough women at the table. In my opinion, the bigger problem is that there aren't enough young women at the table. Young women are often times so much more caught up in our families and our responsibilities having young children for years, that by the time a lot of young women decide to run for office, they're already older, they sort of get a slower start. I'm 28 and I have one child; you bet I've used birth control, you bet I understand birth control. That's really important because young women are the experts on current contraception methods because we use them. We talk to our friends about them. There is going to be a generational tide because a lot of the Planned Parenthood CEOs recently have announced their intentions to retire just because many of them have been serving for 30-plus years. I think it's going to be really interesting to see. I think it's bound to be different.
There's always the fear being in a position of power with Planned Parenthood that the safety of your family is at risk. How much have you had to plan for that?
We've obviously talked about it. It's obviously unsettling. I do have a young child and I have had to take a number of safety precautions already. There are a number of things we're looking at: security upgrades to our home, etc. These are things that a lot of people don't often think of when they're getting a new job, especially a job that they're excited about. But it is just the world we've grown accustomed to in the Planned Parenthood family. Just because there are some crazy people who might want to hurt my family doesn't mean that these services aren't critically important, because they are. I'm not going to back down to bullies just because they have some backward opinion about how women should be living our lives.