click to enlarge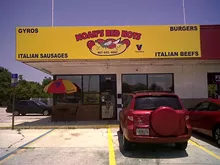 Noah's Red Hots
7583 University Blvd.,
Winter Park
407-645-4687
$
East Orlando's fast-casual dining scene is growing fast, and new entry Noah's Red Hots adds to the Chicago-style fare factor set by competitors Hot Dog Heaven and Italian Beefstro. If a quick trip to the Windy City isn't in the agenda, get in line to file into Noah's ark.
You'll find the usual meaty Midwestern offerings: gyros, Italian beef, Polish sausage, brats and, of course, franks. The well-dressed Chicago dog ($3.09) is an all-beef Vienna wiener covered with neon-green relish, hot sport peppers, tomato slices, onions, mustard and a pickle spear. The chili-sauerkraut dog ($3.39) is a good balance of flavor, but don't take it to go - the steamed bun will be mush by the time you get to your destination. Pass up the overpriced Italian beef ($6.49); the tough ciabatta roll overwhelms the paper-thin meat, even when doused with gravy.
Subdue your sweet tooth with a Wunderbar ($2.99), a frozen, chocolate-covered cheesecake slice on a stick. It's not a light dessert, but hey, it won't be following a light meal.