click to enlarge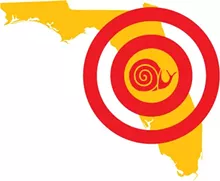 After last year's gustatory afterglow, Slow Food Orlando's Eat Local Week has returned. During the eight-day stretch between Nov. 11-18, some of Orlando's finest restaurants will serve menus created around Central Florida's best ingredients, and chances to interact with our best local farmers, food producers and like-minded eaters will abound.
Dishes served on Eat Local Week menus are sourced from within a 200-mile radius of the city. More than 25 restaurants from Disney to Audubon Park are participating this year, running the gamut from casual standbys like Sandwich Bar and Dandelion Communitea Café to temples of haute cuisine including Todd English's Bluezoo and La Luce at the Hilton Orlando Bonnet Creek. The prix fixe feasts – both lunch and dinner – range from $15-$45.
Good eats aren't the only feature of Eat Local Week, though; daily events will introduce the people and places behind the stoves and farm fences. On Saturday morning, visitors can tour Lake Meadows Naturals, the poultry paradise that raises happy chickens, ducks, Cornish game hens and poussins (Thanksgiving options abound!), or that afternoon, tour local baker Olde Hearth Bread Co. Sunday's tour of Heart of Christmas farm is for the crunchier crowd: The huge, completely hydroponic vegetable heaven should be teeming with hearty, healthy leaves. Tuesday offers an open house at the Homegrown local food cooperative, and on Wednesday night, Dandelion hosts a screening of The Greenhorns, a documentary about young agriculturalists across the country. Other workshops and social events are peppered throughout the week; to get your foodie fix, visit eatlocalweek.com for a full schedule of times and addresses.
The Winter Park Harvest Festival, Nov. 19-20, crowns the week's events. Saturday, Nov. 19, is a full day of conferences celebrating the importance of local food producers to our Central Florida economy, capped by a decadent farm-to-table dinner ($125 per person) at Mead Botanical Garden. Sunday brings a daylong market featuring local food producers to the West Meadow of Central Park. Check winterparkharvestfestival.com for more information.