click to enlarge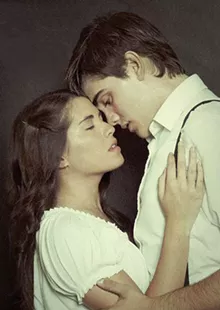 Some theatrical endurance tests give even the most dedicated playgoer pause, like Royal Shakespeare Company's 10-hour Nicholas Nickleby or Peter Brook's nine-hour Mahabharata. Our town recently witnessed an epic musical theater marathon so intimidating that I suspect veteran critic Elizabeth Maupin permanently put down her pen rather than attempt to cover it. But I'm here to tell the tale of how I survived the Spring Awakening double-header.
Spring Awakening, in case you've been locked up in a Germanic reformatory for the last five years, was the 2006 Tony-winning hit that revived the career of '90s pop musician Duncan Sheik and launched Glee stars Lea Michele and Jonathan Groff. Following a successful national tour, performance rights were made available to small theaters and schools through license holder Music Theatre International. In a situation eerily reminiscent of 2010's dueling Rent productions, Greater Orlando Actors Theatre and Breakthrough Theatre both announced stagings of Spring Awakening within two miles of each other. (I can't understand why MTI overexposes their properties like this, but only GOAT's program bore the legally mandated license credits.)
I loved the original Broadway show and liked the Equity tour, but two sets of angsty adolescents is too much, even for me. Still, when I realized that I could catch the closing-weekend matinee of one version, immediately followed by an opening-weekend evening performance of the other, the masochist in me couldn't resist.
In the afternoon show, director Wade Hair did his best to re-create Michael Mayer's original staging on Breakthrough's postage stamp-size stage. Likewise, choreographer Michael Schroeder simulated Bill T. Jones' ground-stomping style in a muted, scaled-down fashion. But in an original touch, musical director Don Hopkinson enlisted folk ensemble the Mud Flappers (the toast of Fringe 2011) to prerecord the show's instrumental accompaniment. This proved to be the show's best and worst feature: best, because the ballad numbers benefited greatly from the sonorous strings; worst, because the harder-rocking songs were sapped of sonic energy. Vocally, the ensemble blended pleasingly, but solo singing was tenuous, and the unamplified lyrics were often unintelligible from the fifth (and last) row.
Breakthrough's cast paired community-theater veterans with appropriately youthful performers, some still in high school. As the doomed heroine Wendla, Ariana Morales was ideally innocent, if a bit overanxious from the outset. Her co-star Max Herskovitz, however, gave the most callow, unsympathetic interpretation I've ever seen of rebellious protagonist Melchior, and I saw Hunter Parrish (the smirking Silas from Showtime's Weeds) in the role, so that's saying something. Bret T. Fox was admirably intense as the emotionally unstable Moritz, but his outsized facial expressions bordered on the comical. The unbalanced acting made worse the absence of emotional connection, but overall Breakthrough's offering was a respectable simulacrum of the Spring Awakening I originally enjoyed.
GOAT's take that night was in many ways the opposite: loud, energetic and original – at times excessively so. Director Paul Castaneda has boldly adapted the staging for an "in the round" presentation, making good use of the environment and embedding actors in the audience, and Jessica Mariko's choreography is closer to the original's explosive spirit. And while the four-piece band led by Michael Horn lacks the Mud Flappers' polish, they compensate with live presence and punch. Most important, Castaneda preserved a crucial element that Hair didn't: the handheld microphones that signify the stylistic shift from the old-fashioned dialogue to the modern music. Though the omnipresent headset mics seemed like overkill, the overall effect has more of the rock & roll energy the authors intended.
Acting-wise, Melina Countryman makes a nicely naive (but secretly naughty) Wendla, and Anthony Pyatt Jr. (who recently starred in the nonmusical version of the play) got me a little teary at the end as Melchior. As Moritz, Adam McCabe has the requisite rock singing voice, but his interpretation seemed modeled on Crispin Glover's nerdy George McFly from Back to the Future. Several ensemble members are standouts, especially Sarah Villegas (Ilse), Josh Roth (Hanschen) and Alexander Sage Oyen (Georg). What undercut the show was Castaneda's occasional envelope-pushing: Is it necessary to add exposed breasts to a sensitive song about child molestation, or for Melchior to punch Wendla in the face and stomach instead of simply spanking her?
In the end, it turns out this town (and my spine) is strong enough to withstand two Spring Awakenings. The cast of Breakthrough's production even attended the GOAT show with me, a show of community solidarity that ought to shush Facebook sniping. Now brace yourself, because there are multiple Drowsy Chaperones and Next to Normals looming on the horizon.