click to enlarge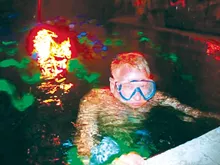 By the time you read this, debt-limit Armageddon may have already reduced society to scavengers. Even if by some miracle we haven't all devolved into Slow Mutants by next weekend, the economy will never get back to what it once was within our lifetime – that's tragic for all sectors, but it will disproportionately impact the arts. Where will creativity come from once we're all huddled in a cave, fighting over the last can of Spam? Despite my natural inclination to despair, I discovered a pair of art events last Saturday that sparked a flicker of faith for the future. So if the news has you feeling desperate, do what I did: Find some art, dive in, and just keep swimming.
HAPPENSTANCE
Kip Watson, Florida dance legend and founder of the Southern Ballet Theater (which later became Orlando Ballet), established Happenstance as an ongoing workshop event where dancers, musicians and actors could share performances in progress with a sympathetic audience. Watson passed away in April and the memorial service he received was one of the most entertaining I've ever attended, with hilarious family eulogies about Kip's hell-raising youth and students paying tribute to his legacy. Watson, who attended the funeral in video form performing a farewell dance, would have appreciated the repeated rounds of applause he received (rare during such a solemn event).
Likewise, I'm certain Kip would be honored by the tribute paid to him as his widow, Eliza Harwood-Watson, and Elise Frost resurrected Happenstance, which had fallen dormant recently. The last Saturday of each month will now give performing artists a free place to play out their concepts in front of folks who pay $7 to support emerging art.
Events like this are always a grab bag of the good, the bad and the fugly; the evening I attended was no exception. Things started shakily with a five-song set by the hard-rock quartet Bars and Ballets. The rhythm section was solid, if a bit heavy-handed, but the frontman's curious anti-charisma and indecipherable singing simply lost me.
Things picked up with Nine Crimes, a contemporary duet from Nao Dance,which reminded me of a recent routine on So You Think You Can Dance. Then, for a change of pace, Frost performed "Earthquakes: Non-Fiction Childhood Fantasies," a bizarre monologue about dead ducks and frozen baby bunnies in the voice of a slightly brain-damaged child dressed in a dog suit.
The second half consisted of Perceptions From Heaven, a group dance piece featuring students of a wide age range, followed by "I Didn't," a creepy fragment in which one woman lay twitching on the floor while another looked on, smoking a cigarette. For the finale, Frost and McClaine Timmermanperformed Manipulations, an energetic duet that appeared to be improvised.
Every work might not work, but the point is for artists to have a place to experiment, so I'm thrilled Orlando has an ongoing opportunity like this again. If I were to offer advice for improvement, I'd like a moderator to introduce the works and facilitate a dialoguebetween the artists and audience afterward. Because what's the point of getting all these folks together, if not feedback?
AQUAPODICA
Orlando artist Doug Rhodehamel is widely known for turning other people's trash into art-installation treasure; thanks to his Spore Project, paper-bag mushrooms have popped up on every continent, including Antarctica. But his latest project takes things to a whole new level – as in below sea level. Aquapodica involves hundreds of small plastic water bottles, filled with glow sticks and adorned with tendril-like six-pack rings.
Last Saturday night, the creatures were set loose in the backyard swimming pool of Shane Valentine for a private exhibition. Arriving around 11 p.m., I donned a pair of swim goggles, all the better to see with underwater, and dove into the bathtub-warm water. Thanks to differing amounts of ballast, some of the glowing jellyfaux floated just below the surface, while others lingered near the bottom. Diving below among the faintly shimmering sea life with DJ Nigel John'sspacey soundtrack echoing in my ears was an exquisitely trippy experience – at least until I breathed in a lungful of chlorine. Back on shore, chatting over pina coladas with other invitees, all I could think was: It's the end of the economic world as we know it, and I feel fine.