click to enlarge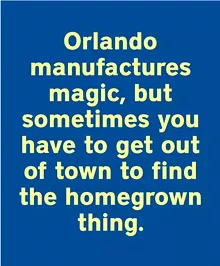 Interested in exchanging eternal"I do"s inside an enchanted edifice? Here's news: Castle weddings aren't Disney's exclusive domain. Granted, Mickey's been in the destination wedding game for a couple of decades now, going so far as to build a dedicated wedding pavilion on the shore of Bay Lake. In fact, Disney nuptials proved lucrative enough at Walt Disney World to be exported internationally; next week the Oriental Land Company, majority owners of Tokyo Disneyland, will begin booking ceremonies on the steps of their Cinderella Castle for a mere 7.5 million yen (about $90,000).
As a survivor of a Disney wedding (complete with dessert reception in England during Epcot's Illuminations fireworks), I can't recommend it; the bills can last longer than the relationship. Still, there is something undeniably inspiring about the idea of getting married amid medieval magic, if only you could do so without the saccharine artifice and outrageous expense.
Last weekend, I discovered that such a place actually exists within Central Florida's tourism corridor – and I'm not referring to Hogwarts. If stone fortresses you seek, take a two-hour drive to St. Augustine, site of the United States' oldest continuously inhabited European settlement. Florida's contributions to American history got short shrift in the textbooks I grew up with, but St. Augustine was founded by the Spanish in 1565, making it several decades senior to Virginia's colonial Williamsburg. The seaside city is literally littered with castles, starting with the rocky remnants of the original Castillo de San Marcos fort. Just yards away from that national monument of massive masonry sits Castle Warden, home of the oldest Ripley's Believe It or Not museum, and a short walk to the west, you'll find a wealth of Moorish cathedrals and Flagler College campus buildings that bring to mind fortresses from the East.
Of course, St. Augustine isn't immune to pretense and commercial exploitation. While the walls of the city's fort were famously never breached, the city has always been pirate-crazy, milking the area's buccaneer background long before Johnny Depp smeared on eyeliner. But this was the first visit where I can recall seeing an unauthorized Capt. Jack Sparrow look-alike blatantly plastered on a brochure, brazenly advertising one of the area's billion pirate-themed party boat cruises. Even so, what I love about St. Augustine is that it retains an ancient core of authenticity under the artifice. Funky back alleyways are filled with used bookstores and sidewalk cafés, and there are more independent bars and restaurants in five narrow blocks along St. George Street than downtown's whole stretch of Orange Avenue. Most of all, like Key West, St. Augustine appears to attract the type of offbeat artists, musicians and crafts-people who don't quite fit into Orlando's plastic environs.
That was just as true 28 years ago, when a tiny team composed of just that kind of outsider artisans undertook an audacious project, eventually resulting in my ultimate destination. At an obscure address just off the ocean along A1A, Castle Otttis(yes, with three Ts) improbably exists as if dropped from the sky straight from Scotland. Erecting the 50-foot-tall architectural sculpture from steel-reinforced concrete was a four-year endeavor, mainly because it was accomplished entirely by only four hands. Ottis Sadler and Rusty Ickes built the towering exterior structure entirely unaided (by other people or, indeed, by structural plans) over the period from 1984 to 1988. It took woodworker Lee Carpenter another three years to handcraft the staircases and balconies enhancing the airy interior.
Entering the building through the arched front door into a shrine-like space is an other- worldly experience. Past a stone shelf of spiritual iconography, spiraling stone steps lead into the breathtaking sanctuary, whose skillfully carved crucifixes impressed even this semi-agnostic Jew.
My motivation to visit this special place (which is private and unaffiliated with any denomination) was the marriage of Orlando's Amber Penna and David Christian. Christian is a printer, and Penna is a longtime patron and promoter of local musicians. Fittingly, Joseph Martens of the Hindu Cowboys officiated, with Terri Binion serenading on ukulele and the Cook Trio providing gypsy jazz. (Sunny Raskin was there, but couldn't be persuaded to perform.) It was exactly the kind of inspirational evening that reminds you Orlando might manufacture magic, but to find the homegrown thing you sometimes have to get out of O-town.