click to enlarge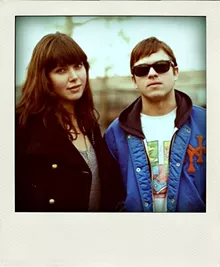 Sleigh Bells
with CSS
8 p.m. Thursday, April 28
Firestone Live,
407-872-0066
firestonelive.net
$17-$20
"I spend as little time as possible trying to define what pop music is," says Derek Miller, one half of fuzzed-out, electro-pop noise-rock outfit Sleigh Bells, when asked to define what his band does. "Here and there I convince myself it has to do with structure, goals, etc., but no one really knows. The parameters of what pop music can be are constantly expanding, which is what makes it so exciting to everyone, myself included, I think."
Cagey answer notwithstanding, Miller has given it some thought and decided his is a pop group. He's right: While Sleigh Bells' pop might be swathed in layer upon layer of concrete and cotton, its pop heart - encased in a shell of blown-speaker distortion and almost brutal volume - beats unmistakably.
That dichotomy is perfectly natural to Miller, even necessary. "It's something I've always tried doing, with varying degrees of success or failure," he says. "Poison the Well [Miller's former project] always tried to mix melody with heaviness. Fundamentally, I'm still trying to do the same thing, but in a different context. I love the friction between the two. The range of emotion we all feel, it doesn't make sense to just be heavy or just be melodic. It has to be both, right?"
The most obvious manifestation of Miller's diametric approach is the interplay of his caterwauling production and the dulcet vocals of Alexis Krauss. Her voice, straightforward, pretty and cleaner than lava soap and an S.O.S. pad, not only sets off the harsher elements of the music, but also serves to highlight the underlying glints of melody and pop-classicism that sit just under the surface. Without her counterpoint, some of those elements might be lost, leaving the music stuck in a morass of distortion and pummeling drum machines. Then, just to make sure you know that the pixilated weight isn't a crutch, Sleigh Bells casually toss out a slab of picture-perfect pop, as Krauss' ebullient vocals percolate through a simple piano-and-guitar arrangement. Rob Gordon could sell five copies of "Treats" just by playing it at the right moment.
The two go so hand-in-hand that it seems as if it must have been, from the beginning, by very specific design. But Miller chalks it up to something approaching serendipity: "Initially, it was a coincidence; the key I was writing in, just about everything fit [Krauss'] range and timbre perfectly," he says. "I remember calling her for the first time after we met in my restaurant. I got her voicemail, heard her voice saying, 'Hi, you've reached Alexis,' and light bulbs started going off in my head. I was beyond excited. Still am."
Despite, and perhaps because of, the fuzzy lines drawn down the middle of Sleigh Bells' sound, a little goes a long way. Like an elaborate tasting menu, Sleigh Bells wisely offer small bites of what they do and move on before your ears can fully attenuate. It leaves you in a constant state of sensory shock.
Miller agrees: "I'm always that dude at dinner trying to take a bite of everyone's food."