click to enlarge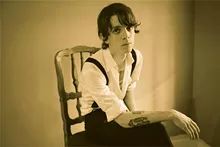 Matt Butcher
with the Revolvers, Lonesome City Travelers
9 p.m. Saturday, Aug. 13
The Social, 407-246-1419
free album download with ticket purchase at thesocial.org
$10-$12
Watch the promo for Matt Butcher's CD below.
He's only 27 years old, but it's already been a long road for local singer-songwriter Matt Butcher. Over the past several years, he's etched his sound with enough diligence and rigor to become the area's gold standard of Americana. Now he's relocating to Nashville, making his sophomore album particularly momentous, as it's possibly his last as an Orlando artist.
Butcher, who came to local prominence as a member of the Heathens and, later, the Revolvers, has always played with seriousness. But beyond even the boyishness of his voice and face, he often sounded undercooked. With Ghostwriting, however, Butcher is becoming the man he aimed to be since embarking on his solo voyage instead of just trying on the clothes.
While his debut, 2008's Me and My Friends, was highly personal in tone, Ghostwriting, co-produced by Butcher and top Orlando producer Justin Beckler, is artfully framed with a more literary storytelling perspective. Most importantly, the music is more efficient. Here, the judicious songs pop with clarity and confidence.
Highlights include the uplifting grandeur of the title track, the sweet country soul of "Rome, Rain or Hell" and the warm embrace of "What a Love." But the brisk "301" and "Four Seasons Hotel," a gorgeous interstate country rocker, are primetime numbers.
Ghostwriting could be a legitimate turning point for an artist truly hitting his stride. It finally proves that Butcher is leading-man material.