click to enlarge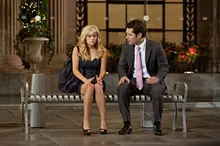 How Do You Know
4 Stars
(PG-13)

Imagine a long-retired bodybuilder attempting to lift a heavily weighted barbell: You worry for him as he approaches, knees creaking and bones cracking as he grunts his way through the clean and jerk, but damned if it isn't inspiring when he finally hoists it over his head. That was my reaction to rom-com master James L. Brooks' latest foray into the realm of the lovelorn, How Do You Know, a look at two people hitting rock bottom that takes some heavy lifting to reach its heartwarming conclusion.

Brooks' CV requires no hyperbole: A co-creator of classic TV shows such as The Mary Tyler Moore Show and Taxi in the '70s, the writer-director went on to helm some of cinema's most treasured dramedies, from Broadcast News and Terms of Endearment to As Good 
As It Gets and the flawed but fascinating Spanglish. How Do You Know, Brooks' first film in six years, is reliably Brooksian. It features the auteur's typically accomplished characters – his romantic leads in the past have been astronauts, novelists and chefs of five-star restaurants – spouting emotional confessions in fits of literary, measured honesty as they stumble through neurosis and toward a life lived, at least partially, outside of their high-speed brains and rather inside their open hearts.

Paul Rudd plays George, a sweet-to-a-fault, high-level businessman whose father and CEO, Charles (Jack Nicholson, displaying flashes of his old mischief), may have set George up to take the fall on a federal indictment against his company. Just as he learns of his misfortune, George meets Lisa, an Olympic softball player who has learned she did not make the cut for this year's team. The two form an uneasy companionship that's nevertheless mutually beneficial; Lisa's beauty and slippery affections present a distracting challenge to George, while George's "Bambi look" and eager listening skills tend to allow her to unwind a bit.

Besides the impending end of their careers, another challenge to their partnership comes in the form of Matty (Owen Wilson), a superstar MLB player whose self-absorption is so total that it verges on naïve innocence. At first, Lisa's drawn to his no-nonsense, attachment-free approach to their relationship, but when she wants more from Matty, it's as if the very concept of monogamy is akin to advanced calculus.

Brooks imbues these characters with so much emotional hesitancy (Lisa and Matty) and vulnerability (George and his massively pregnant, ever-sobbing assistant, Annie) that it hobbles the film's first hour. "Will these people just say or do something concrete, for Chrissakes?!" I found myself asking. When they finally do, in a much reworked and rewritten scene in which George and Lisa get drunk together, the rest falls into place perfectly. From there, Brooks continually raises the stakes until, in the final scenes of romantic explosion, the catharsis comes splendidly.

Between this and the similarly labored Spanglish, Brooks' chances of ever returning to his kingly genre form seems unlikely, but watching him try to get there again is an unexpected pleasure.