click to enlarge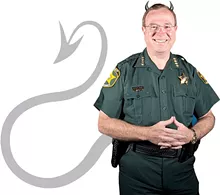 If you're one of the folks who somehow finds a copy of this newspaper the day before it's issued (wink), and one of the fewer folks who get all hot and bothered upon hearing the word "redistricting," then you're likely sitting in the auditorium of the Bob Carr Performing Arts Centre scratching yourself during one of the state's token public input sessions (Wednesday, July 27, 2-4 p.m. and 6-8 p.m.) in Orlando regarding the redrawing of Florida's political map, listening as your more vocal colleagues shout at brick walls about the difficulty in giving feedback on a completely opaque process that has yielded no visible proposals whatsoever. Or, you're pissing in the wind.
You surely know about Amendments 5 and 6, which were passed last year by Florida voters and add clauses to Florida's constitution requiring the state's congressional and legislative districts be drawn in a manner that is "compact, as equal in population as feasible and, where feasible, must make use of existing city, county and geographical boundaries." The amendments were a long-overdue response to the masterpieces of gerrymandering, which ensured a 98 percent reelection rate for incumbent state senators and representatives for the past 10 years. Unfortunately, those tasked with redrawing the lines fairly – our representatives – are the people least interested in doing so. Thus, while the Florida House waits for the results of a lawsuit challenging the amendments (which, again, were approved by 63 percent of voters), the denizens of our fair-weather democracy are dragging their heels on drawing these dreadful new maps, delaying the once-a-decade task so much that the Legislature's own lawyer, Miguel DeGrandy, warned it could cause "rampant confusion," as it did two decades earlier.
You knew about that, too? OK, well, did you know that in the state's version of the My District Builder software, the "compactness and geospatial analysis components" have been deleted, which means that the software can no longer "make an overall scoring of compliance with the redistricting requirements?" Ah. Well, there was more where that came from at a July 19 meeting of redistricting wonks at the vaguely institutional International Union of Painters and Allied Trades union hall in southwest Orlando, where Amendment 5 and 6 proponents Deirdre Macnab, president of the League of Women Voters, State Rep. Scott Randolph, D-Orlando, and Doug Head, former chair of the Orange County Democratic Executive Committee, informed the small crowd that the rabbit hole gets infinitely deeper. "Even back in 1939 … [redistricting] was the very first issue that the League of Women Voters went to the legislature to talk about," Macnab said. "I don't think you'll be surprised to hear that they weren't particularly interested." Winston Churchill couldn't be reached for comment.
Randolph pointed out that California and Texas, the two most populous states in the nation, have already finished drawing their new maps. "Don't let any legislator tell you that this is complicated, and it takes time and we can't get this done," Randolph said, without yawning.
Doug Head then delved into the issue of redistricting Orange County, which currently consists of six districts, three of which feature strange tentacles and nubby limbs extending into the center of the county – an area Head calls "the corridor of power." Like the state districts, Head says, this process has had the effect of homogenizing a diverse county, and hence, necessitates some fair districting of its own. "Otherwise you might as well let the … white folks, for want of a better thing, or a certain class of people, run everything," Head said.
Yes, the city's redistricting "process" comes from the same sordid power-grabbing playbook, but given that we've worn ourselves out on this subject, we ask you to read our past coverage of the issue (see "The other fair districts," March 3), and then please, go outside and check your own boundaries, lady.
Remember Polk County Sheriff Grady Judd? He's the guy who, one fateful day late last year, heard about a controversial book called The Pedophile's Guide to Love & Pleasure: A Child-Lover's Code of Conduct, written by one Phillip Greaves. The boy scouting handbook offended Judd's Christian sensibilities, so in December, the outspoken Baptist sheriff ordered the book, and upon its arrival, dispatched two officers to Boulder, Colo., to arrest Greaves for "distribution of obscene materials depicting minors engaged in activities harmful to minors." The Orlando Weekly became interested in the case (cough), and upon further investigation, found that the arrest was but one chapter of Judd's long and storied crusade against pornography in his county, which we detailed in our Feb. 24 feature, "Church and State."
Unsurprisingly, the man who never sleeps has been very busy since then. In March, the Polk County Sheriff's Office arrested Atheists of Florida legal coordinator EllenBeth Wachs on charges of falsely posing as an attorney (a non-practicing lawyer, Wachs had signed her emails with "Esquire"). This signature was evident to police because Wachs had been filing public records requests regarding the transfer of basketball hoops from all Polk County jails to area churches at Judd's request, an action currently being challenged in a lawsuit brought by the Atheists of Florida. "They are quite happy with the Christian theocracy they have created," Wachs told the Lakeland Ledger after her arrest. "And we've rocked the boat."
Then, in May, Wachs was arrested by Polk deputies yet again, this time for "moaning repeatedly in a sexual manner from an open window in her house, saying, 'Oh, John,' in a crescendo, as a ploy to stop neighbors, including a young boy, from playing basketball," according to the New York Times. That was evidently the last straw, as Wachs filed an injunction against Judd in federal court on June 24, citing the sheriff's "pervasive religiosity" as a motivating factor in her punishment. "They're the most obviously retaliatory arrests that one can imagine," says her Longwood-based lawyer, Lawrence Walters, who has battled Judd on First Amendment grounds nearly without pause for the last decade and a half.
On a lighter note – well, at least for those not in a Polk County prison cell – Judd announced on July 14 that inmates would have to buy their own underwear beginning in August. The price will be $4.48 for boxers and $2.54 for briefs – Fruit of the Loom, in case you're wondering. The sheriff has a long history of finding a queer delightin punishing his prisoners; besides taking away prisoners' basketball hoops, he has also eliminated every beverage but water from the cafeteria and recorded inmates' phone calls, effectively ending communications between inmates and the public defender's office. His spokesman, Scott Wilder, says the decision was mostly economic, given that the sheriff's office stands to save $45,000 from the move. "The sheriff has long advocated that people should be safe, secure and have their needs met, but also that they do not need luxuries or extras," Wilder told Happytown™. Never mind the bollocks!