click to enlarge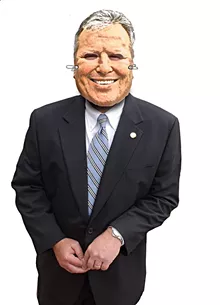 There's no getting past it: We 
are in a state - an altered state. Just two days after Gov. Rick Scott's expressionless mug commanded state leaders not to "blink" in their pursuit of corporatized social engineering during his State of the State address, Orlando Mayor Buddy Dyer climbed out from behind his shame curtain with a similar "we need to talk" patriarchal motif, only this time on the local level. The mayor's annual State of the City address is typically a soundbite salad of ambitions yet to be unrealized - wasn't Magic Johnson supposed to buy Parramore a few years ago? - but this year, given the sharp fiscal edges lining the cliff of our descent, it's a wonder any of the assembled boosters meant to buoy the mayor's pancaked personage could even afford the Men's Warehouse suits they were renting for the March 10 speech. Dyer? Dire.
In lieu of grand announcements of bright economic development dreams, the mayor effectively toed the same EKG flatline he's been stumbling on since Orlando died: partnerships, partnerships, partnerships. Seriously, the rallying call to end his delivery was a mantra of distraction. How will we do anything? "Together … We Will." What movie is this?
Scattered throughout the report card he wrote for himself were some slightly tarnished gold stars: crime is down, business is up, the storm clouds are passing (it was raining outside, presumably for effect) and "No city in America is better positioned to come out of the recession faster and stronger." Right. The only discernable developments present were new promises of no transportation impact fees, a continuation of the "this looks nice, right?" Main Street program, and wait for it … you won't have to separate your recyclables anymore! Hooray?
But what the speech lacked in substance, it was meant to make up for in futuristic spontaneity. The mayor and his minions had been soliciting local input for a more relaxed Q&A segment of the event. And that's right nerds, you could even ask him questions on Facebook!
Though the mayor later claimed to the Sentinel that he had some idea about what kind of questions might befall him - meaning they were handpicked softballs from a glorious softball tree - there was no letting on about that during the actual proceedings. Instead, you got an elderly lady asking about public transportation (the mayor used this opportunity to joke about his old $600 1966 Ford Mustang with a "fastback," gross), an 18-year-old college freshman on spring break asking whether the outlook would be good for him becoming an Orlando teacher upon graduation in 2014 ("Just don't run for mayor," Buddy giggled), a Parramore minister worrying about the impact of the imaginary creative village on area residents (none, of course) and a Downtown Arts District plant wondering aloud about the performing arts center. The best, though, was when a question was read aloud from Gina Duncan - whom we can only assume is the Gina Duncan who sits on the steering committee of Human Rights Campaign Orlando. Would the mayor ever consider passing a human rights ordinance like the county did last year to make gay people happy? "You'll be happy to know, Gina, that the city passed that ordinance in 2002." Fake! The state of the city is fake.
You know what's not fake? The looming state budget crisis. Nowhere was that more evident than at this month's League of Women Voters of Orange County Hot Topics luncheon on March 9 wherein some 15 community leaders gathered for a mass bloodletting over the clanks of forks and salad bowls. Representatives from the whole spectrum of philanthropy (or society) - arts, education, medicine, judiciary, economic development - took turns speedily projecting their own failures in the face of Tallahassee's scissorhands: state "trust" funds have been raided, children will lose community advocates, judges are overloaded, the world is ending, etc. The word "decimate" was employed with alarming frequency, and Orange County Comptroller Martha Haynie got to the root of the issue when she called out the "demonization" of public workers. It was not pretty.
Even uglier, though, was the commentary that followed the litany of three-minute presentations, in this case provided by Democratic strategist Jim Kitchens and Republican consultant Jamie Miller. Kitchens, naturally, dabbled in some doomsday talk, warning, "We're frankly going to see a lot of human suffering." Damn. But Miller, harnessing the cruel optimism of his host party, saw things differently. "What I like about what's happening right now is people are talking about it," he said, before staring off into space and offering to give each of the suffering organizations $100 of his own money. They deserved it, he added, but they "shouldn't depend on it" from the state. Nope. There is no state anymore.
After successfully handling the term "Facebook" at his State of the City address, Mayor Buddy Dyer followed the alluring scent of techno-savvy to MetroWest Golf Club, where he stood next to a giant steel cabinet which had regurgitated a bouquet of electronic displays. The live video feeds on the screen came from nine new surveillance cameras installed nearby, and Buddy congratulated the MetroWest Master Association for shelling out $160,000 to expand the grid of the city's surveillance cameras affectionately known as IRIS. "It can only mean more safety for your neighborhood," Dyer said, assuaging potential buyer's remorse.
Dyer then introduced, with his routine fawning, Val Demings, Orlando's police chief, who reminded the crowd that law-abiding citizens "love" cameras and that criminals - 400 of them, to be exact - hate them. "The camera … simply … records … what … it sees," she enunciated.
After the public posturing was over, Happytown™ cornered OPD Captain John O'Grady, one of the administrators of the IRIS program. He says that the city has roughly 130 cameras in operation, some of which are portable (a few were lent to the Daytona 500 recently), all of which feed a video stream to a room at the police mothership staffed by one to three people at any given time. "The benefits are huge," he says. "The days of the cop hiding in a tree, or a garbage can - you don't have to do that [anymore]."
Before we could ask if cops really used to hide in trees, O'Grady was already onto the next subject, talking about how the always-recording IRIS cameras could address MetroWest's recent problems with … flower theft. He confirmed that yes, the cameras could zoom, quite extensively, and when we wondered aloud if that zoom could replicate the detail of a human face just as our eyes could, he replied: "Just about."
We excused ourselves to mop up our 
techno-gasm, only to bump into Sergeant Barbara Jones, OPD's public information officer, who had just gotten the program displaying the IRIS live feeds installed on her laptop: "I sit at my desk," she says, and "I can see if there's someone lying on the street." Amazing.
Apparently, the Democrats in the Florida Legislature are so exasperated at their impotence that they're ready to light up a joint - House Joint Resolution 1407, that is, sponsored by freshman Democratic legislator Jeff Clemens. The resolution aims to put the decriminalization of medical marijuana to the test of a constitutional amendment in 2012, which would require 60 percent of the electorate to vote for it.
If the resolution doesn't pass, which is almost assuredly the case, the amendment would need 676,811 voter signatures to get onto the ballot, which the folks at People United for Medical Marijuana (PUFMM) have been working on - to limited success, as we first reported last November. Currently, the group has only 26,455 signed petitions, and PUFMM spokesperson Kim Russell would rather not deal with the bullshit of collecting signatures. "[Clemens is] just bypassing the process - which saves us a whole lot of work," she says.
But, again, the bill doesn't stand a chance, so what Russell is left with, as usual, is the vague optimism of someday: "This is just a stepping stone," Russell says. "What it's going to do is start a conversation."
Here's to a very long conversation. Here's to altered states.