click to enlarge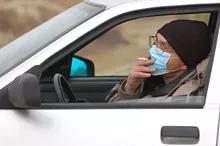 While we were busy trying to shake the sprinkles out of our hair from Gov. Rick Scott's disastrous doughnut "work day" last week, it came to our attention that there are far greater festering health concerns than those filled with gubernatorial shame custard. Beyond curious, we duly hacked our nicotine chagrin all the way over to the Camellia Room at the serene Leu Gardens in time to find out just what shape the coming plague might take. And, as it turned out, that shape looked a lot like us.
The occasion for worry was an Aug. 4 seminar-cum-press conference hosted by the Orange County Health Department centering on its "all in" program, an anti-smoking nudge made possible by a $6.6 million federal stimulus grant last year. You may already be familiar with "all in" as it has been saturating the local network airwaves with images of playground children wearing gas masks, presumably in fear of that Pall Mall teargas commonly referred to as secondhand smoke. Whatever, we get it: Smoking is bad.
The meeting wasn't intended to be a health-as-morality lecture – though we were naturally defensive, smelling like an ashtray and all – but rather a sort of "non-smoking is awesome" curveball intended to fuel a whisper campaign that might lead citizens to pressure their elected leaders into killing everybody with yellow fingers. Oh, there was plenty of Centers for Disease Control literature involving babies inhaling the rancid exhalations of the worst mother ever (ear infections, asthma attacks) tucked into folders, but the primary focus was the fact that, even in a hospitality-oriented economy such as ours, further restrictions on smoking are not, we repeat, NOT a financial threatto the business community. Professor Frank Chaloupka, the director of the University of Illinois at Chicago's Health Policy Center and wearer of the best handlebar mustacheknown to man, delivered the goods from a recent economic study that proved "in some cases, being smoke-free actually has a positive economic impact on businesses and the hospitality industry." Also, maybe we shouldn't smoke in bars. You don't say!
Following a quick set of graphs to illustrate said point, Chaloupka and health department media guy Dain Weister opened the floor to questions, but none of the other four meager media outlets in attendance seemed to have any. Needless to say, we felt a little pressure to come up with something to defend ourselves. We asked whether the county was furthering any plans to expand smoking cutbacks. No, said Weister, because the county policy is preempted by state law and "we don't have a lobby." Wink.
"But Big Tobacco does," we smirked. "Also, are these economic figures isolated to individual business revenues, or do they take into account the taxes actually brought in by the sale of cigarettes?"
No real answer to that one, but if you figure that in 2009 the state passed a $1 tax hike on cigarettes in order to raise nearly a billion dollars to spackle a budget hole – thus assisting such programs as Medicaid – it's easy to glean that a one-sided study is basically a one-sided study. Chaloupka, to his credit, did present figures on health care savings related to smoking cessation in public gathering spaces, even pointing to a law in Ireland that actually did not affect people getting drunk in pubs. The takeaway: There is never an excuse not get drunk.
Except maybe going to prison. As we reported earlier this year ("Privacy policy," May 19), the state decided in the final hours of this year's legislative session to hand over control of a vast chunk of its prisons – practically all of the major facilities in South Florida – to private corporations. Well, we were wrong by a letter: as it turns out, the Florida Department of Corrections is set to bundle 12 prisons, six work-release centers and a handful of corrections annexes and work camps into one fat contract.
Seasoned observers might say there are only two real contenders for the prize: Corrections Corporation of America and the GEO Group. We're going to go out on a short limb and say that GEO will win the contract (the value of which GEO executives have estimated to be in the hundreds of millions; the company is currently paid between $45-$65 per inmate housed, per day), with ease.
Our guess isn't based on GEO's home-field advantage (its headquarters are in Boca Raton), and certainly not because of its record. In Texas, GEO has a rap-sheet as thick as a Bible – in January 2010, the company was ordered to pay $40 million in damages as the result of the fatal beating of an inmate at the hands of two other inmates. "Not only had prison guards and wardens witnessed the beating, but also … stood by and laughed while it happened," according to the San Antonio Current. On a lighter note, here in Florida, GEO's South Bay Correctional Institution is currently being audited by the state after a June incident in which inspectors "were unable to gain entry to the facility in June despite flashing lights at a security camera to attract attention" because no guards answered the front door, according to the Palm Beach Post.
So why, then, are we betting on GEO? Money, connections and the name of a car they don't make anymore. GEO group doled out $680,500 to the Florida Republican party during the 2010 election cycle – more than seven times the amountgiven to the party by Corrections Corporation of America. And oh yeah, one of the GEO Group's most prominent lobbyists, Brian Ballard, hosted Gov. Rick Scott at his house for a Super Bowl party earlier this year. "These are people that are really well-connected," said Ken Kopczynski, a Tallahassee-based lobbyist for the Police Benevolent Association, when we interviewed him in May. "[They can] walk into the Senate president's office and have a sit-down."
Yet Kopczynski and his ilk aren't going down without a fight. The PBA, a prominent law enforcement union that hates Rick Scott (natch!), filed a lawsuit on July 13 calling on the Second Judicial Circuit Court to stop the privatization of prisons in 18 South Florida counties. The suit points out that the shift to privatization was cloaked in the state's general budget when it should have been introduced as a separate bill, given that the privatization contract amounts to a major policy change. GEO has not yet announced plans to hold a Labor Day barbeque at any judges' homes in Leon County, but we'll keep you updated.
It was bound to happen eventually. On July 28, homeless man Bruce Eric Shawen declared his candidacy for the city's District 4 commission seat, currently occupied by possibly the least-enthusiastic homeless advocate at City Hall, Patty Sheehan. As you can recall, it was Sheehan who introduced the large group feeding ordinance in 2006; the law bans handing out free food in downtown parks without a permit from the city.
Shawen is regarded as a daywalker of sorts in the homeless community, a level-headed middleman between the power and the powerless who has a lot of numbers in his pay-as-you-go cell phone. "My platform, to sum it up in as sentence, would be: Elect Bruce Shawen, candidate for the common folk," he says. "That sort of plays well for those who are not rolling around in money."
Shawen and Sheehan are currently the only two candidates registered for the election as this issue goes to press; Shawen's registered address is a post office box. He says his next goal is collecting signatures – he needs 641 of them to get on the ballot – and raising money. Fittingly, his campaign treasurer is none other than Orlando Food Not Bombs' Ben Markeson, one of 27 people arrested within a five-week span for violating Sheehan's ordinance. "We're confident that Patty has enough political baggage that there's people who are looking for an alternative," Markeson says. He adds that Shawen's homelessness is actually "a plus for the voters of that district … he knows what it's like to be broke and unemployed."