click to enlarge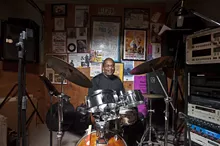 Tony Cook
Back To Reality
(Stones Throw)
Tony Cook, a mostly retired 53-year-old drummer currently living in the Orlando neighborhood of Rosemont, created what might be the world's first-ever house music record – although he didn't intend to. The way Cook tells it, the year was 1983, and he was trying to tap into the trend of the times and score a rap hit. But after sending his song to New York to be mixed by a couple of club DJs, it returned rearranged and stripped of its rap (originally performed by Cook himself and hooked around the phrase "Get on up and clap yo' hands!"). Titled "On the Floor," the song was released in 1984 and soon entered the realm of musical mythology as "the granddaddy of all house records."
This whimsical idea of Cook stumbling into a musical eureka moment makes for great press-release copy. The promotion materials for Cook's recently released retrospective of early '80s "side projects," Back to Reality, on Stones Throw records, includes a quote from label owner Peanut Butter Wolf calling "On the Floor" "the missing link between funk and house music." But this hindsight belies the record's reliance upon happenstance: According to Cook, the DJs entrusted to mix the song, Timmy Regisford and Boyd Jarvis, altered "On The Floor" to specifically make it work on the dance floors of New York City clubs at the time. When Cook first heard their version, he says it was "quite a surprise," though, in an affable and gracious tone, he points out that he respected their mix. But Cook's original, unabashed intent to create a rap record offers a more exacting insight into how established musicians viewed the then still-nascent hip-hop genre, and exactly what constitutes something being a rap record.
Accounts of hip-hop's musical genesis usually include a pared down description of a generation of kids from the dilapidated South Bronx becoming disgruntled with disco's flashy but vacant stylings and deciding to create their own form of music. This was formalized in 1979 with the release of the Sugarhill Gang's "Rapper's Delight." There was disco, and then there was hip-hop, with one replacing the other as the du jour music of the day. But, as Peanut Butter Wolf says, the transition wasn't that sharp.
"It's an irony because hip-hop was the counterculture to disco in a lot of ways, but it embraced certain songs," Peanut Butter Wolf says, citing Chic as a group whose music coexisted with hip-hop. "To me, when I was a kid, I didn't know the difference. When 'Rapper's Delight' came out I knew that I really liked it, but I really liked [Fatback Band's] 'Double Dutch,' too."
Cook backs up this take on the turn-of-the-'80s era. As a "traditional" musician – along with stints playing with Etta James and Billy Ocean, Cook toured on-and-off with James Brown's band for more than three decades after the funk trailblazer discovered him jamming at a block party in his hometown of Augusta, Ga. – you might expect Cook to have been disgruntled at hip-hop's magpie-like reliance on reusing snippets of other artists' music, especially Brown's, as its basis. But Cook, who moved to England in 1981 after disco music curbed the commercial benefits of touring with James Brown, enthusiastically embraced the new idea and attitude of hip-hop from the first time he heard "Rapper's Delight" overseas. "I thought it was fresh, I liked it, and I was thinking we should try it," Cook says, pleased to have been an active musician witnessing the emergence of a new genre. (Cook claims that James Brown was also a fan of early hip-hop and would often stop dressing-room conversations to praise a song playing on the radio.)
It wasn't long before Cook put his appreciation into practice. Released in 1982 and credited to Tony Cook and the Party People, the song "Do What You Wanna Do" opens with band member Roy Hamilton rapping the lines, "We're party people from all around / We're bringing out a brand new sound / We don't care what we say / 'Cause nothing can stand in our way." Cook calls it "a rap record," but also says that wasn't the group's strict intention during the recording session: "Rap was just something we liked and wanted to incorporate." It comes across that way, not least due to the presence of a female singer, the glossy keyboard riffs and the simple, party-based rhymes. By 1982, hip-hop's cutting-edge MCs had upped their vocabulary; a year earlier, Kool Moe Dee famously faced off against Busy Bee, saying "Hold on, Busy Bee, I don't mean to be bold / But put that bom-diggy-bom bullshit on hold."
Despite Cook's embrace of hip-hop, "Do What You Wanna Do" only slightly resembles a rap song. It opens with the chant, "Don't stop us, we don't come from the planet Rock." Cook isn't sure if the refrain, which he didn't write, is meant to refer to Afrika Bambaataa's hip-hop anthem "Planet Rock," but it does cast the group as coming from a different musical world. That's not to say "Do What You Wanna Do" was a crass attempt to piggyback on the success of "Rapper's Delight" – a litany of corny songs like Frederick Davies and Lewis Anton's "Astrology Rap" and Captain Chameleon's disco-rap "Jive Ol' Fo" can claim that honor. Likewise, Cook is adamant that he was never pushed toward recording a cash-in by a record label executive: "They pretty much took me as putting down what I liked [in the studio] and what I was trying to push at the time."
Cook, who is not currently recording new music, hopes he'll benefit from this freedom in the long run: His focus these days is on organizing his back catalog with the aim of scoring further retrospective opportunities like the Stones Throw deal and seeing his work remixed, as happened in the early '90s when Cook's tracks "The Cook Monster" and "Trunk-o-Funk" were given new life by European dance DJs.
Tellingly, it's "The Rap," which is featured on Back to Reality and was recorded after "On The Floor" was released, where Cook gets closest to the hip-hop mark, thanks in large part to showcasing the vocals of the drummer's young stepchildren. Over not much more backing than a sparse, stripped-down drum beat, the kids freestyle slang phrases with little regard to anything like a formal verse and chorus structure. It was recorded in a small studio Cook ran in Augusta, but sounds like he took a tape recorder and captured the banter of some local kids who happened to be hanging out on the block.
Peanut Butter Wolf, who helped compile and mix down the selections that make up Back to Reality, calls "The Rap" an "early Southern rap record," but says when he first came across "On The Floor" while shopping for vinyl in New York record stores 10 years ago, he didn't detect any rap remnants in it. Part of the reason for this first take on the song, he says, is the differing perceptions of youth and adults, explaining, "Kids don't have the rules and regulations that adults place on themselves without realizing it." Listening to the two songs back-to-back, that youthful zeal resonates like hip-hop's hidden element.