click to enlarge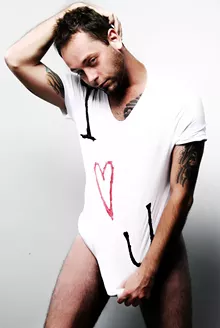 Any Title That Works
Patrons Room
8:40 p.m. Friday, 3:40 p.m. Saturday, noon Sunday
I Love You (We're F*#ked
Brown Venue
10:45 p.m. Wednesday, 11:55 p.m. Friday, 4:30 p.m. Saturday
13, the Musical
Silver Venue
7:40 p.m. Friday, noon Saturday, 3 p.m. Sunday
Suckers, a Freaky Little Musical
Green Venue
6 p.m. Thursday, 9:50 p.m. Friday, 1:15 p.m. Saturday, 2:55 p.m. Sunday
Paul Strickland has a way with words. He also has a way with sentences and whole paragraphs. This is all to the good, since Strickland is a monologist and well-rounded words are the only tools he uses to produce a kaleidoscope of rich and layered feelings in his one-man production, Any Title That Works.
As well, Strickland has a way with a punchline: Each time he weaves a thoughtful, sometimes even sad, story about his childhood or recounts a painful moment of self-awareness that seared his memory, he leavens the nostalgia with a humorous remark or knowing bon mot.
Strickland's modus operandi is to begin each segment of his hourlong show by reading a letter written to himself at a particular age, pointing out just how much he has yet to learn. Then he takes us back in time. At 5 years old, we hear about his continuing quest for the perfect Halloween costume. At 15, we learn about his beloved grandfather's death. Then it's on to his 20s and his journey to find a giant Superman statue in the town of Metropolis, Ill. (Yes, you read that right.)
What makes Any Title That Works particularly appealing is Strickland's ability to not take himself too seriously even when his tales are mining profound and deep emotions. He has discovered the balance between philosophy, self-revelation and comedy, all wrapped in a poetic lyricism that touches the heart and excites the imagination. Paul Strickland does have a way with words.
Kevin J. Thornton is also a monologist of sorts, although his one-man show, I Love You (We're F*#ked), throws more standup comedy and music into the mix. Thornton's presentation is ribald, sardonic and hilariously funny as he takes his audience on a journey through childhood traumas, adolescent crushes and adult romances. Along the way, he tosses in wry observations about sex, love and the way life has a tendency to teach lessons that one does not necessarily wish to learn.
Like Strickland, Thornton possesses a likable self-awareness that lets us know that what he's telling us is often something that he knows we know too, but just don't have the moxie to articulate. And we know that he knows we know because of the sly looks, smartass inflections and pointed gestures that infuse his delivery. This guy plays his audience as neatly as he plays his guitar.
But where Strickland is gentle, tending to throw his haymakers after he has you looking the other way, Thornton is blunt and brutal, jabbing you right in the eye after he has just landed a shot to the gut. Together, these two performers offer the yin and yang of one-man performance. I highly recommend both for a complete and satisfying Fringe experience.
I have staged my share of musicals for kids and to actually find shows worthy of producing, I've had to read through myriad scripts and songs ranging from amateurishly mediocre to categorically awful. The best I can say about 13, the Musical, is that this show is … not awful. Yes, the characters are stock and the book (by Dan Elish and Robert Horn) is tiresome and formulaic, but there are some really good songs by Jason Robert Brown, and even a few funny jokes.
And like the show itself, the youthful cast of this coming-of-age saga is a mixed bag – good singers with big sounds and less talented performers whose voices can't be heard beyond the fourth row. But unlike on TV's "Glee," when a bad note is hit it can't be "sweetened" in post-production. And there are lots of bad notes. Furthermore, in the opening-day production that I saw, the exuberant company was not helped by the sound man: One of the show's leads was not miked at all; another lead's mic did not work; and the music track tended to overwhelm most of the cast, most of the time.
All that said, directors Tim Hanes and Sara Catherine Barnes have whipped up an engaging soufflé with high-energy choreography and some bits of fine acting. Yes, it's hard to watch other people's children perform for 90 minutes – what's endearing to Mom and Dad may not ingratiate the lay theatergoer – but when you hear the entire teenage ensemble singing their hearts out in harmony, one can make the case that there is no more joyful noise under heaven. And at least they're not texting.
A few minutes into Tod Kimbro's goth-rock musical comedy, Suckers, a Freaky Little Musical, I realized that I'd seen this edgy, leather-clad look at the '90s some years ago in a previous incarnation. No matter. The story and its characters didn't hold much meaning for me the first time either, so watching it again was merely an excuse to listen once more to Kimbro's ear-catching tunes. This time they were sung by the kind of voices that might have begun their stage careers in 13, the Musical, but then left their less-talented mates behind to enter the realm of the truly professional.
Directed by Michael Marinaccio, the troupe of Jessi Riese, Josh Roth, Erin Brenna and Corey Volence belted out Kimbro's high-energy lyrics with savvy insouciance, backed up by the relentless passion of Kimbro himself on the keyboards and Rob Vandivier on bass. The show is merely a trifle from Kimbro's vast musical storehouse of original songs and theatrical musings, but any time he's on stage, I'm gonna try and grab a seat. You should too.