click to enlarge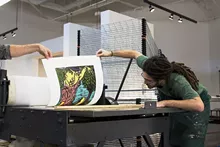 In some ways it's an art form uniquely suited to the 21st century, but printmaking has actually been around since the Paleolithic era. When the very first hand was stenciled on a cave wall, the ancient artist was, technically, making a print. When your kindergarten teacher had you carve a shape into a half-potato, dip it in tempera and press it onto a paper plate, you were making a print – printmaking is, after all, just pigment transferred indirectly onto a surface. A print can be created via press, stencil, woodcut, etching, silkscreen or other means to achieve any number of effects, making it a versatile medium. Consider Rembrandt's somber black-and-white etchings, Hokusai's woodblock print "Great Wave off Kanagawa," Warhol's super-bright silkscreened Marilyns and Shepard Fairey's ominous and omnipresent stenciled Andre the Giant among the familiar examples that illustrate the variety of modern printmaking.
"Printmaking is not just a method for an artist to reproduce in multiple a specific artwork, so there are more copies to sell, but is a vital medium in its own right," says Theo Lotz, studio director of Flying Horse Editions, the University of Central Florida's fine arts press. "The technical processes and the collaborative nature of printmaking have been essential to the creative growth of many important sculptors and painters." Most printmaking techniques make it possible to produce multiple "copies" of the work – this makes printmaking especially resonant now, as information can be (and often is) endlessly cloned. In addition, anything handmade has acquired cachet in a culture permeated with technology; everyone's got a smartphone, but they're probably using it to download a knitting pattern or find a recipe for home-brewed beer. Prints are made by hand, yet also reliant on technology; each piece is unique, infinitesimally different from the one before and after, yet one of a series.
This weekend, Flying Horse is hoping to raise the profile of the art form with its first annual Impressions Orlando print fair, a weekend-long event being held in conjunction with the Orlando Museum of Art (which has amassed a rather impressive collection of modern-art prints over the past several decades). Representatives from various fine art publishing companies – including the New York City-based One Eye Pug, founded by a former OMA curator, Sue Scott, and the Robert Blackburn Printmaking Workshop – will participate in free panel discussions and demonstrations that will demystify printmaking for the public. The event will be hosted at UCF's Center for Emerging Media downtown, and it will offer budding art patrons the opportunity to see and buy limited-edition works by both emerging and established artists, priced, Lotz estimates, from "a few hundred to a few thousand" dollars.
The weekend's events and demonstrations are as of yet unscheduled, save one: a panel discussion planned for 2 p.m. Saturday that will explore collecting contemporary art, with a concentration on multiple editions. Participants include OMA curator Hansen Mulford, local art collector Robert Feldman and One Eye Pug's Sue Scott. Feldman will talk about the role of the private collector, while Scott and Mulford – both of whom have worked closely with OMA's print collection – will discuss the role of institutions.
Orlando, it seems, is a ripe market for this kind of event. Central Florida is home to an unexpectedly vibrant printmaking community, of which Flying Horse is a central concern. The facility functions not only as a working press but also a teaching space for printmaking, book arts and multiple editions, not just for students but for artists inexperienced in the process. Visiting artists work with UCF art students to expand their practice – painters learn to pull intaglio prints; sculptors explore ways to make multiple editioned objects. It's impossible to trace the roots of a "scene" with any precision, but this one was certainly sparked to life by events decades ago: the founding of Flying Horse and the acquisition of the first prints of OMA's Contemporary American Graphics Collection.
That collection, seeded in 1974 with a grant from the National Endowment for the Arts that allowed the museum to purchase its first 27 prints, is unparalleled among regional American museums of similar size. It includes works by Andy Warhol, James Rosenquist, Chuck Close, Alex Katz, Kiki Smith, Elizabeth Peyton and Kerry James Marshall. An ingenious corporate leasing scheme funds the acquisition of new prints and maintenance of the existing work: Orlando-area businesses may borrow prints from the collection for display in their public areas. Every two years, prints are returned, checked for needed repairs, exhibited at OMA, then placed again with different sponsors. (After 10 years, prints are retired from the program.) With the leasing fees paving the way, the Contemporary American Graphics Collection has grown to more than 270 pieces.
Scott, who was the curator overseeing the collection before leaving the museum, remembers OMA as the place she "really learned about prints." Her current concern, Sue Scott Gallery, doesn't specialize in prints, but she founded One Eye Pug to print monotypes by painters she admires. Her fondness for the form is evident: "Taking the work through the press gives it an added sense of 'accident' that an artist can't control. The results are mostly very exciting and unpredictable. I love standing at the press when the paper is peeled up from the plate – you never quite know what to expect."
Scott finds that printmaking can be freeing, not only for collectors but for artists, too. "The artists I've invited to make prints often find that the methods they use – spraying solvent, dragging the paint with cards or squeegees or using stencils – feed back into their painting. … It allows for experimentation."
And there's yet another reason for the appeal of fine art prints: affordability. Price can be a barrier for the beginning collector, but prints, lower-priced than many other mediums, make a great entry point. "I think that OMA's example of collecting prints has encouraged many local collectors, like the Feldmans and others," Lotz says. "Bob Feldman began buying prints by 'blue chip' artists … and that inspired him to become more serious about buying contemporary art generally. It gave him the bug, so to speak, and the confidence."
Robert and Lisa Feldman's contemporary art collection is one of the most significant privately held collections in Central Florida. The Winter Park couple's collection encompasses a wide range of formats, including installation and films, but very early in his collecting career, Robert Feldman focused on buying limited-edition fine art prints. He has since amassed prints by revered artists such as Robert Rauschenberg and Jasper Johns, and younger ones including Orly Genger, Nicola López and Zachary Wollard. Some of these were shown at UCF's Fresh From Chelsea exhibit at the beginning of 2010. (See our review, "Bright young things," Jan. 27, 2010.)
Feldman's philosophy, articulated in the catalog for Fresh From Chelsea: "Do not underestimate the importance of collectors to the life of an artist."
The organizers of Impressions Orlando hope to inspire a new generation of art buyers who will support the emerging crop of up-and-coming artists. Some of the names to watch: Nathan Redwood, whose woodcut prints blend the pastoral with emblems of technology; Russell DeYoung, a sculptor trying out multiple-edition sculptures with the help of Flying Horse interns; Josephine Halvorson, a painter whose work renders conspicuous the unseen or unconsidered details of daily life.
"Without the ability to sell or otherwise fund their work," Feldman says, "there would be no artists or art."