click to enlarge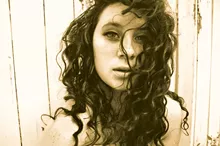 Kaleigh Baker
with Sarah Purser, Emily Kopp
9 p.m. Friday, Aug. 12
The Social,407-246-1419
thesocial.org
$10
Among the many gifts given with both hands to formerly local, currently New York-prowling singer-songwriter Kaleigh Baker – aside from that Swiss Army knife of a voice – is her innate grasp of momentum. On her new EP, The Weight of It All, Baker and producer Justin Beckler play the puppet masters, building suspense without ever seeming coy about it. Baker is capable of communicating volumes with a simple vocal lilt, and on the moments in which her register nose-dives headfirst into the emotional muck ("Sugardaddy") or propels like a jet into the stratosphere ("Love Letter to a Burning Man"), she never fails to rouse the senses.
From its 12-bar intro (the foot-stomping "Train Gone By") to the titular closer, Weight feels like that disorienting second after an earthquake begins. Long-gestating centerpiece "Peace, Love and All That" is a master class in maintaining an album's tide. Following the skillfully playful "Train Gone By" and "Sugardaddy," the track is wholly declarative, with extended phrasing that elegantly rides the beat as Baker waits for an opening to attack. In its last minute, the drums drop out and Baker strikes, supported by a couple of Orlando's greatest voices: Olivia Wynn of Thomas Wynn & the Believers and Solillaquists of Sound's Alexandrah Sarton.
It's a thrilling moment that injects every remaining song with possibility, including the Broadway bouncer "Sheister" and the forbidden lust of "Love Letter to a Burning Man." The Weight of It All is the roar of a soulful lioness and will go a long way toward proving to the world what Orlando's known for a long time: Kaleigh Baker is a legend in the making.