After seeing the movie The Grudge, it occurred to me that a particular aspect of real estate could be a lot more frightening than rising interest rates. I'm talking about houses haunted by spirits who died in the grip of a terrible rage. For that matter, I'm also talking of houses haunted by wraiths who are merely pissed off.
I am sure that all realtors are not as craven as the cinematic Grudge broker who sealed the deal after wrestling with a cadaverous hand in the master bathroom (extra feature: 2FixBath/1SeveredHand). Yet how much information about the literal skeleton in the closet are real estate agents and homeowners required to reveal?
One agent, who didn't want her name used, explains, "With an inventory of salable housing at an all-time low in Central Florida, a house's history of violence really doesn't affect its value too much. Most of the time, if a murder occurs in the house it's a family member who committed the crime or they catch whoever did it fairly quickly. So people aren't afraid of buying the house or living there." She adds, however, "If the realtor is aware of a murder taking place in the house, he is obligated to disclose this."
Ethically, that is. What if the agent doesn't know? Most states oblige home sellers to document structural flaws. If the seller falls short of admitting a defect, he is responsible for costs. Yet murder on the site has nothing to do with a house's construction or even its appeal. It may trouble one buyer and not another. Liability is a gray area and largely a matter of principles.
On my end, when I plunk down a hunk of money on real estate, I want all the gory details. For the discerning buyer, these are not hard to find.
According to the Florida Department of Law Enforcement, the violent crime rate for Florida in general, and for Central Florida in particular, decreases every year (except for Volusia County, where it stayed the same between 2003 and 2004). Still, there is no shortage of houses in Central Florida that harbored homicides. Take a look at …
2911 MONTFICHET LANE
click to enlarge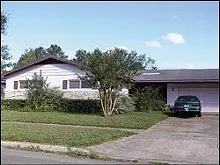 Like most of the homes located in Winter Park Pines, this ranch-style house was built in the early 1960s. While long-term Pines residents like to boast that they haven't had a robbery in 38 years, a murder did occur here in February 1975.
The owner, Robert Barkan, was a self-employed businessman who ran a carpet-cleaning company from his home. A Navy veteran of World War II, a father and a grandfather, he was killed one evening by an unknown assailant with a shotgun who blasted through the kitchen window. Unlike most homicides that occur in the home, no one has ever been charged with Barkan's murder, and his cold case is still under investigation with the Orange County Sheriff's department (call Cpl. Pelton with information).
Barkan's widow, Lynn, rented the house to some co-workers until 1979. She sold it to them that year for $49,500. According to the Orange County property appraiser, on the same street a similar four-bedroom, three-bathroom house with a pool and less heated square footage sold the same year for $65,000. Lynn thinks she could have gotten a similar price for her property, but she didn't bother, giving a nod to the good rental record of her tenants.
"Did they know about the history of the house?" I asked.
"Absolutely," Lynn says.
2442 COACHMAN DRIVE
click to enlarge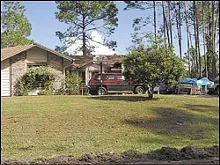 Built in 1987 and located on a pleasant, winding road in a Deltona Lakes subdivision, this three-bedroom, two-bath property contains almost 1,600 square feet of heated living area. That doesn't include, of course, the poured-concrete slab near the garage door where Michael Garner buried his pregnant ex-wife, Angelica Garner, after he shot her during a heated custody dispute in August 1996. Michael Garner claimed the shooting was an accident.
Since the case was highly publicized in the Orlando Sentinel, it was likely that the present owners, who bought the house in August 2002, were aware of its murderous history. According to the Volusia County property appraiser's office, the house was sold to a married couple for $93,600, which is almost double what the previous owner paid in 1992.
Other similar houses in the neighborhood have sold for a few thousand dollars less, so, even without looking at the conditions of the respective properties, it is fair to hypothesize that the seller of Michael Garner's former residence received market value. Like some other properties in the area, it probably rented for a period after the murder.
The current owner of the property isn't listed in the phone book. Today, several cars and a boat are parked on the lawn and in the long driveway leading up to the house, indicating an easygoing or nonexistent homeowners association, which some find highly desirable.
890 GEORGIA AVE.
click to enlarge
Andrea Williams, 32, who is still listed with her husband, Gary, as the owner of this Longwood property, was in the news recently when she was sentenced to three consecutive life terms without the possibility of parole for killing her three children: Ilona, 9; Ian, 6; and Ivey, 5.
According to police, last spring, on Mother's Day, Andrea fed her kids the prescription drug Xanax and then smothered them by cramming them into a trundle bed located within the Georgia Avenue property.
Built in 1972, the concrete-block, one-level house of 1,104 heated square feet was sold to Gary and Andrea by a divorced couple in 1999 for $70,000 (according to Seminole County property appraiser's office). Today, the house still displays the name "Williams" on the mailbox and the phone number is listed with an occupant with the same last name. Halloween ornaments recently decorated the windows and the mailbox. A boat was parked in the driveway.
The house isn't listed with a real estate agent and it is difficult to determine what the property would sell for. According to the Seminole County property appraiser, the just market value is $97,927. But that value is established by the appraiser for tax purposes and really does not represent the selling price, which would probably be higher.
Similar properties that sold in the past year on Georgia Avenue and in the surrounding neighborhood go for about $102,000. So, for the time being, it would probably be wise for the owner to rent the place and wait for the stigma of a horrendous triple homicide to compete with desperation for available affordable housing.
I say this because of …
3106 TELFORD LANE
click to enlarge
I feel really sorry for Cuevas Arturo, the elderly gentleman in Brooklyn, N.Y., who owns this Deltona property. I also feel sorry for the nice Caldwell Banker agent who met me there on Election Day.
"I guess you don't know," the agent said, "that this is the house where all those people were killed."
As a matter of fact, I did know, and I dreaded walking into the house where six people and one dog were brutally murdered with aluminum bats and knives Aug. 6. Troy Victorino, 27, Michael Salas, 18, Jerone Hunter, 18, and Robert Cannon, 18, are charged with, among other things, first-degree murder in the crime.
Built in 1986, the house has a screened walkway to the front door, which looked new, probably because the old one was kicked in the night of the murders. The door opens into a living room, dining room and a roomy kitchen with a counter. The walls were freshly painted white and the floor, all 1,382 square feet of it, was concrete with exposed carpet nails. The house is a split plan, with two of the smallest three bedrooms sporting cheap little ceiling fans, the kind you get for children's rooms from Home Depot. The guest bedroom had new blue tile and a blue vanity counter.
The master bedroom, where 22-year-old Erin Belanger died, was dark, cold, echoing and spooky. The master bath had old fixtures, dirty grout and a grungy toilet. There is also a dreary enclosed porch, a two-car garage and a large overgrown yard with fruit trees.
The agent from Caldwell Banker explains that Cuevas, the owner, just wants to be rid of the property and is offering an allowance for the carpet and for the roof, which looks old and needs replacing.
"Houses in this area," the agent told me, "go for around $129,900."
He'd already received a written offer for much less from a retired couple on a fixed income. He didn't think the owner would take it. He mentioned a figure to me that was pretty reasonable, but I didn't want the house at any price. I thanked him for his time and felt bad for wasting it.
"I hope you got to vote," I said.
He smiled. "I did."
For all the good it did.
390 HICKORY DRIVE
click to enlarge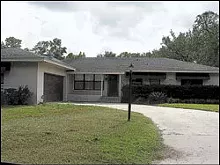 Located in Druid Hills Park, this Maitland house, complete with a pool, was built in 1962. On Sept. 15, Charlie Brandt, 47, hanged himself in the garage. Brandt didn't own the place. Michelle Louise Jones, 37, Brandt's niece, did. She was murdered by Brandt the same day he hanged himself. Jones' aunt, Theresa Brandt, 46, was also murdered by Brandt in the house that day. Both women were stabbed to death.Michelle had opened her home to these relatives during Hurricane Ivan. Some safe house.
The 1,908 heated square feet of real estate stands empty and unlisted. The current owner is Mary Jones, Michelle's sister, who lives out of state. She did not return phone calls regarding the house.
According to the Seminole County property appraiser, Michelle Jones bought the house in December 2002 for $185,000. Similar houses in the area have sold in the past year for an average of about $140,000. So in addition to her untimely demise, and its effect on the property values, it looks as though Michelle paid way too much for the home where her life ended. It's going to be really hard for anyone to ever recoup her loss. Not that she cares.
In the end, the best way to avoid buying a Grudge house is to ask lots of questions, read the newspapers and trust in dumb luck.
On the other hand, if you're a cold bastard with nerves of steel, go ahead and buy one of these properties, and, what the hell, buy it at a big bargain right after the homicidal tragedy, when the owner is desperate to unload it. Go ahead.
I'd stay out of the attic and the bathroom if I were you.