click to enlarge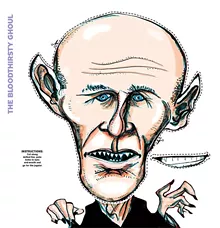 Be very afraid – 
Election Day is 
looming. This year, it brings with it frightening creatures crawling out of the darkest depths of Florida's tea-stained swamps. Want to frighten small children? Cut out these masks and wear them on Halloween. Want to terrify your friends? Tell them you're voting for one of these soul-sucking stumpers. A frightening prospect indeed!
The Bloodthirsty ghoul
Rick Scott
He seemed to creep out of the toxic ether of last year's unhealthy anger, all beady-eyed, bald-headed and with the jaw line of a masochistic drill sergeant, but the scariest thing about Republican gubernatorial nightmare Rick Scott has less to do with the severity of his appearance than the funhouse mirror he's holding up to an increasingly backward state. Along with Democratic primary contender Jeff Greene (equally frightening, but in a rounder way), Florida came to the frightening conclusion that we're all for sale to whichever megalomaniacal carpetbagger is willing to do the bidding.
And bidding (or biting) is Rick Scott's spooky specialty: He wants to suck your blood. And for a while there, he actually did. This modern-day Nosferatu's health care company, Columbia/HCA, used false billing to bleed the Medicaid and Medicare system throughout the 1990s. The company ended up doling out some $1.7 billion in settlements after the malfeasance was discovered.
Not content to simply kick the wheels off of your gurney, Scott continued his siege on the medical industry with a series of venture-capital investments and for-profit health care clinics. His urgent-care crusade, Solantic, has faced lawsuits for hating fat people. Scott also dropped at least $5 million on a campaign to fight health care reform, because how the hell else is he going to get rich off of your pain? Not to worry, though. His mom says he's a nice guy. Perhaps his is a frightening face only a mother could love.
— Billy Manes
The American Psycho
Marco Rubio
Eerily soft-spoken, but in that cruelly intentional kind of way, former Republican State House Speaker Marco Rubio seems like the kind of guy who wakes up and does 500 push-ups before taking a scalding shower to atone for his blood-splattered political reputation. We can almost hear Huey Lewis' Fore album playing in the background – "Hip to be Square" is a really good song – as Rubio packs his briefcase with accusations of credit card fraud, opportunism and hypocrisy. Although he was presumably trotted out by the GOP to appeal to Hispanics, Rubio doesn't support the rights of immigrants (despite his Cuban heritage). He's also got some serious party-line rage. While serving as Florida State House Speaker in 2008, he revealed his true character, seething with Patrick Bateman-esque fury when Democrats pulled a dirty procedural trick that forced Republicans to do full readings of all bills coming to the floor for a vote; with all due maturity, Rubio locked the doors, shut off the Internet and forbade bathroom breaks.
Then out of nowhere, it seems, he morphed into a Tea Party concern (like most frightened Republicans during this election cycle), without so much as loosening his corporate tie.
Maybe there really is no Marco Rubio. To quote American Psycho's Bateman, perhaps he is "only an entity, something illusory. And though I can hide my cold gaze, and you can shake my hand and feel flesh gripping yours and maybe you can even sense our lifestyles are probably comparable … I simply am not there." Now that's scary.
— Billy Manes
Taliban dan
Dan Webster
The spectre of extremism cast its pall over Webster's campaign, and it chills us to the very core to imagine that our state could send him to Congress. Webster, a former State House Republican leader, has hordes of tea-party zombies to support him despite the fact that he's downright terrifying when it comes to social issues – women's issues in particular. He's a proponent of "covenant marriage" – that is, marriage in which couples can never divorce and are trapped together in horrifying eternity – which has been likened by his opponent Alan Grayson (who held the dubious honor of being featured in our Halloween masks issue last year), to being the matrimonial version of a roach motel: You can check in, but you can't check out. Webster opposes abortion unequivocally: Even if a woman conceives a child via rape or incest, Webster thinks a woman should bear her attacker's baby. As if that's not scary enough, for the past 30 years he's been involved with a radical Christian group called Institute in Basic Life Principles that believes rock music is unhealthy and addictive and that women ought to defer to their husbands with "reverent submission and assistance." Clip out this mask, wear it on Halloween and watch as progressive women recoil in horror!
— Erin Sullivan