click to enlarge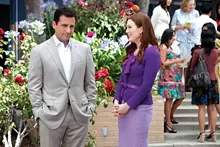 Crazy, Stupid, Love.
4 Stars
(PG-13)
Sometimes I wish that certain cinematic conceits hadn't already been done many times over so when someone comes along and gives it new life with fresh angles, it didn't still feel so familiar. That's the sensation that comes with Crazy, Stupid, Love, a boldly old-fashioned romantic comedy with the rare quality of being both romantic and comedic.
The premise is certainly nothing new: A dowdy family man (Steve Carell) learns that his wife (Julianne Moore) had an affair and wants a divorce. He then meets a suave, handsome ladies' man (Ryan Gosling), who goes Pygmalion on him, and they both learn a thing or two about love and life. By now you're thinking, "Haven't I seen that commercial, only with Jason Bateman and Ryan Reynolds?" Well, yes, you have. And while The Change-Up may prove to be equally worthy, I doubt that any rom-com this year can match Crazy's honest laughs, surprising tears or the care put into its characters, its look and its refreshingly madcap structure.
The people responsible for those laudable qualities are surprising for the genre they've chosen to breathe new life into, but not for lack of standards. The film is produced by, among others, Carell and fellow former Daily Show correspondent Vance DeGeneres, and written by Dan Fogelman, who also wrote last year's wonderful Disney film Tangled. It's directed by the increasingly brilliant team of Glenn Ficarra and John Requa, who wrote Bad Santa and the remake of Bad News Bears before making their directorial debut last year with the oddball comedy I Love You Phillip Morris. Here, they channel the likes of James L. Brooks and Cameron Crowe and their glossy, slightly overstuffed yet warm and intelligent style.
As Carell and Gosling carouse and Moore cautiously navigates the terrain of a pilloried adulterer who still has to raise her children and determine if her one-time lover, played by Kevin Bacon, could be anything other than a mistake, we follow a charming subplot involving Emma Stone as a law student who, unwilling to be romantically adventurous, has settled for a dopey nice guy (a delightful Josh Groban). When she – and apparently only she – rebuffs Gosling's advances, she stokes a new sensation in him: affection. This presents a litany of problems for all involved for reasons that don't become clear until the final, thrillingly silly act.
Meanwhile, Carell and Moore's 13-year-old son, Robbie (Jonah Bobo in a breakout role), is madly in love with his 17-year-old baby sitter (Analeigh Tipton, also wonderful), who is in lust with Carell's character. And did I mention that Marisa Tomei plays a key instigator role in a lot of this? Like I said, it's a tad overstuffed.
Still, by the time everything is laid out on the table, the filmmakers have developed these characters into real people whom we care deeply about, and that's the simplest yet toughest trick in the book. Carell in particular is easily overlooked for how effortlessly he toes the line between the hopeless schlub and the mensch you can't help but root for. Moore, too, can be underestimated; she keeps her emotional reservoir so close to shore that it begins to feel like part of the scenery. But they both do something remarkable here that perhaps shouldn't be so remarkable in today's movie world: They act like adults.
The kids also act like adults, but not in the hyper-intelligent, cutesy way that's so overdone lately. Rather, they speak their minds, they make their own choices and they accept responsibility when those choices have consequences. Imagine what a difference that kind of behavior could make for kids if it were represented on, say, Nickelodeon.
As for Gosling: My goodness, he's attractive. That has a deleterious effect on the film's logic at times, especially toward the beginning when he espouses his Miyagi-like advice on picking up ladies. One can't help but think, "When you look like that, it really doesn't matter what you say, does it?" Regardless, he comes much more into focus once he connects with Stone, whose preternatural ease in front of the camera actually instills confidence in the audience. If she's on board, it's probably going to be a great time.
So, America, you got the mature dramedy you've been pining for. Then again, I thought we got that last year, too, with Love and Other Drugs, which audiences stayed away from in droves in favor of Harry Potter and the Deathly Hallows Part 1. Uh-oh.