click to enlarge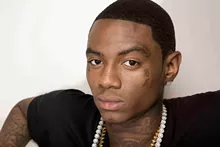 Independence Fest 2011
with Soulja Boy, Rick Ross,
Gulid 4, Killa Creepa, Fireboy,
Papa Duck, Mobb Boss
2 p.m. Sunday, July 3
Tinker Field
$32-$160
csrpromo.com
Soulja Boy is the Internet's musical promise fulfilled, a social-media hustler who, at just 16, used a canny knack for online self-promotion to turn his song, "Crank That," into a viral phenomenon that spring-boarded his debut album, Souljaboytellem.com, to platinum heights. Along his journey to fame and riches, though, the now-20-year-old rapper has also been accused of killing hip-hop with his propensity for lightweight, ringtone rap. His two follow-up albums flatlined (last year's The DeAndre Way moved only 50,000 copies), and he's been attacked by a random list of artists that includes both elderly gangsta-rap icon Ice-T and one-time kiddie star Bow Wow. But despite all the flack, Soulja Boy is still here, with plans to release a biopic of his life that resembles a hip-hop version of The Social Network and produce on 50 Cent's next album; he even cracked the top 20 of Forbes' list of the world's richest rappers last year. It's enough to ask: Is Soulja Boy pulling the wool over everyone's eyes, or is this all part of an under-appreciated but carefully executed master plan?
The rapper himself openly cops to a career enabled by an expertise in, and enthusiasm for, the Internet as much as the art of making rap songs. When he was attending high school, Soulja Boy would rush out of class and head straight home to sit in front of his computer, make music, upload videos of the songs to YouTube and try to spread them as far and as frequently as possible. One of those videos was for "Crank That," a track based around little more than a few steel drum notes and finger snaps. It's the song that persuaded Interscope Records to sign him after it amassed a huge number of views. As he puts it, "I was getting attention all over the country and getting video hits without ever being played on the radio; I was getting all the kids as fans before I even got a deal."
Soulja Boy's reputation for dot-com expertise in the field of music has stuck with him ever since. He recalls a tour with Lil Wayne, who asked him for help using his computer: "He told me, 'I don't know how to work the Internet a day in my life, but you just came in and you got a talent with the computers and now it's got you those platinum hits.'"
This ideal of an organic Internet success story in which a song slowly builds from a local hit to worldwide ubiquity, is what the Internet was meant to promise for upcoming artists – a way to promote and distribute your music without having to pander to the stuffy old major-label record industry machine. But, well, that's not the whole deal with Soulja Boy. There's a youthful, mischievous and lesser-
reported part to his success – namely, that he found a way to hoodwink the Internet's formal mechanisms, to his own advantage. 
He hacked the social media.
Soulja Boy started out as just another anonymous upcoming rapper. Then, he came up with the shrewd idea that he could deliberately mislabel his songs in order to inflate their perceived popularity. Once they reached a certain number of views in the millions, he switched in his own name. Looking back on the ruse, he puts it this way: "I used to label my songs and videos as '50 Cent In Da Club,' or 'Britney Spears' or 'Justin Timberlake and Michael Jackson' – any artist that I felt was popular and people would click on." The subtlety came by trying to tap into fans of artists who might also come to like Soulja Boy's own style of music.
The success of "Crank That" – and, by association, Soulja Boy – is a modern one, befitting an Internet that is run quantitatively: Success online is based on amassing downloads and pageviews, not the quality or worth of art. Rap elitists have criticized "Crank That" for its simplistic content, but its numbers are a nearly unprecedented win, with the song's video sitting at more than 100 million YouTube views and an accompanying instructional video detailing how to do the dance in the video at close to 50 million views. They're numbers Soulja Boy is still 
living off of today.
Soulja Boy insists that from day one he had a plan for success and he carried it out. By the time his Interscope debut album dropped, he'd checked off all the goals on a list he'd written in high school. He's cagey when pressed for further details about the nuances of this plan, promising only that the upcoming film of his life will explain it all. It's a move that might see him winning the numbers game all over again."