It's a new year, and we need a fresh start. We need to divest ourselves of the bile and acrimony that accrued at an alarming rate in 2008. The economy, the wars, Casey Anthony, another freakin' year of George W. Bush; it's enough start a monk on a murder spree.
So it's time once again for the annual karmic cleansing we like to call Cheap Shots, wherein we call out the deserving on their dastardly — or often just stupid — deeds of the last 12 months. These are the people whose actions did nothing to improve our collective lot last year, and this is the feature in which we thank them for "contributions." Then we all move on, feeling better about ourselves and more optimistic about the future. See how that works?
Orlando city commissioner Patty Sheehan has been a mixed bag this year. The city did — finally — manage to pass partner benefits for gay couples, something Sheehan has been flogging for years. So that's a good thing. However, Sheehan's unflagging support of the Rich DeVos Golden Pleasure Dome™ back in the planning stages, coupled with her apparent ignorance of Rich DeVos' wingnut proclivities, led to her embarrassing herself and the city when she went all boycotty on the Magic in response to DeVos donating $450,000 to help pass the gay marriage ban in California and $100,000 to passing it here. Sheehan is apparently the only person in Orlando surprised by Amway billionaire DeVos acting like the fundie he is and always has been. So here's a sleep-with-dogs-wake-up-with-fleas Cheap Shot to Sheehan for choosing her friends so poorly, then getting all huffy about it.
• • •
This is difficult — more than you can imagine — but we can't keep going on like this. Consider this Cheap Shot our Dear John letter to (sniff, say it with us) local … gurgling … pool … of awful Biteboy. And what a ride it's been. In merely a year, the minimally talented group of kids hitched a ride on the hairy back-fat of Lou Pearlman, arguing that a record deal and reality show in association with the convicted felon would somehow help society, and they managed to stick their douchetastic faces into the fetid pile of Orlando hype known as the Casey Anthony case. They even recorded the official Worst Song in the History of Life on Earth with the track "Wine-Sick Mind (Casey's Song)." Man, that is some primo, hard-working ball-lickery. But alas, this is the end of it. So long, and die.
• • •
Local television news sucks. No news there. But usually it's only local audiences who are treated to the suck. In late October, when WFTV-Channel 9's Barbara West scored an interview with Democratic vice presidential candidate Sen. Joe Biden, however, the suck went nationwide. Remember West's interview, which repackaged Republican talking points as legit questions, albeit ones she barely understood?
"Aren't you embarrassed by the blatant attempts to register phony voters by ACORN, an organization that Barack Obama has been tied to in the past?" West demanded.
"We are not tied to it," Biden told her.
Au contraire! West replied. He was their "benefactor" in the Senate.
"Come on, let's get real," Biden told her in a verbal eye-roll.
West recited various Sean Hannity-isms, then quoted Karl Marx before asking, "How is Sen. Obama not being a Marxist if he intends to spread the wealth around?"
"Are you joking?" Biden replied. "Is this a joke?"
Sadly, no. This is our steady diet of TV journalism in Orlando. A Cheap Shot to West and WFTV for parroting stupidity in the name of ratings.
• • •
State Sen. Gary Siplin is a scumbag, and politics is kind of a blood sport. Still, there's a fine line between "hard-hitting" and "utterly disgusting," and that's a line the Republican Party of Florida bulldozed in the weeks before the election. At the end of an ad highlighting Democrat Siplin's various and sundry run-ins with the law, the screen flashed an image of black man Siplin's big-grin mug shot alongside a smaller picture of Belinda Ortiz, his lighter-skinned opponent, as an ominous voice intoned that Siplin "wants to beat this woman!"
Of course he wants to beat her. That's what elections are for. But the not-so-subtle allusion to battery and the unsubtle race card? That deserves a Cheap Shot, and it almost makes us happy Siplin cleaned Ortiz's clock.
• • •
click to enlarge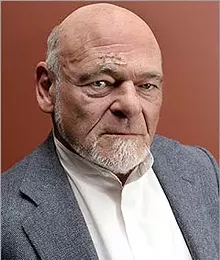 We love the concept of the Red Chair Project, but the name doesn't sell the service, which is to sell tickets for Orlando art events online. And that's a
big
problem.
The website (redchairproject.com) offers a marvelous amount of information about what is going on in Central Florida — detailed descriptions, videos, times, ticket prices and even last-minute discounts and food-ticket-drink date packages. Though it's been around and growing for several years, it's still rare to find someone who actually knows what it's about. So here's a gentle kind of Cheap Shot to Red Chair, with hopes that it may prod them into changing their name. How about something descriptive like, oh maybe, iTickets for Orlando Arts?
• • •
Was it only a little more than a year ago that Sam Zell bought Tribune Co., and with it our beloved Orlando Sentinel? Seems like ages. It didn't take Zell long to put profits first. In one year, the Sentinel alone has chopped more than 150 jobs, including more than 50 from the newsroom (20 percent of its editorial staff). Among the departed are some of the paper's biggest names, including editorial page editor Jane Healy, ombudsman Manning Pynn, and reporters John Kennedy and Tammy Lytle.
But sending the Sentinel down the crapper isn't what earned Zell his very own Cheap Shot. Instead, it's his Jan. 31 pep rally at the paper, in which one photographer had the nerve to ask Zell about his commitment to journalistic excellence amid the coming budget cuts. Zell replied with a slurred rant about "journalistic arrogance" and puppies. And then he summed it up with a barely audible "Fuck you." Real statesman, that one.
• • •
A cholesterol-busting Cheap Shot of Lipitor for Lake Mary—based Ruth's Chris Steakhouse CEO Craig Miller, kicked to the curb after bringing the chain to the edge of bankruptcy. Maybe it's the lingering curse of Katrina — Ruth's Chris moved their headquarters from New Orleans to Heathrow just days after the catastrophic hurricane — but the last 12 months have been rough for the publicly owned steakhouse chain. In March, the chain's CFO, Thomas J. Pennison, left the company in the wake of a 61 percent profit drop for the fourth quarter of 2007. That wasn't enough to mop up the bloody juices, though, so in April, CEO Craig Miller was next on the butcher's table. "I'm shocked," Miller told the Orlando Sentinel in a telephone interview. "It's not every day you get terminated without cause." We'd say a 70 percent decline in stock value is just cause, but don't cry for Miller — he got a healthy severance doggie bag of a year's pay (he earned $560,127 in salary and bonuses in 2007) plus 60,000 shares of the stock he helped trash, six months' worth of headhunter fees and legal fees of up to $20,000.
• • •
In February, when the Metropolitan Bureau of Investigation dropped charges against this newspaper and three of its employees that stemmed from its two-year investigation of the supposed crime of selling classified ads to pretend hookers — coincidentally, we're sure, a few days before a scheduled motion-to-dismiss hearing — MBI director Bill Lutz went before the local media and crowed about his righteous victory for morality here in Central Florida. Lutz, in his own deposition, said of the ads, "It's just wrong," and apparently, felt his own revulsion justified a criminal case.
The problem was, neither Lutz nor his associates had a clue about the law under which this paper was prosecuted. In depositions, agents all gave different answers to the question of what law was broken. Given a copy of the statute in question and asked what law was broken, all Lutz could muster was "I'm not an attorney." A Cheap Shot to you, Lutz, for using your 20 years at the MBI to fight your personal morality wars. The good news is you've retired. The bad news is someone will replace you.
• • •
click to enlarge
Ah, Hannibal Square, where the elite meet to eat and ignore the surrounding pool of less-privileged West Winter Parkers lapping at the edges. We're sending a nouveau-riche Cheap Shot straight to your spray-tanned, Jazzercised asses; you love your French restaurants, your hair-and-nail spas, your expensive-baby-clothing purveyors, all of which are common to neighborhoods trying to upscale themselves, but we've seen all that before. What we haven't seen anywhere else in town is the likes of Redlight Redlight, the world-renowned artisanal beer bar. Oh, wait — we
have
seen Redlight Redlight somewhere else … because you drove them away with your unreasonable drinking hours. Just because the wrinkly yuppies plotting to give each other STDs across the square at Dexter's go to bed early, that's no reason to kill the fun for the younger generation.
• • •
A constipated Cheap Shot to the blockheads who almost — or maybe did — kill the 61-mile commuter rail project in Central Florida. If you've ever been on I-4 anywhere near rush hour, you know there is no viable transportation future on that sucker. Commuter rail isn't perfect, but it's a stab at having some alternative means of getting around our blob of congested sprawl. Still, state Sen. Paula Dockery of Lakeland whined about a couple of extra freight trains that might have to run through her city, Miami douchebag state Sen. Alex Villalobos whipped trial lawyers into a frenzy about not being able to make enough money on train crashes, and the Legislature killed the deal last May. Maybe they'll pass it this year, but if not, more than $300 million in federal funding could go away. And you could be stuck on I-4 forever.
• • •
Art parties are so dead. Our limit to 2008's explosion of the parties was exceeded Aug. 16 at the Dustin Orlando—conceived reception for Spoiler Alert at CityArts Factory. After dropping the required $10 at the door early in the evening and heading to the upstairs gallery, all we found was a room with priced-to-sell art by two emerging talents, plus a lone DJ manning his station. Around the corner from the artwork at the cash bar, social networking was taking place, but not the kind that welcomes unfamiliar faces. Once a viewer had his or her fill of the images, there was not much to do except pick at the cheese plate.
The following week, CityArts Factory featured the show for its Third Thursday program, for free. Artists want to sell their art, not charge people to dance around it. Next idea, please.
• • •
Speaking of, the CityArts Factory started with such promise two years ago. But now almost all of the original players are gone in a haze of rumors about who was sleeping with whom and financial insolvency kept secret.
New gallery spaces open and close over there willy-nilly, so it's easy to be suspicious. For now, just understand that CAF is run by the powerful but mysterious Downtown Arts District in collaboration with the city of Orlando and "community partners," as the website explains. But CityArts Factory has fallen to the same plague as other arts groups in town: no money and plenty of conflicts of interest. Cheap Shot to everyone who helped gut what could have been a bright spot in an otherwise bleak downtown landscape.
• • •
click to enlarge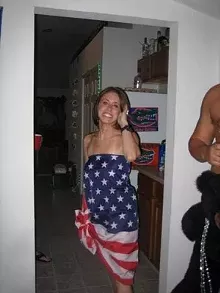 Oh God, please make it stop. Please let Casey Anthony and everyone else involved in her perpetual disaster disappear into a black hole or something. We don't care how. Just make it stop.
Back in July, hot mess Casey stepped into our lives when news hit that her 2-year-old daughter, Caylee, had been missing for a month, but she hadn't bothered to tell anyone. Then she contrived a cockamamie story about some imaginary baby-sitting kidnapper that nobody believed. Later we found out that her alleged search for her kid involved drunken make-out sessions. Now she's been indicted for murder, and her daughter's body has been found in the woods.
But this Cheap Shot isn't for the despicable act for which Anthony stands accused. It's for fostering the cottage industry of ridiculous hangers-on and limelight seekers, from bounty hunter Leonard Padilla to the story-whoring Orlando Sentinel to self-righteous TV maven Nancy Grace to god-awful musical group Biteboy and the rest of this sordid crew, all of whom deserve a date with a breaking wheel. Just stop it.
• • •
Because what Florida needs is yet another guileless bureaucrat manning the desk of its morality police, this Cheap Shot goes into the equine face of state attorney general Bill McCollum. The former Republican congressman, senate hopeful and Clinton impeacher raised the state's gay eyebrow in November when he promised to appeal the Miami-Dade circuit court ruling that declared Florida's gay adoption ban unconstitutional. McCollum cited oh-so-reliable sources of religious opinion to conclude that gay people are abusive drug addicts and unfit to be parents. Bill McCollum: yet another reason people hate Florida.
• • •
You kind of have to feel bad for Orange County Republican Executive Committee chairman Lew Oliver. His party was infiltrated by wig-wearing conspiracy nuts, and it got trounced in the elections. Still, we wouldn't foist head conspiracy nut Nick Egoroff on anyone. Oliver flailed wildly over each of Egoroff's ham-fisted shenanigans, throwing the tantrums that earned him this Cheap Shot. Still, it was hilarious. When Egoroff was running for Precinct 319 committeeman back at the Aug. 26 primary, Oliver showed up at the precinct with a skull-and-crossbones sign on a piece of poster board reading "Say No to Egoroff!!" Never let 'em see you sweat, Lew.
• • •
click to enlarge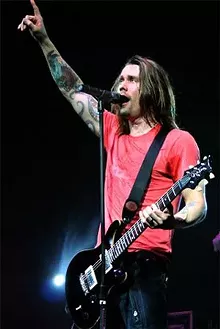 An all-hands-on-deck, world-crisis Cheap Shot to Orlando frontman Myles Kennedy and his band Alter Bridge for possibly ruining one of the greatest moments in rock history and maybe-sorta initiating a mass panic of suck. One of the consistent hums of speculation in music is the buzz behind a possible Led Zeppelin reunion with late drummer John Bonham's amazing son, Jason, behind the kit. This year, the hum turned into a sonic boom. On Sept. 20, British paper
The Sun
confirmed singer Robert Plant would join in for a reunion tour, but then Plant said it would never happen. A replacement search was on, and on Halloween (naturally),
Billboard
reported that Kennedy could be the guy. This, in turn, fueled speculation of a Creed reunion — Alter Bridge is composed of former Creed members — and a chain reaction to make your eyes bleed was begun. Nothing is confirmed as of press time, but for forcing us to suffer through the thought of such a travesty, Myles, this one's for you.
• • •
A Cheap Shot in the kickstand to the inexplicable fixed-gear bike (fixies!) trend that saw hipsters tumbling out of their usual vehicles and onto the downtown streets, without brakes. It's yet another example of a trickle-down fad gone horribly awry when applied to the City Beautiful, as the sorta- hippie bicycle club practicality — they're easier to climb hills on out West — met the relative flats of Central Florida more as a status symbol ("I never bathe!") than a need. Playing cards in the spokes, naturally, are encouraged.
• • •
Man oh man, did we miss Will's Pub in 2008. The jukebox, the pinball machine, the general air of seedy mayhem — not to mention one of the best booking policies in town and the added bonus of a separate room to enjoy it in. And now it's back, just down the road from the old one, so we don't want to be too bitter or anything. But oh my god, we felt like Charlie Brown trying to kick that football of Lucy's while we endured months of false opening rumors. So, because delayed gratification is not our strong suit, a Cheap Shot to the liver (which just might kill him) to Will Walker for all the we're-open-no-we're-not-no-we-are over the last year.
• • •
A traffic-headache-inducing, parking-ticket-priced Cheap Shot to the Florida Department of Transportation, which planned to eliminate most of the street parking on the stretch of Orange Avenue between Princeton Street and Highland Avenue (now known as Ivanhoe Village). Public hearings on the impending repaving — which will hamstring the Antique Row micro-economy; just ask business owners on the stretch of North Orange Avenue in Winter Park like the Ravenous Pig and Eden's Fresh Co., who suffered blocked-off driveways for months — have proceeded for the last few months, but few realized that FDOT planned to kill two birds (or 20 businesses) with one stone by doing away with dozens of parking spots in the name of "safety." (Maybe they could just enforce the speed limit instead?) It's not all bad news, though. Thanks to the efforts of state Rep. Scott Randolph's office, most business owners were able to negotiate with project managers to retain some of their spots.
• • •
A Cheap Shot from the ghost of Lou Pearlman to Brick & Fire Pizza and Wine Company, an eatery that just couldn't seem to make a go of it at Church Street Station. Blame it on the contractors clogging up the streets, the greedy landlords, the crumbling condo market or the recession, but chef Mark Dollard should have known better. His earlier Church Street Station restaurant, Absinthe Bistro and Bar, closed when then-owner Lou Pearlman declared bankruptcy. Now developer Cameron Kuhn is facing foreclosure on the property, but no one was willing to cut Dollard a break on the rent, so he packed his knives and went — to an old Moe's Southwest Grill storefront on South Orange Avenue, cheek by jowl with the city's newest gentrification focus, SoDo. Is he going to get caught up in another development scheme? Once bitten, twice shy, we say. Thrice bitten earns you a Cheap Shot.
• • •
Here's a Cheap Shot to local theater companies large and small, with the hope that they get the message: In these sorry times, if any dollars are left in the budget for entertainment, the competition (attractions, movies and sports) wins. Live theater is an indulgence, and an expensive one at that.
For example, in December, tickets for the traveling Broadway production of Avenue Q at Bob Carr were $52-$66, and The Trial of Ebenezer Scrooge at Orlando Shakes ran $34-$38. That's more than a hundred bucks for a date night, never mind an outing for a family of four. How about a standing cheap night? A donation night? A family night? Anything to make the cost more affordable to the minions. Hey, DPAC: If you build it, no one's coming if they can't afford a ticket.
• • •
click to enlarge
Oh, U.S. Representative-elect Alan Grayson, how we loved thee over the years. The playful shaving of the menacing beard, the nonstop commercials with slamming money suitcases and war profiteer fist-waving, the occasionally geeky outbursts. You were — and presumably
are
— a liberal's liberal. But when we endorsed you for the race that you went on to win handily, you had to get out your laptop and issue a stream of late-night, unedited nonsense regarding semantic issues in our coverage that might have given a "false impression." Like that you're rich (true). And that you're a lawyer in D.C. (true). "Cut it out!" you wrote to us, as if "leaking" this public info would destroy your political career. And while bygones have become bygones via telephone missives, here's a Cheap Shot to keep you warm while you're stirring up trouble on Capitol Hill.
• • •
A cinematic masterpiece of a Cheap Shot to the organizers behind the Orlando Film Festival in November for the desperately Orlando-ish, faux meet-and-mingle "press junket" with the filmmakers gracing the festival's two tiny screens. When the horrifying thought finally dawned on them that the terms "press" and "Orlando" aren't exactly wide-reaching, the organizers asked the few that had arrived to call someone — anyone — to come by, pretend they'd seen the films, and ask the gaggle of directors some incisive questions. The result — neocons, puppets and the woman who squeaked like a dolphin to impress Victoria Beckham on a reality show — was a jaw-dropping exercise in not-quite-big-city ambition colliding head-on with the reality of peddling a DIY film in any place that's not Park City, Utah.
• • •
This isn't a real Cheap Shot; it's only a tribute. This summer, OW ran a blurb about Journey tribute band Frontiers and how, legend had it, Frontiers' lead singer, Jeremey Hunsicker, was actually offered a job as the singer for the real deal. To our complete amazement, various threads at Journey fan sites that had been up in arms over Hunsicker's claim to fame switched over to our little website and proclaimed it their new battlefield. When we spoke with Journey's real spokespeople, they denied Hunsicker's claims, so we reported that. What followed was one of the most surreal bitch fights ever witnessed. On one side, Hunsicker, who continued to argue his case; on the other, apparently, a former member of Frontiers with, as Hunsicker put it, "an ax to grind." The sniping continued nearly every day for over a month, and we still can't listen to "Don't Stop Believin'?" without a cold shiver running down our backs.
• • •
click to enlarge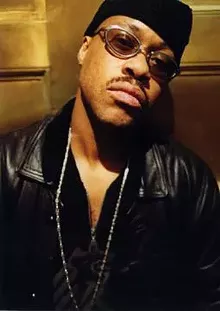 Suckas need bodyguards for the cold, sax-up-your-ass Cheap Shot owed to rapper-producer Guru. The living hip-hop legend — who pioneered jazz-hop with his former duo Gang Starr in the '90s and went on to release a series of albums called
Jazzmatazz,
which paired him and other rappers with jazz artists like Branford Marsalis and Courtney Pine — was set to play Club Firestone on Oct. 17. A live incarnation of
Jazzmatazz
was promised, and earlier that day, Guru made full-bodied and cordial appearances at both Full Sail University and Virgin Records (the latter boasting an audience of exactly one person). But that night, after the opening performances, an announcement was made that Guru was "ill" and could not perform. Rumors spread like wildfire, including one about his personal life that's remained the most tightly held industry secret for years, but the only thing known for sure is that he showed his real steez.
• • •
It's no secret that everything to do with the Orlando venues project is a mockery of itself twice over by now, but even when we were giving the projects the benefit of the doubt back in June and covering the inner workings of the arts groups meant to populate the vaunted Dr. P. Phillips Performing Arts Center, we got a bad feeling about one of the principals. Turns out we weren't alone. Grumble-puss Jim Ireland, Orlando Opera Company's president and chief financial officer, had run roughshod over the arts community's calmer sensibilities with his regal tendencies and running off of the mouth. "The way that an opera company can save the most money is by closing its doors," he told us, hypothetically. And then he called us liars. A gentle Cheap Shot to his opera glasses for him, then, and best of luck for the uncertain future.
• • •
What happened to the fundraising Orlando GuitarTown project? We still can't figure it out, but we do know that the failed venture continues apace, solely in the hands of infamous promoter/character Jim Faherty. Also warming Faherty's hands is a Cheap Shot for bringing Orlando's cultural tourism craze to an inscrutable low.
There's been bitching aplenty since the June call to artists: "GuitarTown is a public arts project featuring 10-foot-tall fiberglass Gibson Les Paul Guitar sculptures that … will be placed throughout downtown Orlando in front of city landmarks and businesses, which will serve as an artistic reminder and display of Orlando's great musical heritage." And what musical heritage is that? Boy bands? Creed?
Other GuitarTown projects didn't suck like ours: Nashville raised $300,000 for its chosen charities in 2006 when the customized instruments were sold at auction; Austin raised $589,000.
From the get-go, the Orlando project went awry and finally imploded. And we'll continue to hear more noise about it in 2009 as Faherty continues to promote concerts in the name of GuitarTown's beneficiaries, though no numbers on how much has been raised will be released until midyear. Just pull the plug, Jim.
feedback@orlandoweekly.com