click to enlarge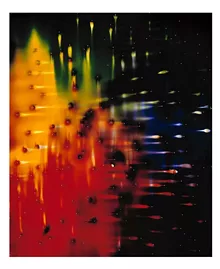 The Edge of Vision: Abstraction in Contemporary Photography
Through March 27

Cornell Fine Arts Museum

1000 Holt Ave., Winter Park

407-646-2526

cfam.rollins.edu

$5


Photography can be the hardest art form to appreciate when it's presented as abstract.

When you're looking at abstracts created using other media, no matter how complex, you can usually glean enough information from them to at least help you understand the process that created it. In painting, a brush stroke might reveal the painter's hand or the energy put into its creation; in sculpture, the use of a particular material might reveal the process by which something has been assembled and give the viewer something recognizable to relate to.

But the process of creating photographs is less intuitive. It lacks the textures of a painting or sculpture, and the things viewers rely on to gain some frame of reference in the artwork can be far more difficult to discern. The images, intriguing or beautiful as they may be, can seem frustratingly opaque. That could certainly be the case with the Cornell's newest show The Edge of Vision: Abstraction in Contemporary Photography, which opened at the museum on Jan. 15.

The show is a rigorous exploration of what constitutes an abstract image – or even what an image is. Some of the works are so far removed from what a viewer might recognize as a photograph that they're almost unidentifiable without a vocabulary in photography. This is both the challenge and the appeal of the show.

Fortunately, patrons of the Cornell had two opportunities to catch up with Lyle Rexer, the author and scholar who curated the show (he wrote the book The Edge of Vision: The Rise of Abstraction in Contemporary Photography, which explains the concepts this show explores); those who missed it might still be trying to figure out how, exactly, Jack Sal's "Salt/Room" installation, which features steel beams, piles of salt and photographic printing paper, is going to make a visual record of this show when all's said and done, or why Penelope Umbrico's "8,313,619 Suns From Flickr" is relevant to anything else on display here. Those who caught him during either his opening-night tour of the exhibit or his gallery presentation on Jan. 15, probably walked away with a far deeper 
appreciation of not only this show, but also the history and practice of abstract photography in general.

According to Rexer, photographers have been fascinated by abstraction ever since the first pioneers of the medium started messing around with silver, salt, iodine and iron. When it was new, Rexer says, photography wasn't precise and "nobody really knew what a photograph was supposed to look like," so early photographers – like Fox Talbot, who invented the process that resulted in the negative from which multiple prints could be made – were constantly experimenting with light, chemicals, colors and printing techniques.

The contemporary photographers represented in this show are doing the same thing, breaking the photographic process down to its most basic elements and challenging the notion of photography as merely pictures of people, places or things. They make images that document time and processes and space – things that can't usually be seen with the naked eye, or the traditional photographic lens. Most of the works represented in the show wouldn't register as photographs at all to many people, and many of them were created without using cameras.

One of the most striking examples here are the works of photographer Charles Lindsay. Two massive black-and-white prints from his Carbon series take up two walls of the gallery space, dominating the room. Upon first inspection, the images look like enlargements of microscopic slides containing microbes or cells. Some of his smaller works on display look like ripples on water or lunar landscapes. To make these pieces, Lindsay smeared a carbon emulsion across pieces of plastic, hit them with a jolt of electricity and developed the resulting images.

Likewise, Ilan Wolff's series Four Elements records the chemical interaction that takes place when photographic paper is subjected to four "primordial" elements: fire (represented by bars of heated metal), water (by ice melting on the paper), air (represented by light passing through a balloon) and earth. The organic-looking images created look like modern-art prints more than they do photographs; but surprisingly, they actually reveal the sensation of each element perhaps better than an actual photograph could. In "Fire," rusty rectangular lines reveal the weight and warmth of the metal that burned the paper; the shadowy transparency of the image in "Air" feels weightless but thick at the same time, as if the process managed to capture the sensation of a hot day without a breeze.

The concept of authorless photos is also present in this show, as illustrated by Penelope Umbrico's installation featuring multiple snapshots of the sun printed on three-by-five-inch paper and presented as one large piece. Umbrico collected photos that contained images of the sun, particularly from advertisements. She cropped in on the sun in each, then printed the images, which make up her "8,313,619 Suns From Flickr." Presented without context or author, they reveal how photos of the same thing evoke different sensations. The sun, warm and glowing and welcoming in one image, can look harsh and cold in another.

Then there's the aforementioned installation by Sal: It's a bit of an enigma, at first, just a composition of four metal bars of iron, placed on top of four sheets of photo paper, with piles of salt poured on top of the metal and spilling over onto the paper. It could be an abstract statement on the chemical and elemental nature of photography – and it is – but it also happens to be a photograph of sorts in the making. Once this show is over, Rexer says, the squares of paper, which have been exposed to the salt, iron, light, heat and humidity of the ever-changing gallery environment, will be processed. The result, he says, will be a documentary image of the show. It'll utilize the same chemical process that makes a photograph, and just like a photograph, it'll be a record of an instant in time. Only in this case, the window of time it captures will be far longer – a matter of weeks, rather than moments – and will challenge the conventional notion of what most people think of as a photo.

At the same time, like the other images in this show, it's just as much a record of time, place and an event as any traditional picture.