click to enlarge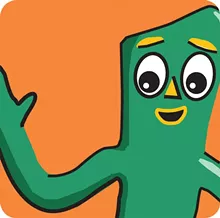 Perhaps animators just don't get the respect they deserve. Even after a half-century of cinematic auteur theory, we seldom talk about "the great animation directors." For every Walt Disney or Chuck Jones, there are dozens of unsung creators ­– not to mention thousands of individual animation artists. They can create whole worlds from imagination – whether it's cartoon animation or computer-generated imagery – while making sure we care about the characters, hardly an easy task. And only a few of the medium's trailblazers ever get their due.
One of those unsung animation "auteurs" was Art Clokey. Except for the most engaged fans of animation history, few noted Clokey's death on Jan. 8, of complications related to a bladder infection, at his home in Los Osos, Calif. A pioneer in clay and puppet animation, he is perhaps best known as the creator and voice of the green, clay humanoid character 
known as Gumby.
Born Arthur C. Farrington on Oct. 12, 1921, in Detroit, his brief childhood ended in a series of tragedies. His parents divorced when he was 8, and his father died shortly afterward in an automobile accident. He left Michigan to join his newly remarried mother in California, but was placed in an orphanage because his stepfather didn't want him. Adopted by Joseph Waddell Clokey, a teacher, organist and composer of secular and spiritual music, young Arthur suddenly had opportunities to learn, travel and explore his artistic abilities. Back on his family's Michigan farm, he'd made clay figurines out of a mud and clay mixture he called "gumbo," but now his adoptive father taught him to draw, paint and shoot film, and took him on trips to Canada and Mexico. The young man changed his name to Art Clokey and hardly looked back.
After serving in World War II as a reconnaissance photographer over North Africa and France, Clokey found himself in Hartford, Conn., studying to become an Episcopal minister – until he met and married a minister's daughter, Ruth Parkander. Instead of preaching from the pulpit, they felt they had a better idea, even if it sounds a bit hokey today: making films to spread the gospel. They rushed out to California, and Clokey enrolled in night film classes at the University of Southern California where he studied film under movie magician Slavko Vorkapich. Famous for making haunting montage sequences with complicated cinematographic techniques, including lap dissolves, superimpositions, mattes and fades, Vorkapich was eloquent and passionate about using cinema to test the creative boundaries of the imagination.
It must have left quite an impression on Clokey, whose class project, a three-and-a-half minute film titled Gumbasia – a take-off on Disney's Fantasia – broke new creative ground with pulsating, growing and shrinking pieces of colored clay set to jazz. When the father of a fellow student saw the film, he proposed funding a short film of this clay animation – a technique that would, in 1976, be trademarked as "Claymation" by animator Will Vinton. Recalling the strange clay figures he'd made as a boy back in Michigan, Clokey fashioned a thick-footed, green character designed to be easy to pose and animate – Gumby. Gumby's trademark uneven head was inspired by an old photograph of Clokey's biological father as a boy, an unruly cowlick sending a shock of hair up on one side.
When the animated short aired during an episode of The Howdy Doody Show, Clokey became a pioneer of TV animation as well, leading to The Gumby Show in 1957.
Gumby was a decent character who struggled to do right in the face of strange adversaries and wild antics, but Clokey still dreamed of using film to promote a Christian ethos. Then, in the late 1950s, Lutheran churches suggested such a series: the somewhat hokey puppet animation show Davey and Goliath, in which Davey wrestles with ethical and moral dilemmas, assisted by his talking dog Goliath. The show dealt with complicated issues, including racism, religious intolerance and mortality. Even in today's ironic age, it harks back to when children were more innocent and religion was somehow less shrill. What's more, the techniques pioneered by the show were later adopted by the technicians of Rankin-Bass, creators of the TV special Rudolph The Red-Nosed Reindeer.
In addition to The Gumby Show and Davey and Goliath, animation jobs kept coming Clokey's way, ranging from stop-motion commercials to animated title sequences for major films (1965's Dr. Goldfoot and the Bikini Machine, and How to Stuff a Wild Bikini, among others). Meanwhile, Gumby had become an enormously popular flexible toy. Still, by the late 1960s, it seemed Clokey's glory days had passed, his television work seen mostly in reruns at odd hours.
Then, in the early 1980s, Eddie Murphy's sketches on SNL brought Gumby back into the spotlight. Casting the kindly green naïf as a cigar-chomping, foul-mouthed rascal, Murphy roared, "I'm Gumby, damnit!" Though Clokey didn't completely approve, the cultural reference resonated, bringing newfound attention for the little green man. Soon, Gumby dolls were back on shelves, and Clokey found backing for fresh ventures.
Starting in 1988, Clokey directed almost 100 episodes of Gumby Adventures for TV over the next 14 years, and made Gumby: The Movie in 1995. Clokey broke no new ground artistically or thematically, but – much like his adoptive father and his old USC film teacher – he seized the chance to take a new generation of animators under his wing. More than half the animators who worked on Tim Burton's The Nightmare Before Christmas (1993) had labored on Gumby productions under Clokey's guidance. His disciples worked on classic stop-motion productions, including James and the Giant Peach and Monkeybone, and many would go on to work for Pixar, Disney and other computer animation studios for projects such as Toy Story, The Incredibles, Corpse Bride and Coraline. Onetime Clokey animator Timothy Hittle, for instance, created the animated sequences for The Life Aquatic with 
Steve Zissou.
Although he was an innovator when it came to using camera tricks to create imaginary worlds on film, Clokey was no virtuoso of animation. If anything, his knack was for telling a story using rudimentary props and limited special effects, using character and story to rope you in and make you care about a green clay person or a puppet of a talking dog. Perhaps it came from wanting to make viewers sympathize, to better drink in the humanistic and – yes – sacred messages he hoped to convey. Clokey's own spirituality was benign, never incurious, sharp or moralizing; a lifelong adventurer, he'd even visit India and experiment with LSD in later years. Call it religion, call it secular humanism, call it what you will, but a certain civility, dignity and decorum come through loud and clear in Clokey's creations.