Events Next 7 Days – Staff Pick
3 total results
Wednesdays, 10 p.m.
Concerts/Events
"Come rescue your humanity from obscurity and see the future the way it should be seen.. through high octane beer goggles baby!" free
http://willspub.org
Lil Indies
(map)
1036 N. Mills Ave.
Mills 50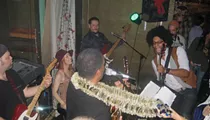 Tanqueray's
(map)
100 S. Orange Ave.
Winter Park Area
407-649-8540
Alexis & Jim Pugh Theater, Dr. Phillips Center
(map)
445 S. Magnolia Ave.
Downtown
Showing 1-3 of 3 total results in this search.