Events Search – Members Pick
3 total results
The Lucky Lure
(map)
1427 N. Orange Ave.
Central
407-250-6949
Sat., Aug. 25, 11:30 a.m.
818-468-9693
ActorHans223@aol.com
Film
Premier of a local independent sci-fi film, followed by a short Q&A. $5
Enzian Theater
(map)
1300 S. Orlando Ave.
Winter Park Area
407-629-0054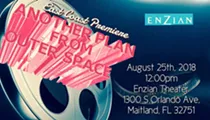 Wed., Sept. 19, 7:30 p.m. and Thu., Sept. 20, 7:30 p.m.
Theater
Local repertoire theater company, Day Start Theatre Arts, performs this cult musical classic inspired by the Arthur Schnitzler's controversial, "La Ronde". From $23
Showing 1-3 of 3 total results in this search.