It's Friday and that means you're probably itching to get out of the office and get your
St. Patrick's Day weekend
started. These links should help you slog through these last few hours:
1. Barack Obama was on Zach Galifinakis' Funny or Die series, Between Two Ferns, this week. A long time fan of this series, I was happy to see Obama holding his own with Galifinakis, dissing The Hangover series, while doing his best to promote healthcare.gov. FoxNews, however, was not so pleased with Obama's appearance on the show. Bill O'Reilly was particularly incensed, claiming, "Abe Lincoln wouldn't have done it!"
2.  Little Free Libraries are popping up everywhere. The project is simple, set up a tiny library full of your favorite books to be loaned out to the community. They can bring 'em back if they want or even leave a different book in place of the one they took. Started in 2009 in Wisconsin, there now are between 10,000 and 12,000 little free libraries around the world. Here's a map where you can find a Little Free Library near you.
Taps on taps on taps: A list of craft beer bars in Orlando
3. Last year, we compiled this list of the best places to get craft beer in Orlando. Is your favorite spot on there? What's popped up since we made this list?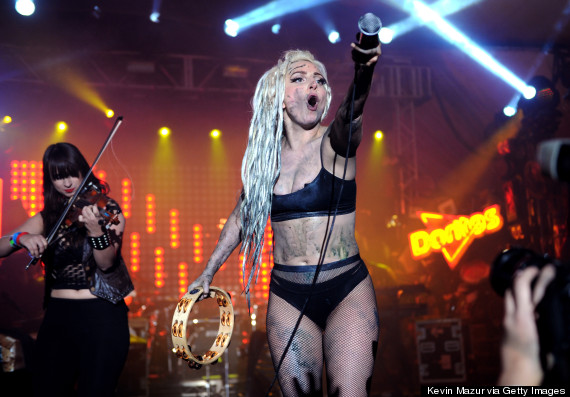 via
4. Oh, Lady Gaga. During Gaga's SXSW show yesterday, professional vomit painter Millie Brown (yes, this is her real job title) spewed neon green vomit on Gaga while she performed "Swine." This was following some provocative sausage eating and roasting herself on a spit, while her backup dancers basted her.  Doesn't sound like a very tasty performance. 
5. For all you lazy tweeters out there, That Can Be My Next Tweet has a solution for you! Just put in your Twitter handle and the app will provide you with a tweet fitting for your followers. Don't always expect them to make sense though. Here are just a few they suggested for the Orlando Weekly Twitter: "Democrats declare class warfare on the BEST craft beers we cant wait to the biggest craft event to Warm!" "YOUR DAILY WEEKLY READER: party tomorrow! You'll get your geek on Gov. Rick Scott is in town!
Survey?" "We're throwing the best shots from last week's happy hour time! Come taste Genius Vodka at Universal?"