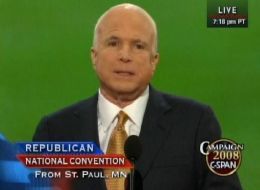 Yeah, yeah. If we were tech-savvy, could afford laptops and had a little more passion for this shit, then we'd have liveblogged the terrible and hilarious McCain speech last night, but this is how we do. To shed some light on how much we savored every awkward moment of last night's return of the green screen, here's the text convo I had with News Editor Jeff Billman last night during the thing:
Justin: 10:18 p.m. Return of the lime green monster!!
Jeff: 10:20 Ha! This is sad
Justin: 10:21 Did they learn nothing? This is embarrassing
Jeff: 10:22 Its blue now
Justin: 10:23 Equally green screenable
Jeff: 10:24 Uhe hippies are embarrassing
Justin: 10:25 'We're gonna tap into america's hidden desire to fuck sarah Palin! Yay!
Jeff: 10:26 Ha!
Justin: 10:31 He's wiping away everything Palin did last night
Jeff: 10:42 Pathetic right? Or am i just high? Or both?
Justin: 10:43 Both
Jeff: 10:44 Has he said ANYTHING besides POW?
Justin: 10: 45 My wife: his platform is the community collegization of america
Jeff: 10:45 Go Walmart
Justin: 10:46 Jesters for McCain?
Justin: 10:48 Serial killers for McCain
Jeff: 10:58 POW! POW! POW!
Justin: 11:00 They worked him over hard. Loving him long time
And then the Daily Show came on. The end.