Of course I'm referring to a plate of Batali's favorite dish, lardo (cured pork fat), not Batali himself.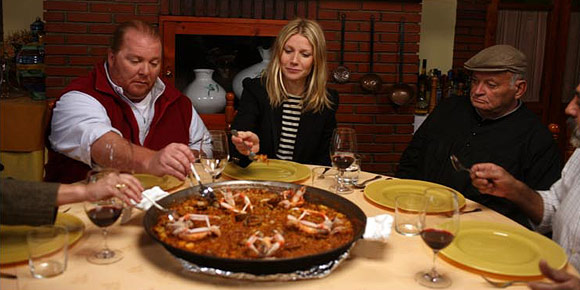 OK, let's back up: former macrobiotic Gwynnie, sweaty orange-Crocsed Iron Chef Mario Batali, NYT's suave Minimalist Mark Bittman and ... umm ... some Spanish actress started to eat their way through an entire country last night in PBS foodporn Spain ... On the Road Again. (If you missed it, the first episode airs again on WMFE 3 p.m. Saturday, Sept. 27.) See Batali eat raw pheasant! See Bittman eat clams off the beach! See Paltrow ... eat!
So, basically, they're taking on Tony Bourdain's No Reservations: same formula of culinary tourism and cultural oversimplification PLUS two very pretty girls, but MINUS Tony's rapier-edged don't-give-a-fuckness. (Though Bittman gives Bourdain's running buddy Michael Ruhlman some competition for top gastro-sidekick status.) Below is a bit of promo filmage (complete with inexplicable Michael Stipe and Willie Nelson cameos) that begs the alternate title Drunk Rich Folks.
And, because I feel like it, here's a picture of Gwyneth feeding a rat with a sippy cup.