Wednesday, May 22, 2019
The Doubleclicks log in to Cloak & Blaster for a night of nerdy folk
Posted

By

Thaddeus McCollum on

Wed, May 22, 2019

at

1:29 PM

The Lord of the Rings

and the benefits of having a cat to talk to at parties. In recent years, their songs have expanded in scope to cover social issues like feminism and gender identity. Their show this week takes place, appropriately, at the Cloak & Blaster, a pub devoted to board games, craft beer and all things geeky.

8 p.m. Wednesday; Cloak & Blaster, 875 Woodbury Road; $10;

cloakandblaster.com

.

Get our top picks for the best events in Orlando every Thursday morning. Sign up for our weekly Events newsletter.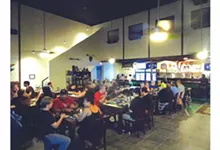 875 Woodbury Road
East
Orlando, Florida
Bar/Pub
Nerd-folk sibling act the Doubleclicks have achieved a certain level of internet – and real life! – fame from their delightful musical odes to topics like
Consider supporting local journalism.
Our small but mighty local team works tirelessly to bring you high-quality, uncensored news and cultural coverage of Central Florida. Unlike many newspapers, ours is free – and we'd like to keep it that way, because we believe, now more than ever, everyone deserves access to accurate, independent coverage of their community.
Whether it's a one-time acknowledgement of this article or an ongoing pledge, your support helps keep Orlando's true free press
free
.