Wednesday, May 15, 2019
The Monkees' Head is one of the trippiest things you'll ever see at the Enzian
Posted

By

Thaddeus McCollum on

Wed, May 15, 2019

at

1:22 PM

Magical Mystery Tour

, but with the Monkees standing in for the Fab Four. It's a mix of sketch comedy, music and nonsense that's far more convinced of its transcendence than it has any right to be. We can't legally advise you to alter your consciousness with anything other than state-approved substances to get through this worth-seeing-once mess, but, well, you know what to do.

9:30 p.m. Monday; Enzian Theater, 1300 S. Orlando Ave., Maitland; $12;

enzian.org

.

Get our top picks for the best events in Orlando every Thursday morning. Sign up for our weekly Events newsletter.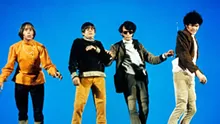 @ Enzian Theater
1300 S. Orlando Ave.
Winter Park Area
Maitland, FL
When: Mon., May 20, 9:30 p.m.
Price: $12
Film
This nearly nonsensical pastiche – co-written by an out-of-his-acid-dropping-mind Jack Nicholson, by the way – is like an American version of the Beatles'