Friday, May 3, 2019
Cloak and Blaster helps your Star Wars hangover at Revenge of the Fifth
Posted

By

Thaddeus McCollum on

Fri, May 3, 2019

at

6:40 AM

4-11 p.m. Sunday; The Cloak & Blaster, 875 Woodbury Road; free;

cloakandblaster.com

.

Get our top picks for the best events in Orlando every Thursday morning. Sign up for our weekly Events newsletter.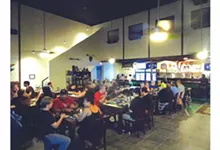 875 Woodbury Road
East
Orlando, Florida
Bar/Pub
If your combined Derby Day/May the Fourth Be With You hangover has you feeling like mynocks sapped all of your power, get a little hair of the wookiee at Cloak and Blaster's Revenge of the Fifth. Wind down the weekend with smooth Lando Cal-ritas or other themed drinks and food while avoiding the more boisterous Cinco parties around town.
We welcome readers to submit letters regarding articles and content in Orlando Weekly. Letters should be a minimum of 150 words, refer to content that has appeared on Orlando Weekly, and must include the writer's full name, address, and phone number for verification purposes. No attachments will be considered. Writers of letters selected for publication will be notified via email. Letters may be edited and shortened for space.
Email us at feedback@orlandoweekly.com.