Friday, May 3, 2019
Cloak and Blaster helps your Star Wars hangover at Revenge of the Fifth
Posted

By

Thaddeus McCollum on

Fri, May 3, 2019

at

6:40 AM

4-11 p.m. Sunday; The Cloak & Blaster, 875 Woodbury Road; free;

cloakandblaster.com

.

Get our top picks for the best events in Orlando every Thursday morning. Sign up for our weekly Events newsletter.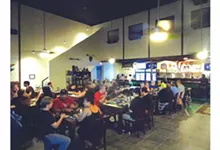 875 Woodbury Road
East
Orlando, Florida
Bar/Pub
If your combined Derby Day/May the Fourth Be With You hangover has you feeling like mynocks sapped all of your power, get a little hair of the wookiee at Cloak and Blaster's Revenge of the Fifth. Wind down the weekend with smooth Lando Cal-ritas or other themed drinks and food while avoiding the more boisterous Cinco parties around town.