Friday, September 22, 2017
Cloak & Blaster hosts a brunch worthy of the Shire in honor of Hobbit Day
Posted

By

Thaddeus McCollum on

Fri, Sep 22, 2017

at

7:30 AM

11 a.m. Sunday; The Cloak & Blaster, 875 Woodbury Road; various menu prices;

cloakandblaster.com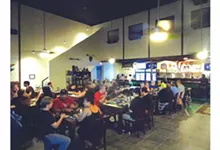 875 Woodbury Road
East
Orlando, Florida
Bar/Pub
While halflings' racial traits make them excellent candidates for playing a thief class, it's a well-documented fact that their weakness is food. If you understood that sentence, check out the Cloak and Blaster's Hobbit Brunch. A late celebration of Hobbit Day (Sept. 22, apparently), the brunch features a special menu worthy of the Shire. And no hobbit brunch would be complete without a few selections from the extensive C&B beer menu. We hear they're even serving it in pints. Reservations and costumes highly encouraged.
We welcome readers to submit letters regarding articles and content in Orlando Weekly. Letters should be a minimum of 150 words, refer to content that has appeared on Orlando Weekly, and must include the writer's full name, address, and phone number for verification purposes. No attachments will be considered. Writers of letters selected for publication will be notified via email. Letters may be edited and shortened for space.
Email us at feedback@orlandoweekly.com.
Orlando Weekly works for you, and your support is essential.

Our small but mighty local team works tirelessly to bring you high-quality, uncensored news and cultural coverage of Central Florida.

Unlike many newspapers, ours is free – and we'd like to keep it that way, because we believe, now more than ever, everyone deserves access to accurate, independent coverage of their community.

Whether it's a one-time acknowledgement of this article or an ongoing pledge, your support helps keep Orlando's true free press free.