Ah, spring.
When the earth bursts with new life, when a young man's fancy lightly turns to thoughts of love, and when all Orlando has one question on their lips: "What the hell is the deal with Fringe?"
What's the deal, indeed? The answer depends on whom you ask. Festival producer Beth Marshall and her staff will proudly tell you that the 16th Annual Orlando International Fringe Theatre Festival is the longest-running event of its kind in the United States and a linchpin of the city's cultural calendar. To the artists, it's an important opportunity to mount a show for a minimal investment; crucial in a town where most theater groups struggle to find affordable performance space. And to the hard-core arts patrons in town, it's a week where you can fool yourself into believing you live in a city with a rich cultural life.
Unfortunately, if you ask the vast majority of Orlandoans about Fringe, they'll probably just stare at you while backing away slowly. Those who have heard of it often dismiss it as an "artsy" indulgence that appeals only to theater insiders. True, the pretension can sometimes get pungent, and the monumentally unappealing marketing campaign from PUSH (a series of bland faux-protest signs that manage to weaken the Fringe brand and trivialize important free-speech issues at the same time) is unlikely to draw many new converts.
That's a shame, because Fringe has one thing that everyone, no matter the demographic, can get behind — BEER!
Nine stages, visual arts exhibits, kids' and pets' events — screw 'em. The real heart of Fringe has always been the beer tent, and they are finally acknowledging that fact by moving it out of Orlando Shakespeare Festival's cramped back courtyard and into the expansive central lawn of Loch Haven Park. The beer tent isn't just the place to grab some brew (for a very reasonable $3 donation) or grub (featuring the best soul food this side of Johnson's Diner). It is, for 11 days, the ultimate socioeconomic melting pot, a place where the city's starving artists and economic elite can freely mingle. Where else might you find a county commissioner, a drag queen and a member of the First Baptist Church chatting about the latest show they saw? Add the entertainment on the free outdoor stage to the first-class people-watching, and you can make a full day of it without ever buying a show ticket (though the organizers would prefer you didn't).
Most importantly, the beer tent is HQ for Festival Intelligence — think of it as Fringe CTU. With 77 different shows on offer, the only way to know what's worth your time and dime is word of mouth. Listening to passionate debates over Fringe offerings is sometimes better than the shows themselves. So grab a seat, catch a buzz and show support for the arts in Orlando — that's something we can all drink to.
Here's our guide to the ticketed performances divided by genre, with show times and venue details. All other information can be found on the Fringe website (www.orlandofringe.org) including Fringe activities off the stage.
Comedy
52 Pick up
Theater Simple (Seattle)
Yellow Venue / 75 min. / $10 / MA
This fractured romantic comedy, penned with Fringe fave TJ Dawe, features 52 scenes about a failed relationship — from meet cute to the final breakup, but not necessarily in that order. Luck of the draw determines the show order.
6:45 pm May 19, 10:05 pm May 20, 6 pm May 21, 11:05 pm May 24, 7:40 pm May 25, 2:25 pm May 26, 11 am May 27
Andrea's Revolution
DnA Productions (Orlando)
Blue Venue / 60 min. / $10 / MA
Avis Marie-Barnes stars as a disgruntled lawyer who sparks a femi-terrorism campaign over body-image issues and doughnuts. Gotta hand it to writer/director Nicole Carson — the hostage gagged and bound to a handcart at preview night was marketing genius.
7:55 p.m. May 19, 3:40 pm May 20, 10:15 pm May 22, 7:20 pm May 23, 6 pm May 25, 11 am May 26, 9:25 pm May 27
Bitch Slap!
Guys in Disguise (Edmonton, Canada)
Orange Venue / 75 min. / $10 / MA
Joan Crawford and Bette Davis go toe-to-toe with Hedda Hopper as referee. This battle royale of cross-dressing camp claims to be the "bitchiest show at any Fringe." They must not be counting the beer tent.
9:50 pm May 19, 6 pm May 21, 10:20 pm May 22, 11:30 pm May 23, 7:35 pm May 24, 1:40 pm May 26, 6:35 pm May 27
Born to be Asian
DnA Productions (Orlando)
Blue Venue / 70 min. / $10 / MA
Sketch comedian Drew Dalire (of the Fringe hits Bondage and Women Behind Bars) combats Asian-American stereotyping the best way he knows how: a karaoke contest between Jackie Chan and Kim Jong Il.
9:10 pm May 18, 2 pm May 19, 8 pm May 20, 8:25 pm May 22, 9:15 pm May 24, 10:10 pm May 26, 7:35 pm May 27
boys, boys, boys!
Douglas Productions (Orlando)
Orange Venue / 90 min. / $10 / MA
In writer/director Douglas Houston's large-cast tribute to late-'70s Chelsea, a burlesque troupe reunites at the West Village club where they once performed. Translation: Twinks in S&M gear sniff each other's butts while Joan Gay wails.
9:15 pm May 17, 9:45 pm May 18, 11:45 pm May 19, 2:10 pm May 20, 6 pm May 22, 9:30 pm May 24, 11:55 pm May 26
Breaking Glass
Peripheral Vision (Orlando)
Brown Venue / 60 min. / $10 / GA
Mad Cow regular Alan Sincic, who wrote Fringe 2005's perplexing American Obsessions, is back with a country-fried shaggy dog story involving a mutt named Sugar. It's a bumpy backwoods ride, so your mileage may vary.
2:50 pm May 19, 10:10 pm May 20, 9:20 pm May 21, 7:55 pm May 23, 4 pm May 26
Coming In
Michi Productions (Orlando)
Pink Venue / 60 min. / $8 / MA
Gay boy meets lesbian girl and they fall in hetero love. No, not Exodus International propaganda, but the latest queer-centric satire from director Margaret Nolan (Lilly and Lila). With Jamesson Beane, Logan Donohoo, Tiffany Roberts and Francesca.
7:30 pm May 18, 11:10 pm May 19, 1:05 pm May 20, 10:20 pm May 23, midnight May 24, 11 am May 26, 4:05 pm May 27
Ctrl-Alt-Life
Brett Nicholson (Orlando)
Pink Venue / 70 min. / $7 / MA
Brett Nicolson, whose musical HOLMES! ran at Playfest 2003, is back with an new "dramatic comedy." A psychology and theater student tests boundaries by "directing" his friend and his fiancee in "scripted interactions with strangers."
11 am May 19, midnight May 20, 7:50 pm May 21, 9:50 pm May 22, 4:10 pm May 26, 7:50 pm May 27
Curriculum Vitae
The Roodie Pancake Experiment (London, England)
Yellow Venue / 60 min. / $10 / MA
Jimmy Hogg spits and schvitzes his way through a recounting of his résumé in this hyperactive hit of the San Francisco Fringe. A "physically exhaustive, rambling tour de force" — with discounts for the unemployed!
2:20 pm May 19, 4:20 pm May 20, 11:20 pm May 21, 9:05 pm May 23, 11 am May 26
Dishpig
Chipped Paint Productions (Vancouver, B.C.)
Yellow Venue / 60 min. / $10 / MA
Solo performer Greg Landucci collaborated with TJ Dawe, co-writer/director for this comedy, about the "delicious, high-paying, well-respected glories" of scraping crap off plates in a restaurant. Scullery is so glamorous, who could give it up for Fringe?
6 pm May 18, 12:40 pm May 19, 2:40 pm May 20, 7:05 pm May 22, 6 pm May 24, 8:10 pm May 26, 4:15 pm May 27
Galapagos
2 Candy Bars & $5 Bill Productions(Kissimmee)
Green Venue / 55 min. / $8 / GA
Good news: You've won a most-expenses-paid vacation to the scenic islands. Bad news: Tour guides Corto and Cephus (Tony Lopez & Joe Wesson) aren't AAA-approved. Free advice: Keep an eye on your passport.
4:45 pm May 19, 8:55 pm May 20, midnight May 21, 6 pm May 23, 8:45 pm May 26, 11 am May 27
Harvey
Living Room Players (Orlando)
Brown Venue / 90 min. / $6 / GA
UCF student Michael Murray directs the Pulitzer Prize-winning play immortalized by the Jimmy Stewart film, only this time sans stammer. Is Elwood's invisible lagomorph BFF real, or is he just off his meds?
6 pm May 18, 11 am May 19, 8 pm May 20, 10:20 pm May 22, 7:40 pm May 24, 6:15 pm May 26, 11 am May 27
Infidel!
Flying Phoenix (Orlando)
Silver Venue / 60 min. / $10 / GA
Thinly veiled political satire about a certain Caribbean dictator who refuses to lie down and play dead. Could be a hit in Miami, but Hugo Chavez and other friends of Fidel should probably pass.
9:15 pm May 18, 3:20 pm May 19, 6:30 pm May 21, 7:40 pm May 23, 10:55 pm May 24, 9:50 pm May 25, 4:50 pm May 26
Jesus in Montana: Adventures in a Doomsday Cult
Aspen Comedy Works (Aspen, Colo.)
Yellow Venue / $60 min. / $10 / MA
Barry Smith tells the true story of his descent into a sect convinced that His time isn't just nigh, it's here. The real miracle? He makes apocalyptic fundamentalism seem funny.
11:15 pm May 18, 11:45 pm May 19, 6:45 pm May 20, 8:45 pm May 22, 7:40 pm May 24, 6:30 pm May 26, 12:55 pm May 27
L.A. Nasty
The Habit Productions (Seattle and LA)
Red Venue / 60 min. / $10 / MA
Can't stand Orlando? Keep talking about leaving for La-La Land? Well, here's a show to shut you up: a solid hour about how much the City of Angels sucks. Did the Orlando CVB sponsor this?
2:20 pm May 19, 5:40 pm May 20, 7:10 pm May 22, 9:35 pm May 23, 2:35 pm May 26, 11 am May 27
La Duchesse de Langeais
Real Theatre (Toronto, Canada)
Blue Venue / 60 min. / $10 / MA
Denis Couillard performs Michel Tremblay's "humorous, touching and intimate story" about a middle-aged transvestite who drinks away her sorrows in a Mexican dive bar (a situation all of us at the Weekly can relate to).
Midnight May 19, 6 pm May 21, 9 pm May 23, 7:40 pm May 25, 7:05 pm May 26, 1:55 pm May 27
Love Isn't Black and White
Last Minute Panic Productions (Winter Springs)
Pink Venue / 50 min. / $7 / GA
An average Joe tries to become a ladies' man with the help of the sitcom-style angel and devil on his shoulders. The young cast is affable, and at least the script acknowledges this is well-trod territory.
6 pm May 18, 2:15 pm May 19, 6 pm May 20, 8:50 pm May 23, 10:45 pm May 25, 9:45 pm May 26, 2:35 pm May 27
Matt & Ben
Penguin Point Productions (Winter Park)
Pink Venue / 90 min. / $10 / MA
Before J.Lo and Gigli, Damon and friend had an Oscar-winning script literally drop in their laps. Mindy Kaling and Brenda Withers' scathing celeb satire was a hit at the 2002 NYC Fringe. But isn't Affleck-bashing so three years ago?
9:10 pm May 18, 11 am May 20, 9:40 pm May 21, 7:40 pm May 22, 5:30 pm May 24, 8:35 pm May 25, 12:25 pm May 27
Maxim & Cosmo
Big Sandwich Productions (Vancouver, BC)
Orange Venue / 90 min. / $10 / MA
TJ Dawe co-wrote three shows this Fringe, but performs only here. His latest master class in monologing always is high on our must-see list. This one's on the war between the genders as waged on your local magazine stand.
11:30 am May 19, 6 pm May 20, 11:45 pm May 21, 8:10 pm May 22, 6 pm May 25, 3:35 pm May 26, 12:35 pm May 27
Midnight Snack
Kangagirl Production LLC (Orlando)
Brown Venue / 60 min. / $10 / MA
Scottie Campbell, Roger Floyd and Jamesson Beane (under the direction of Margaret Nolan) chew on this dramedy about a dead boyfriend who won't stay buried.
10 pm May 19, 6 pm May 21, 7 pm May 25, 2:20 pm May 26, 5:10 pm May 27
My Pal Bette
Randy Productions/B Productions (Orlando)
Brown Venue / 75 min. / $10 / GA
The other entry in this year's Bette Davis Fringe Festival stars Tammy Kopko as the erstwhile Baby Jane; here, she's a booze-soaked "guardian diva" heaven-sent to shepherd some poor pre-pubescent schmuck. Janine Klein also appears.
8:10 pm May 18, 11:40 pm May 19, 3:50 pm May 20, 6 pm May 23, midnight May 25, 9:55 pm May 26, 2:40 pm May 27
Out of Pocket
Pocketchange Productions (Edmonton, Canada)
Yellow Venue / 65 min. / $10 / MA
Longtime Fringe writer Pete Hurtgen Jr. delivers a "minimal comedy" about two couples on the Upper West Side: expectant yuppies in a cozy condo and the homeless squatters on the sidewalk below.
5 pm May 19, 12:55 pm May 20, 9:35 pm May 21, 9:20 pm May 24, 12:40 pm May 26, 7:35 pm May 27
Pentecostal Wisconsin
Bashful Scandinavian Productions (NYC)
Green Venue / 60 min. / $9 / GA
Glossolalia on a cheese-based diet ain't easy. Ryan Paulson was lauded at Edinburgh and Canadian Fringes for demonstrating how speaking in tongues can help you suck up to God and score chicks. Just as long as no snake-handling is involved.
7:30 pm May 18, 1:55 pm May 20, 8:50 pm May 21, midnight May 22, midnight May 25, 4 pm May 26, 10 pm May 27
P.S. 69
Watson Arts (Brooklyn)
Orange Venue / 55 min. / $10 / GA
Think a modern-day Welcome Back Kotter, except with one white woman playing all the roles. Or something like that. Susan Jeremy takes the failure of public education and finds the funny in this one-woman show.
6 pm May 18, 1:40 pm May 19, 9 pm May 20, 6 pm May 24, 8:10 pm May 25, 6:30 pm May 26, 11 am May 27
Random Show by the Extreme Improv Guys
Name Change Pending Extreme Improv Troupe (Boynton Beach)
Blue Venue / 70 min. / $7 / MA
Whose Line Is It Anyway collides with MTV's Jackass, and the audience calls the method of improvisational abuse. Pellet-gun phobics be warned! Anyone for a game of Strip Torture?
11 pm May 18, 3:40 pm May 19, 5:20 pm May 20, 6 pm May 24, midnight May 26, 5:45 pm May 27
Rebel Without a Niche
Too Much Free Time Productions (Brooklyn)
Red Venue / 60 min. / $10 / MA
From bike messenger to grocery salesman to Madison Scare Garden zombie, he's done it all. Now, fresh from the Canadian Fringe circuit, Kurt Fitzpatrick comes to town to tell tales of an "alarming array" of godawful jobs in New York City.
12:40 pm May 19, 4 pm May 20, 5:30 pm May 22, 11:15 pm May 23, 9:05 pm May 25, 4:15 pm May 26, 6:30 pm May 27
Saint Kristie
Douglas Productions (Orlando)
Brown Venue / 60 min. / $8 / MA
Doug Houston's other Fringe show is a deliberately provocative "existential satire on religion." A newly minted saint becomes disenchanted with celestial politics, the Virgin Mary delivers a Catskills stand-up routine, and Jesus minces.
11:35 pm May 18, 8:20 pm May 19, 5:45 pm May 20, 8:40 pm May 22, 10:20 pm May 25, 11:50 pm May 26, 6:50 pm May 27
So Kiss Me Already, Herschel Gertz!
Awkward Moment Productions (Minneapolis)
Red Venue / 72 min. / $10 / MA
Amy Salloway mines the depths of kosher teen angst in her one-woman memoir about surviving Jewish summer camp. Will there be inappropriate Auschwitz humor and awkward teen sexuality? You say "Sheket b'vakasha," she'll say "Hey!"
4 pm May 19, 8:15 pm May 20, 10:45 pm May 21, 6 pm May 23, 7:10 pm May 25, 11 am May 26, 2:30 pm May 27
SPORT: Rematch
PB&J Brewery (Orlando)
Silver Venue / 60 min. / $7 / GA
SPORT's calisthenic slapstick was the physical-comedy champion of last Fringe. This season Heather Leonardi will be joining Patrick Braillard, Jason Horne and Brandon Roberts on the team, and it looks like they'll repeat.
7:35 pm May 18, 1:40 pm May 19, 9:10 pm May 20, 7:55 pm May 22, 9:15 pm May 24, 3:10 pm May 26, 3:40 pm May 27
Stupid Kids
The Sturm und Drang Company (Winter Park)
Red Venue / 70 min. / $7 / MA
A foursome of teens in a "love square" attempt to find the meaning of life by screwing each other. Attention: '80s pop music will be used in this performance.
11:05 pm May 19, 8:50 pm May 22, 10:45 pm May 25, 12:40 pm May 27
That Fading Scent of Pus*y
Judith Black/Storyteller (Marblehead, Mass.)
Red Venue / 60 min. / $10 / MA
Subtitled "A Dangerous Comedy About Women and Aging," this showcase for Black's storytelling boasts that it's Menopause the Musical "with brains and politics!" Comedic "empowerment" for women "of a certain age" dead ahead.
6 pm May 18, 11 am May 19, 2:20 pm May 20, 6 pm May 21, 10:40 pm May 22
The White Guy
Endangered Productions (Edmonton, Canada)
Blue Venue / 50 min. / $10 / MA
Mark Jenkins (star of last year's brilliant RealTime) returns in Stephen Hunt's "monochromatic" one-man journey from snow-white suburbia to interracial love in NYC, with a detour through O.J. Simpson.
6 pm May 18, 11 am May 19, 11 pm May 21, 9:50 pm May 20, 7 pm May 22, 11:10 pm May 25, 5:35 pm May 26, 12:25 pm May 27
Who the Hell Is Heliogabalus?
Duck Church Productions (Orlando)
Pink Venue / 55 min. / $10 / MA
In the ultimate act of privatization, the history of the world goes on the auction block and is snapped up by a global corporation. A debauched Roman Emperor faces "historical oblivion" if his shocking biography doesn't survive the "Big Edit."
3:45 pm May 19, 3:55 pm May 20, midnight May 25, 8:10 pm May 26, 6:15 pm May 27
Zombie Girlfriend
Doodie Humor (Orlando)
Orange Venue / 90 min. / $5 / MA
Todd Feren, Ali Flores, Mike Aiello and crew wrapped up and flushed their original turd trilogy, so here's a brand-new pile of undead mirth. Going by the gut-busting short they screened last Hallows, seeing this is a no-BRAAAAINer.
3:15 pm May 19, 10:35 pm May 20, 5:30 pm May 23, 11:40 pm May 24, 9:45 pm May 25, 9:45 pm May 26, 8:30 pm May 27
Dance

American Racket
SoundStage Dance Company / DJ Charlie B / JamCo Entertainment (Orlando)
Purple Venue / 37 min. / $6 / GA
Clogging versus hip-hop! "One of America's oldest (and loudest) forms of dance" meets one of America's youngest (and loudest) forms of music in choreographer Andy Howard's version of Bring in da (White) Noise.
1:30 pm May 19, 11:10 pm May 20, 7:40 pm May 26
Dancing With the Porn Stars
Everybody Dance (Orlando)
Green Venue / 45 min. / $10 / MA
Best. Title. Ever. U.S. Gay Ballroom Champions Stuart and Richard have graced this publication's cover in the past, so we're thrilled that they're back — and they've brought nekkid friends! Celeb judges, audience participation and flesh — oh my!
9:10 pm May 18, 9:50 pm May 19, 11 am May 20, 7:10 pm May 24, 6 pm May 25, 7:20 pm May 26, 2:15 pm May 27
click to enlarge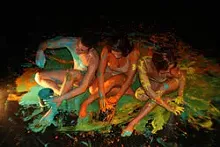 DRIP paint in motion
DRIP paint in motion (Orlando)
Silver Venue / 60 min. / $10 / GA
Jessica Mariko's dance, Tod Kimbro's music and a whole lotta latex combine to create Pollock-esqe works of art that you can purchase after the show.
10:55 p.m. May 18; 3:05 pm May 20, 11:25 pm May 21, 6:15 pm May 22, 11 pm May 23, 8:10 pm May 25, 9:40 pm May 26
Flamenco con Fusion
Ricardo Garcia's Flamenco Flow (Edinburgh, Scotland)
Purple Venue / 60 min. / $10 / FF
The traditional Spanish dance form gets a cutting-edge twist. "Life, death, love, nature, displacement" — all told in the flashing feet and fingers of flamenco.
9:15 pm May 19, 12:40 pm May 20, 8:10 pm May 21, 6 pm May 23, 10:10 pm May 24, 11 am May 26, 3:50 pm May 27
Found & Lost: Goals for 2002
inFlux Dance (Charlottesville, Mass.)
Silver Venue / 60 min. / $9 / GA
Winner of Montreal "Spirit of the Fringe 2006," five dancers explore the stories behind everyday lost-and-found objects through movement and sign language.
6:30 pm May 20, 8:10 pm May 21, 6 pm May 23, 7:35 pm May 24, 1:30 pm May 26, 5:20 pm May 27
Live Feed
CineDance Jazz Dance (Orlando)
Yellow Venue / 45 min. / $8 / MA
Fusing classical technique with film and funk, Casey Saxon and her dancers are known for the refreshing enthusiasm and playfulness of their performances. Equally comfortable with ballet and breakdancing, what they lack in technical precision they make up in passion.
8:40 pm May 19, 6 pm May 23, 11:15 pm May 25
String
DeXdance (New York City)
Red Venue / 45 min. / $5 / GA
Choreographer Kristin Dexnis (Alvin Ailey Dance Center) combines contemporary dance with multimedia to ask, "Does it really take a village to raise a child?"
9:40 pm May 19, 9:20 pm May 21, 6 pm May 24, 11:25 pm May 26
Waiting …
Voci Dance (Orlando)
Yellow / 60 min. / $10 / MA
For their sixth Fringe outing, Voci has teamed with nationally ranked performance poet Christa Bell of Seattle. Together, mixing words and movement, they've created an "uncensored" hour of dance and humor inspired by the subject of "waiting."
9 pm May 17, 7:55 pm May 18, 11:15 am May 20, 5:30 pm May 22, 10:45 pm May 23, 9:50 pm May 26, 2:35 pm May 27
Drama Drama
Encore for the Diva
Studio Theater of Wellington (Wellington, Fla.)
Pink Venue / 45 min. / $10 / MA
Robert Harless presents the bittersweet tale of a real-life opera-singing drag queen who escapes his hospice bed for final reminiscences about Toronto's gay ghetto.
12:50 pm May 19, 7:30 pm May 20, 11:50 pm May 21, midnight May 23, 9:25 pm May 24, 7:10 pm May 25, 11 am May 27
Father's Day
Micai Productions (Orlando)
Pink Venue / 60 min. / $6 / GA
Rob Micai plans this play, a dead-child heart-wrencher with "strong faith and family themes," as a first step toward feature filmdom. Portion of proceeds benefit the Ronald McDonald House.
6 pm May 19, 8:55 pm May 20, 6 pm May 23, 12:40 pm May 26
Five
Boutwell/Diniz Productions (Orlando)
Red Venue / 60 min. / $7 / MA
A quintet of serial reincarnates are trapped together on karma's wheel. As they turn, they wrestle with religion, immigration, homosexuality and other light topics in André Diniz's metaphysical drama.
7:40 pm May 18, 11:40 pm May 20, 7:25 pm May 24, 9:45 pm May 26
The Honeymoon Period Is Officially Over
Gemma Wilcox (London, England)
Pink Venue / 70 min. / $10 / MA
Wilcox uses her "incredibly malleable" body and voice to create 20 characters (human, feline and fowl) in a tale of "love and letting go" that Variety praised for "vocal virtuosity."
7:40 pm May 19, 6 pm May 21, 11:40 pm May 22, 7:35 pm May 24, 2:20 pm May 26
A Love Lost Life
Too Much Religion Inc. (Palm Beach Gardens, Fla.)
Pink Venue / 30 min. / $10 / GA
David Barnes' script examines the tragedies during Marlon Brando's final years. Rob Ashkenas re-creates Jor-El the rotund recluse; no word yet if he stuffs his cheeks with cotton.
11:20 pm May 18, 2:45 pm May 20, 7:40 pm May 23, 10:50 pm May 24, 6 pm May 25, 11:15 pm May 26
Matador
Angelkiss Productions (Orlando)
Purple Venue / 80 min. / $10 / GA
Christian Kelty assembles all-star actors (Don Fowler, Peni Lotoza, Eric Pinder and more) for his haunting fable about a bullfighter's battle for a dying village. The last chance to see local legend Tim Williams before he vacates for Vegas should make this a hot ticket.
11:45 pm May 18, 7:15 pm May 20, 9:50 pm May 21, 7:40 pm May 23, 11:50 pm May 24, 10:05 pm May 25, 9 pm May 26
Matanzas: A Survivor's Story
Minda Stephens (Orlando)
Green Venue / 50 min. / $9 / GA
Historical drama set in Florida at the turn of the 17th century. A young musician escapes death in a brutal massacre; two decades later, he survives to "herald the perdition of his captors."
6 pm May 18, 12:25 pm May 20, 5:30 pm May 22, 10:15 pm May 24, 10:45 pm May 25, 2:30 pm May 26, 3:40 pm May 27
Murder on West 18th
Playwrights' Roundtable (Orlando)
Red Venue / 60 min. / $10 / MA
Hard-boiled guys and sizzling dames collide on the mean streets of Manhattan in John Goring's new neo-noir drama. Directed by Larry Stallings and featuring John Bateman, Sarah Lockard and Josh Geoghagan.
9:20 pm May 18, 6:30 pm May 19, 11 am May 20, 7:55 pm May 23, 10:35 pm May 24, 12:55 pm May 26, 4:25 pm May 27
Sexual Confines (Three One Acts)
I.D. 10-t productions (Orlando)
Blue Venue / 70 min. / $8 / MA
We don't know much about this trio of titillating sex-themed shorts other than "full frontal nudity not included." Does that mean we have to pay extra?
6:10 pm May 19, 11 am May 20, 5:30 pm May 23, 9:20 pm May 25, 3:35 pm May 26
Steel Magnolias
The Green Room Company (Orlando)
Purple Venue / 90 min. / $7 / FF
Robert Harling's 1987 dramedy about the good ol' gals who gather at Truvy's beauty parlor. If you've worn out your DVD, come see this cautionary tale about diabetes management in living 3-D. Kleenex not provided.
7:40 pm May 18, 10:55 pm May 19, 6 pm May 21, 8 pm May 24, 5:30 pm May 26, 1:40 pm May 27
Suitcase of Memories
Orlando Youth Alliance (Orlando)
Brown Venue / 60 min. / $7 / MA
OYA (which does the noble work of supporting local GLBTQ teens) stretches dramatic muscles in their first Fringe outing. Numerous writers contributed to these monologues that trace the lives of young gays and lesbians over the past six decades.
1:10 pm May 19 , 11:50 pm May 20, 7:40 pm May 21, 9:50 pm May 24, 11 am May 26
The Yellow Boat
Yellow Light Productions (Orlando)
Purple Venue / 60 min. / $8 / FF
This 1998 AATE Distinguished Play Award Winner is a Very Special Show about a Very Special Boy who loved Giant CRAYONS! In lots and lots of COLORS!! Today, boys and girls, our Very Special Guest is CANCER!!!
6 pm May 18, 2:50 pm May 19, 11 am May 20, 2:50 pm May 26, noon May 27
Musical Musical
2007: Guess Who's Coming to Dinner
Clarion Refugees (Altamonte Springs)
Green Venue / 60 min. / $8 / GA
Jack Lowe and Susan Mitchell took the civil-rights era classic and replaced Poitier with baby Shamu. Now it's a musical. With a nun. Seriously.
12:40 pm May 19, 7:15 pm May 20, 10:30 pm May 22, 9:05 pm May 25, midnight May 26, 8:30 pm May 27
Bat Boy
Winter Springs Performing Arts
Purple Venue / 75 min. / $8 / GA
Half-man, half-bat, all-Weekly World News mascot: He just wants to be understood! Can Farley, Flemming and O'Keef's cult hit be a decade old already? The youthful cast has voices to do the goofy-yet-tuneful score justice, assuming the huge ensemble fits onstage.
9:50 pm May 18, 6:40 pm May 19, 9:15 pm May 20, 10:10 pm May 22, 8:10 pm May 25
Calculus: The Musical!
Matheater (Austin, Texas)
Red Venue / 50 min. / $10 / GA
Marc Gutman and Sadie Bowman don't just know how to calculate 1/(B-1)A times the integral from A to B; they can sing it to Gilbert & Sullivan. More fun than taking an AP exam and cheaper than the Kaplan review.
8:10 pm May 19, 10:10 pm May 20, 9:05 pm May 24, 6:35 pm May 26, 8:10 pm May 27
Cupid and Psyche
Excellent Adventure Productions (Orlando)
Orange Venue / 90 min. / $10 / GA
Meghan Moroney (recently on Broadway in Mamma Mia) stars as Venus in a mythological musical about the titular amorous cherub's violently codependent relationship with mom. Putting Mercury on Heelys? Priceless.
7:35 pm May 18, 7:40 pm May 19, noon May 20, 9:35 pm May 21, 7:40 pm May 23, 11:30 am May 26, 4:25 pm May 27
click to enlarge
Elvis and Roy: The Lost Concert
Peter Alden Entertainment (Orlando)
Silver Venue / 55 min. / $8 / GA
Roy Orbison and the King team up for a fictitious 1976 concert in this straight-faced musical tribute from Legends in Concert veterans Peter Alden and Brian McCullough.
6 pm May 18, 7:45 pm May 19, 1:30 pm May 20, 9:50 pm May 21, 11:15 pm May 22, 6 pm May 24, 11:30 pm May 25
JAWZ The Musical?
notco (Orlando)
Silver Venue / 60 min. / $10 / GA
Writer David Lee takes the Roy Scheider role, director Chad Lewis essays Richard Dreyfuss and Joe Swanberg is the crusty Quint in this camp recounting of the Spielberg classic. With Anitra Pritchard as Bruce, you're gonna need a bigger boat.
9:30 pm May 19, 4:45 pm May 20, 9:35 pm May 22, 9:20 pm May 23, 6:30 pm May 25, 8 pm May 26, 2 pm May 27
Light My Way: A New Musical
LMW Workshop (Kissimmee)
Green Venue / 60 min. / $10 / MA
Esther Daak, co-creator of last year's hit Bathhouse the Musical (who could forget the men parading in towels to promote the show?), returns with a more clothed production. "Notable luminaries" from history (both factual and fictional) guide the audience on a cosmic trip — like a melodious Brief History of Time.
11 am May 19, 5:15 pm May 20, 8:50 pm May 22, 11:05 pm May 23, 12:50 pm May 26, 12:35 pm May 27
Music Without Music
4:2:Five (Orlando)
Green Venue / 60 min. / $9 / GA
The a cappella vocal stylings of this quintet were a highlight of the last couple festivals. Shame these guys missed the boy-band craze, since they've got tighter harmonies and more personality than a dozen Backstreet Boys.
10:35 pm May 18, 11:15 pm May 19, 3:35 pm May 20, 7:10 pm May 21, 5:30 pm May 24, 5:40 pm May 26, 6:50 pm May 27
OUTLOUD! Too Gay for Fringe?
Orlando Gay Chorus (Orlando)
Pink Venue / 60 min. / $10 / GA
The Orlando Gay Chorus answers their own question with a parade of songbook standards sung by hirsute nuns and balding bears in cold cream. "Too gay for Fringe?" Is such a thing possible?
9:30 pm May 19, 10:30 pm May 20, 6 pm May 22, 6:30 pm May 26, 9:40 pm May 27
Psychic Follies
Kevin Gavin Productions (Maitland)
Purple Venue / 80 min. / $10 / GA
"The director of Menopause the Musical brings hilarious camp to psychics fake and real. There's a producer who wheels and deals, murder with a shove and a guy and gal in love." Have the folks in Cassadaga heard about this?
11:30 am May 19, 4:30 pm May 20, 6 pm May 22, 9:40 pm May 23, 6 pm May 24, 11 pm May 26
Runaways
Baggy Pants Theater Company (Orlando)
Green Venue / 60 min. / $7 / MA
Stephen Halpin directs Elizabeth Swados' 1978 B'way musical. Follow homeless waifs as they turn tricks and shoot up on the street. Bleak, challenging and intense — it's the anti-Rent.
8:10 pm May 19, 5:30 pm May 21, 7:25 pm May 25
Tod Kimbro: F-Bombs and G-Strings
Tod Kimbro (Orlando)
Blue Venue / 60 min. / $7 / MA
The acclaimed glam piano man has a new keyboard with a seven-octave range, and he's not afraid to use it. This concert/cabaret revolves around creative uses of the word "fuck." We're anticipating the material from LOUD, fondly remembered from Fringe 2000.
7:30 pm May 18, 12:30 pm May 19, 11:20 pm May 20, 7:40 pm May 21, 11:05 pm May 24, 12:40 pm May 26, 3:35 pm May 27
Variety Variety
Chatterbox
Slothco Productions (Orlando)
Blue Venue / 45 min. / $7 / GA
SAK vet Francisco Laboy goes out on an improv limb in an on-the-fly one-man variety show. Based on the preview, it should look like the Ed Sullivan Show on crystal meth.
10:50 pm May 19, 12:50 pm May 20, 9:20 pm May 21, 11:55 pm May 22, 10:40 pm May 23, 2:15 pm May 26
Fool House
Kirk Marsh (Windermere)
Brown Venue / 55 min. / $6 / FF
From Beirut to Vegas, cruise ship to casino, Kirk Marsh has toured the world with his nonverbal clowning. Magic, juggling and more kid-friendly prop comedy.
10:05 pm May 18, 11 am May 20, 7:10 pm May 22, 11:15 pm May 23, 5:30 pm May 25, 8:25 pm May 26, 1:10 pm May 27
The Glamorous Andrea Merlyn Magic Show: The Return
Magic Taylor'd For You! (Indianapolis)
Red Venue / 60 min. / $10 / MA
Andrea Merlyn is the Mark & Lorna of cross-dressing illusionists: so unhip she's ultra-cool. Old-school sleight-of-hand meets older-school comedy, topped off with fabulous wigs. That's what Fringe is all about!
11 pm May 18, 12:40 pm May 20, 7:40 pm May 21, 5:30 pm May 25, 8:05 pm May 26, 9:40 pm May 27
Heart of Coal
Carbon Productions (Orlando)
Green Venue / 60 min. / $7 / GA
Sandra Diaz and Jeremy Seghers blend stop-motion animation and original music with the puppetry of Heather Henson (daughter of Jim) in an ambitious environmentalist fantasia — imagine Pan's Labyrinth set in the Appalachian Mountains.
2:20 pm May 19, 10:30 pm May 21, 7:35 pm May 23, 8:35 pm May 24, 10:20 pm May 26, 5:10 pm May 27
Mark Baratelli's Improv Cabaret
imakepodcasts.com (Orlando)
Blue Venue / 45 min. / $10 / GA
After conquering the nation (or at least Charleston, S.C., and Miami) master podcaster Mark Baratelli returns with his popular show. It's traditional storytelling cabaret with a difference: Music, lyrics and book are all prepared fresh nightly while you watch.
9:30 pm May 19, 2:15 pm May 20, 5:35 pm May 22, midnight May 23, 7:50 pm May 24, 8:45 pm May 26, 11 am May 27
Mistero Buffo — Comic Mysteries
Tethersend Productions (Toronto, Canada)
Yellow Venue / 60 min. / $10 / GA
Dario Fo, 1997 Nobel laureate for literature, presents a collection of medieval passion plays. Fo calls them "amusing and infuriating," which tracks with what we remember from Theater 101. The twist: These religious dramas are interpreted in "modern clown style."
9:35 pm May 18, 10:05 pm May 19, midnight May 20, 7:55 pm May 21, 9:35 pm May 25, 11:30 pm May 26, 9:20 pm May 27
Platelets
Nothin' Productions (St. Cloud)
Brown Venue / 60 min. / $10 / MA
Writer/director Donald Rupe presents an unscripted, adult-themed "happening" that explores, "What goes through the head of a young director while sitting in the hospital for four days?"
5 pm May 19, 12:30 pm May 20, 5:30 pm May 22, 6 pm May 24, 8:40 pm May 25, 12:40 pm May 26
Poofy du Vey in "Burden of Poof"
Courtney Cunningham (New York City)
Yellow Venue / 60 min. / $10 / MA
Philadelphia Weekly called red-nosed neurotic clown Poofy du Vey "the illegitimate American crack baby of Mr. Bean and Bubble from AbFab." What more could we possibly add?
11 am May 19, 8:25 pm May 20, 10:20 pm May 22, 7:25 pm May 23, 6 pm May 25, 4:20 pm May 26, 5:55 pm May 27
The Screw You Revue Starring Linwood Sassy
Dewey Chaffee Productions (Orlando)
Brown Venue / 60 min. / $10 / MA
Geriatric comedian Linwood Sassy is a legend, at least in his own piebald mind. He's bringing his improvised musical talk show to the "Cringe Festival," with his naughty nurse and orderly in tow.
6:40 pm May 19, 2:10 pm May 20, 11 pm May 21, 9:35 pm May 23, 11:30 pm May 24, 8:30 pm May 27
Six Characters: Best Show Ever!
Six Characters (New York City)
Purple Venue / 90 min. / $10 / GA
This contemporary vaudeville troupe pays tribute to Bugs Bunny and Buster Keaton with their "children's theater for adults," a blend of high tech and low slap-schtick.
4:30 pm May 19, 2:20 pm May 20, 8 pm May 22, 11:40 pm May 23, 6 pm May 25, 12:40 pm May 26, 6 pm May 27
VarieTEASE: Carnivale
BlueStar Productions (Orlando)
Orange Venue / 60 min. / $10 / GA
Michael Wanzie described VarieTEASE as a blend of MTV and Cirque du Soleil. Add a spoonful of sideshow burlesque and a dash of decadence — that's a taste of what BabyBlue and her "kinkalicious coterie" are cooking up.
6 pm May 19, 4:20 pm May 20, 7:55 pm May 21, 9:50 pm May 23, 11:55 pm May 25, 8:05 pm May 26, 2:45 pm May 27 arts@orlandoweekly.com